El Da Sensei On Spittin In Da Wip
Posted on February 17, 2012 By CrazyAlCayne HH LEGENDS, LEGENDS IN DA WIP, SIDW

HipHop Legend El Da Sensei (@ElDaSensei) of the group The Artifacts hopped in Da Wip for another classic episode of Spittin IN Da Wip!! Besides spittin some exclusive bar El Da Sensei let us know that Artifacts is back together and their putting out a new album this year which is gonna be dope! Ya'll know the routine, make sure you fillout the ratings box above this video to Rate this episodes. All El Da Sensei needs is 30 unique visitors to rate this episode so he can be eligable to appear on the Spittin In Da Wip Top 50 list!
Shout outs to C.Truth(@Thermalsoundwav) and Mr Metasen(@MrMetasen) for representing for the SIDW movement.
Wanna get on Spittin In Da WIp? Book you appointment via our Registration page.
NOTE: I now  delete the N-words out of the episodes but I totally forgot when I was editing this time and didn't realize until it was already uploaded, my apologies.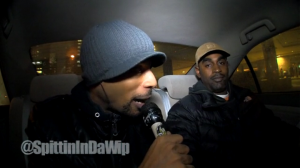 Added by CrazyAlCayne on February 17, 2012.
Saved under HH LEGENDS, LEGENDS IN DA WIP, SIDW
Tags: c truth, cac-tv, crazy al cayne, el da sensei, mr metasen, rapping in the car, spittin in da whip