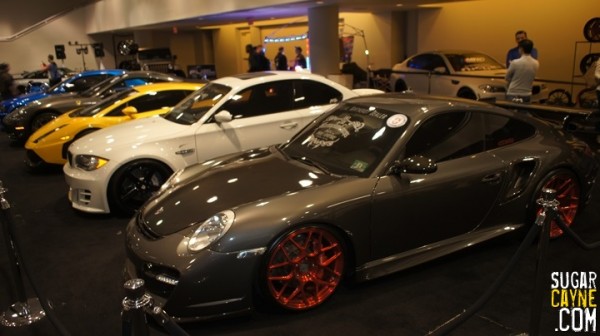 You know I can't miss the Dub Auto Tour at the New York Auto Show and this past weekend it all went down! First and foremost I gotta give a big shout out to the crew from Martino Auto Concepts who had it on lock with the most cars on display and some really fly super high end exotics. Sony had a cool display with two dope wips, Toyota had a nice display of an all black custom Avalon with about 4 nice models taking pics. Proline Car Stereo was in the building with some nice wips that had some real crazy systems. NYC Motoring was also in the building with a nice Ferarri and a banging BMW. Custom Lifestyles by Action Tires had a dope display which included Ice T's banging Aston Martin and a dope orange Camaro convertable!! Rennen International was representing hard too. There was also this really sick super detailed custom Dodge Magnum by the Low Mentality Crew that had everybody thinking is was a Bentley. Niche Road Wheels had a few dope wips and and some sick rims on display. And lets not forget the eye candy, they were in full effect too! The only thing that had me puzzled was why did Harley Davidson have such a huge space for their bikes? They took up a really big portion of the space for the DUB Auto show so it didn't have the same vibe as last years show which as loaded with wall to wall custom wips. What was even more puzzling was the fact that for this years Auto Show they actually had a space set aside for Motorcycles up on the 4th floor……they did have some nice models though…but I digress lol!
I had a great time, took a lot of pics and I also got some cool interviews so stay tuned for the video footage.. but for now enjoy the photo gallery! [sociallocker][nggallery id=202][/sociallocker]
The following two tabs change content below.
Owner/CEO
at
Crazy Al Cayne TV, LLC
Creator of SugarCayne.com, TV Host, Music & TV Producer, BMXer, Underground HipHop Head, Supporter of Comic Book & Designer Toy Creators, Cosplayers, Comedians and unique entrepreneurs.
Latest posts by CrazyAlCayne (see all)