Master Bike Co. HIGHTEK 26″ FGFS BMX Frame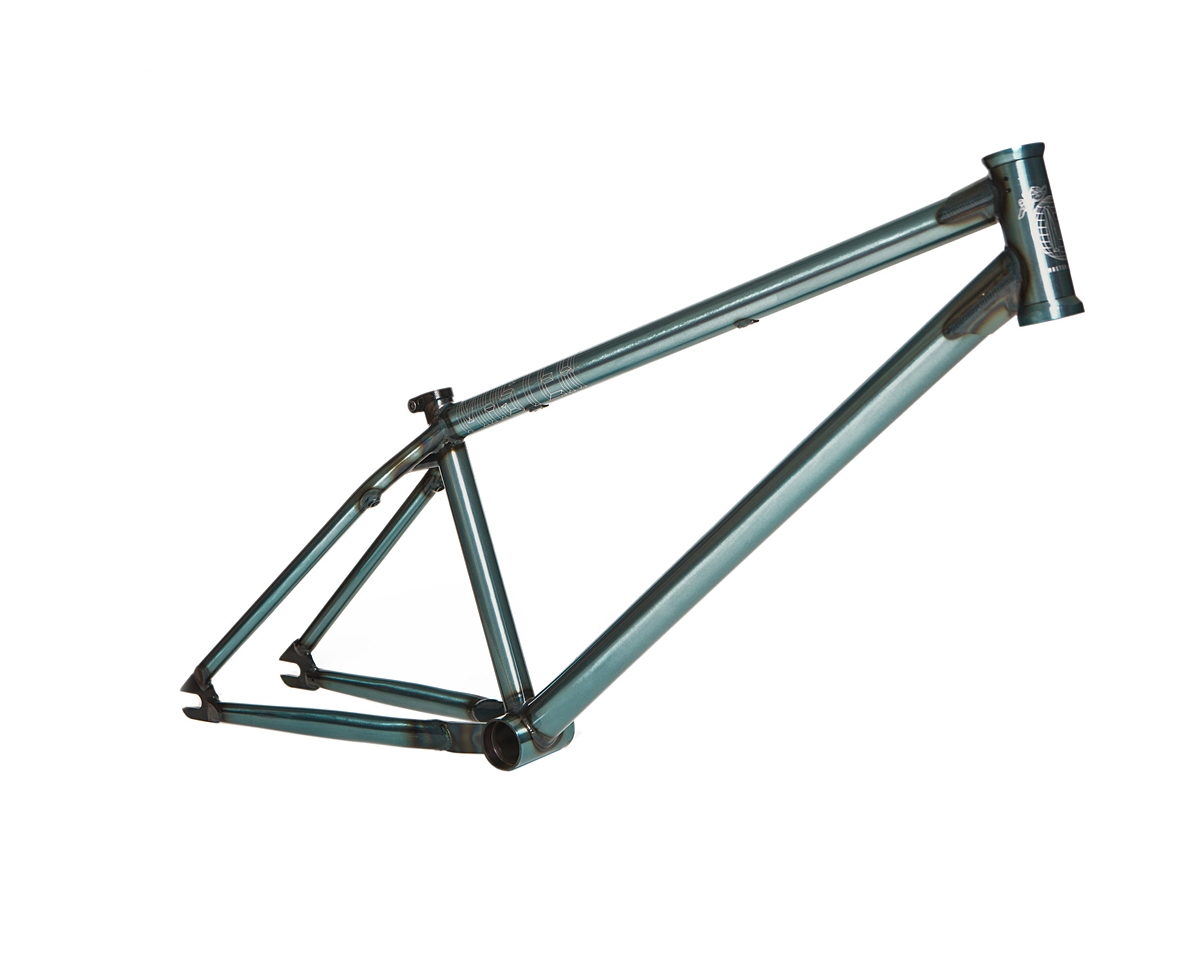 Let's face it, modern day "Fixed Gear Freestyle Bikes" are nothing more than 26″ BMX Cruisers with fixed gears. Also, In order to design any bicycle frame to be able to handle the aggressive "BMX" style of riding, the geo will be very similar to a BMX bike. It doesn't matter if you want to call it a FGFS, MTB, Cyclocross, DH, Dirt jumper or Fat Bike, they're all basically BMX bikes in design and in intention. Anyways, with that being said check out the HighTek FGFS BMX Bike by Master Bike Co.
About The Master Bike Co HighTek Frame:
The Master HighTek frame is the culmination of over 2 years of dedicated prototyping and testing by some of the best riders in the world.
This frame is made from 4130 heat treated chromoly and features an integrated headtube drilled for gyro tabs, gusseted top tube and down tube, Mid BB shell, butted seattube, removable U-brake mounts, and yoke style bb cluster for maximum chainring and tire clearance. The Master Hightek frame has the shortest FGFS wheelbase with full barspin clearance.
Head Tube Angle: 75.5
Seatstay Angle: 72.5
Wheelsize: 26″
Dropouts: 14mm Dropouts
Designed for 408 A-C Fork
Freewheel compatible – Includes necessary hardware to run BMX hubs
Colors: Matte Black, Sparkle White, Fluorescent Yellow, Forbidden Black Smoke, Trans Blue
Reggie Miller Races CX MTB… #OhSnap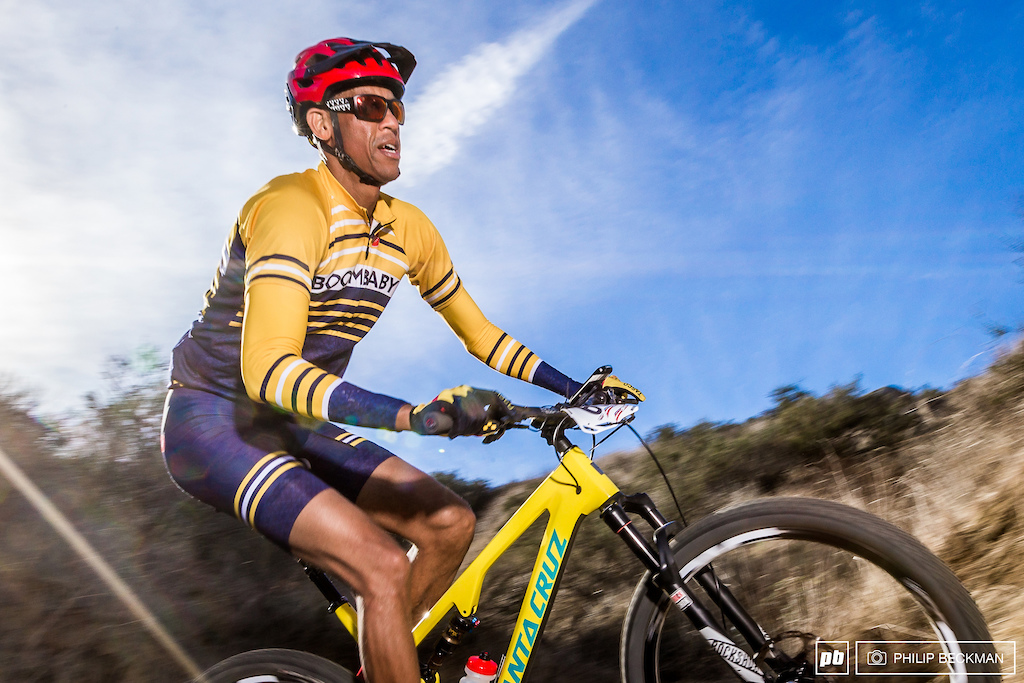 Here's something we didn't know, NBA Hall of Famer and current TNT network broadcast analyst Reggie Miller has really gotten into Cross Country MTB racing!! That's huge!! The folks over at VitalMTB caught up with the legendary ball player and asked him 17 question about MTB, football and of course Basketball 😉
This video gives us a lot of insight on how passionate Reggie is about riding MTB and it awesome! We really like the answer he gave to question 12; "If your son could have a basketball career or a bike career, which would you prefer?"
Back in January of this year, Reggie came in 8th place in the Sport Men 50-59 XC class at the KMC Winter Series at SouthRidge, Fontana
We gotta give a bug salute to Reggie for taking on the sport of off-road cycling..BIG UP!!
Follow Reggie on Instagram. He's always posting videos and photos of his MTB adventures.
TMPLHOF X 8BAR 2018 Team Edition Edition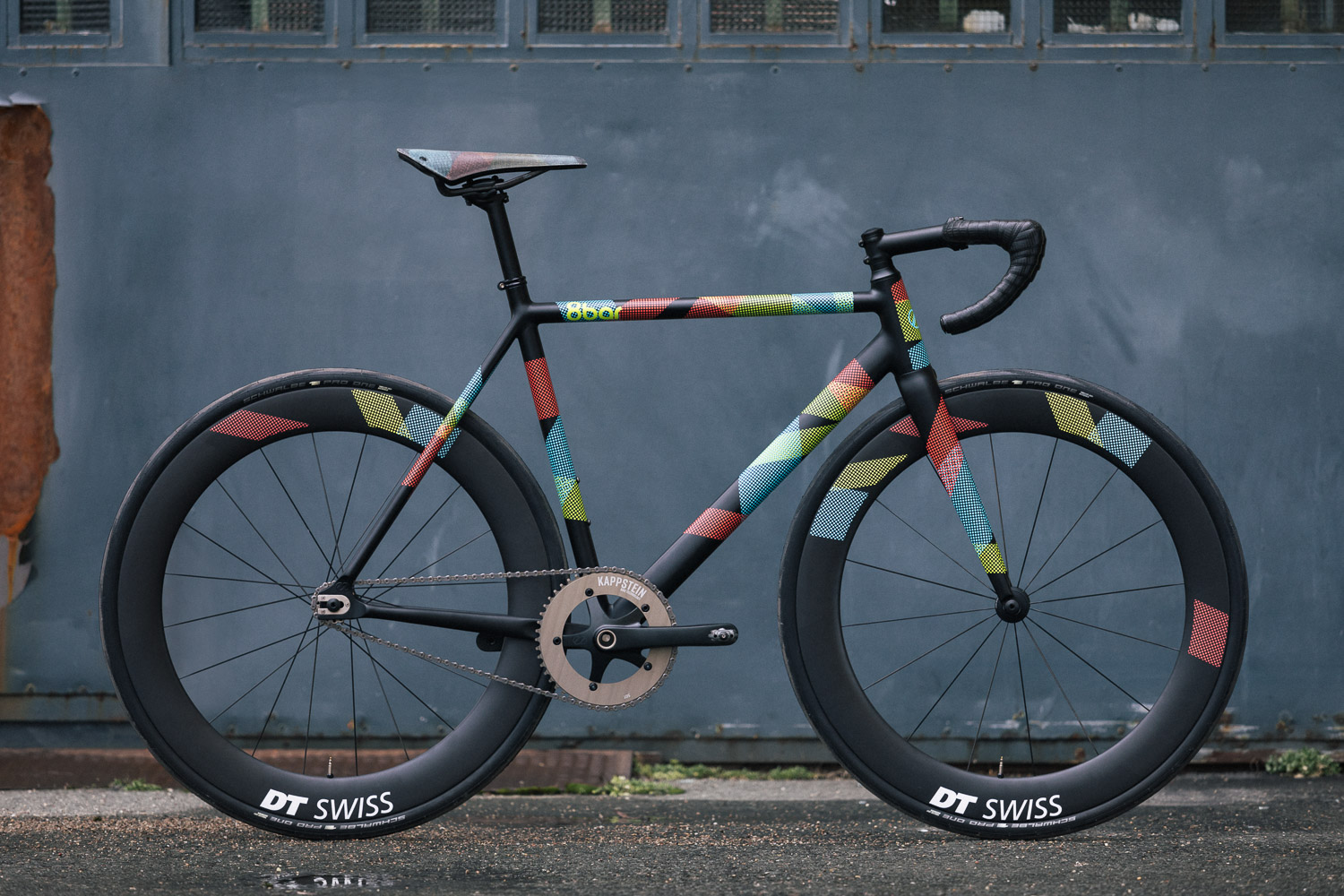 The all new 8Bar TMPLHOF (Tempelhof) team edition fixed gear bike is a work of art! We're loving the vibrant colors and patterns over the matte black colorway. Everything on the bike compliments the other with the design matching on the forks rims and even the seat. This is definitely on the want list!
About the 8bar TMPLHOF:
The 8bar TMPLHOF is our new team bike that will be raced all over the world! This bike is all about lightness and performance. A real racing machine with no compromises and of course coming in the brand new look! Compared to the previous KRZBERG we moved away from the low-pro geometry towards a sloped frame giving you a lighter setup. You will feel it once you ride it, no matter if in a race or out on the streets!
The bike is equipped with DT SWISS TRACK TRC 1400 DICUT wheels, a Brooks Cambium C13 saddle both in our Team Edition look as well as Schwalbe Pro One tubeless tires and Kappstein Elite/Pro components!
It will be available in the new team edition paintjob, but also in the already well-known matt ghost black, polished raw, space blue and space red!
The Design
As 8bar developed over the years we found our own official team colours, reflected in the so called "dots design". It is important for us to create memorable designs that not only deliver team identity but also just feel fast!
The new bike design is a progression of the old CMYK team edition bikes. If you are looking closely you can still see the block elements spread over the frameset, but still showing a lot of the actual frame undercoating. We kept this approach, but went into more love to detail. The overlaying of dots in different angles and colours results into new mixed colours with unique patterns. The pattern is not only isolated for each tube. It is a fully connected pattern spread over frameset, wheels and even the saddle! The outcome is a clean, sometimes even mesmerizing look on the frame.
For more details and photos visit 8Bar-Bikes.com
Raleigh Nelson Vails Inspired "Teaba", Frame Art By Zephyr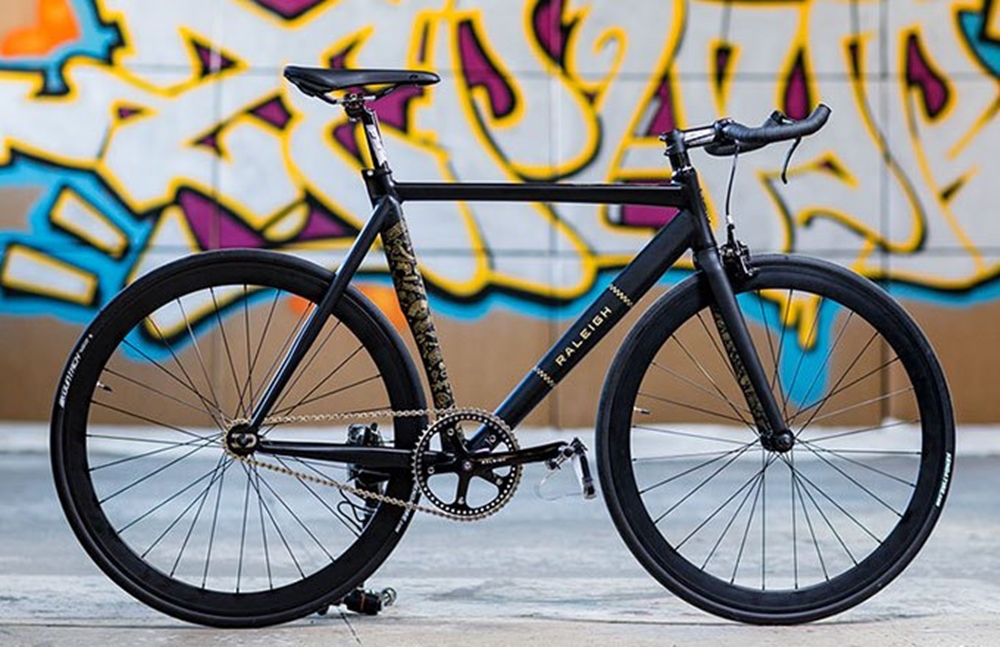 We're loving this new Nelson Vails inspired  fixed gear/single speed complete called "Teaba" by Raleigh.
PRESS RELEASE
"Designed for street riding and track racing, the Teaba is a fixed gear single speed steel bike with higher-end componentry for serious riders. This bike boasts a lightweight alloy frame, carbon fork, FSA stem and seat post, and fixed free capabilities (to run as a single speed or fixed gear), as well as removable brake hardware/cable guides for a clean, finished look. The Teaba comes with bullhorn pursuit bars and toe clips (for legal racing), an extra set of riser bars to swap out for riding around town, and extra brake levers and grips."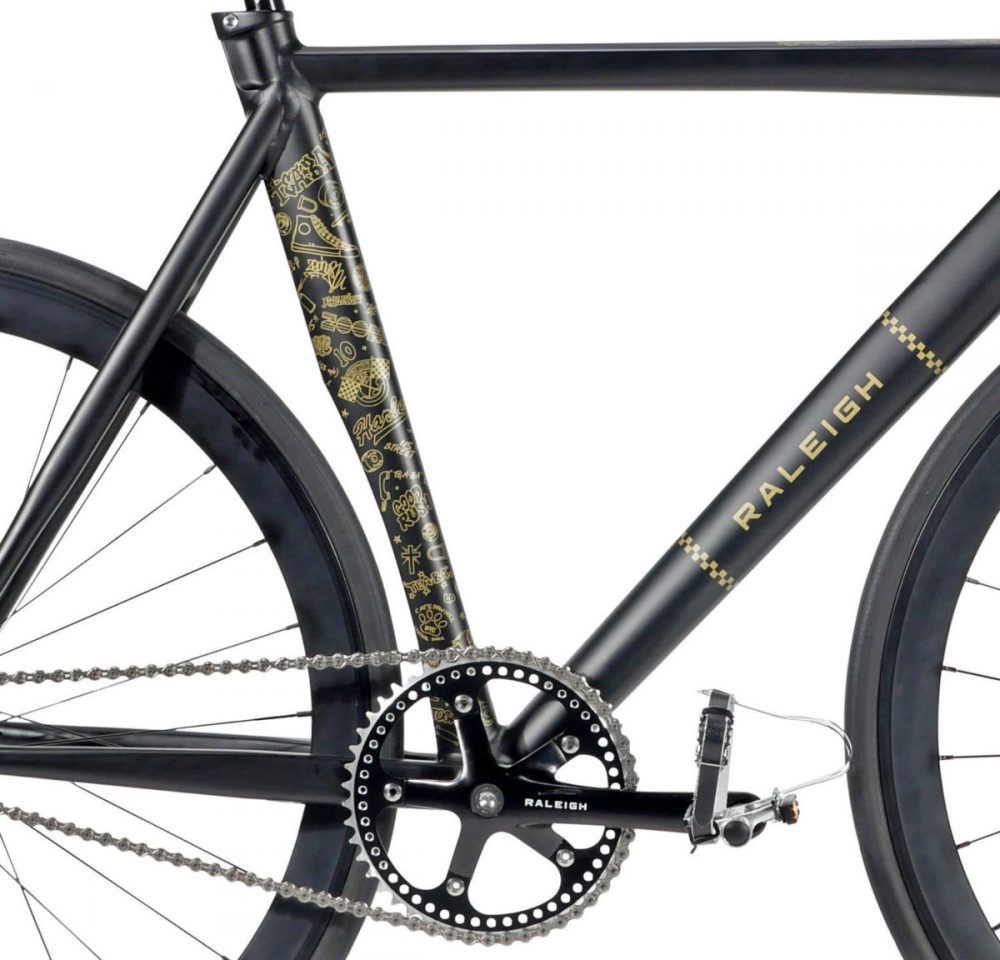 "The Teaba was inspired by Nelson Vails—the first African-American cyclist to win an Olympic Medal in cycling. Created by Raleigh in collaboration with Nelson and his best friend, famous graffiti artist, Zephyr, the Teaba's story actually takes place before Nelson's Olympic days when he rode fixed gear bikes as a messenger in NYC."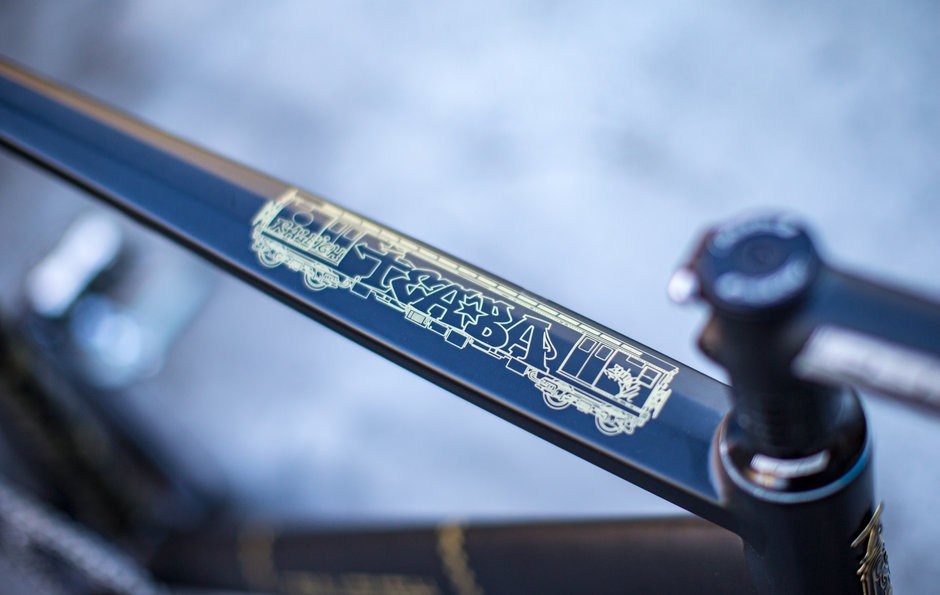 "The frame features unique top tube art and meaningful original illustrations by Zephyr including Nelson's signature Converse Chuck Taylor Hi Tops, an iconic dime (what Nelson used to call his messenger service for the location of his next job), the flags of the Checkered Cab (onto which Nelson grabbed bumpers to catch rides), the notorious TOGA bike shop (where messengers hung out), and Cat's Paw Hill in Central Park (where Nelson and the crew met to ride and skate), among others."
Below is a series of video Raleigh produced featuring Nelson Vails and Zephr talking about the Teba and their early days in NYC