2011 Monthly S.I.D.W. Top MC List
The list below are the results of the Spittin In Da Wip MC's that were at the #1 spot at the end of each month in 2011.  The calculation strictly on a month per month basis.
The MC's need to have at least 10 different people fill out the ratings box underneath their Spittin In Da Wip episode on CAC-TV.com during each month to be eligible to be in the running for the Top MC of the month. !!!!THE CALCULATION RESETS EVERY MONTH!!!!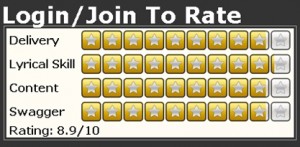 January
February
March
April
May
| | | | | |
| --- | --- | --- | --- | --- |
| T | Rank | Image | Title | Rating |
JUNE
| | | | | |
| --- | --- | --- | --- | --- |
| T | Rank | Image | Title | Rating |
July
AUGUST
SEPTEMBER
| | | | | |
| --- | --- | --- | --- | --- |
| T | Rank | Image | Title | Rating |
OCTOBER
| | | | | |
| --- | --- | --- | --- | --- |
| T | Rank | Image | Title | Rating |
NOVEMBER
| | | | | |
| --- | --- | --- | --- | --- |
| T | Rank | Image | Title | Rating |
DECEMBER