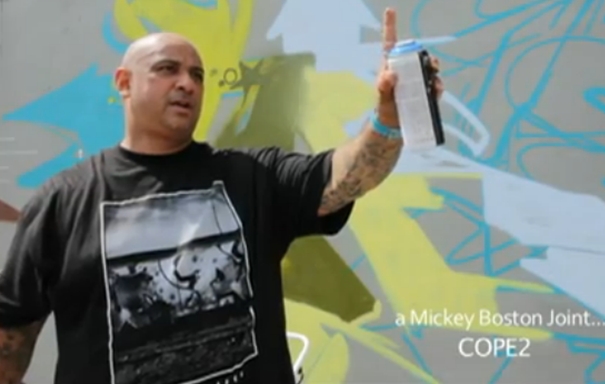 Track: "Metal Centipedes" by @MickeyBoston (feat. Ill Mestizo and DJ Conn-Shawnery)
Shot and Directed by Mickey Boston
Beat Produced by Mickey Boston
Montreal hip-hop artist Mickey Boston films Bronx Graffiti Legend COPE2 in Montreal at Can You Rock. King Kase2 was an influence alongside DEZ for COPE2 who set to execute a Tribute piece in memory of the late Kase2 who passed away August 14th, 2011. The making of the piece was timely as COPE2 did the piece in the same month as he was visibly sentimental over the loss of King Kase2 who had unfortunately succumb to lung cancer.
Kase2 left behind a legacy and a talent for all to be noted. There is no denying that Kase2 was the King of Style. Our condolences go out to the entire Brown family.
I would also like to thank COPE2 for giving me permission to film this special Tribute piece as well as granting me permission to use "Metal Centipedes" as the score. Finally, I would also like to thank COPE2 for the two wonderful days spent in Montreal and the beautiful insight he shared with us during his stay here.
Track: "Metal Centipedes" – Mickey Boston feat. ILL Mestizo & DJ Conn Shawnery.