To those that think BMX racing is dead, well you were not at the Jack Frost race at Egg Harbor BMX on March 17th . Despite it being a cold day, we had 100+ moto's. Parking lot was filled. And with an all new
starting hill which featured a radical barrel gate, that just made the day even better!!!!! People came
from all over, VA. To Massachusetts just to race some BMX in the cold, if that is not proof BMX is alive
well I just Don't know. We even had D'Blocks and the crew racing for the first time.

From young to old there were no grimaces just smiles. Shout out to Justice Cayne for pushing herself
to the limit, and it was good to see Al out there mixing it up with his smooth style.

Open classes were off
the chain. When you dangle money in front of a racer, that means they are going to go for it. Can't
forget the ladies, I swear I cant understand how they used to be called powder puff's??? You look at
the current scene and you have plenty of WOMEN that can hang and beat the boys.
One family that will have a long lineage in BMX is the Custer family. Greg "The Hammer" Custer, Mia
the Missile and Loveable Logan all of them .The Bandoy clan was ripping hard and rumor is Big Rob is
coming back. That is the one thing that will never change in our sport, the family aspect. And add to
the fact we all help each other out in a time of need. That is what makes this sport so darn awesome.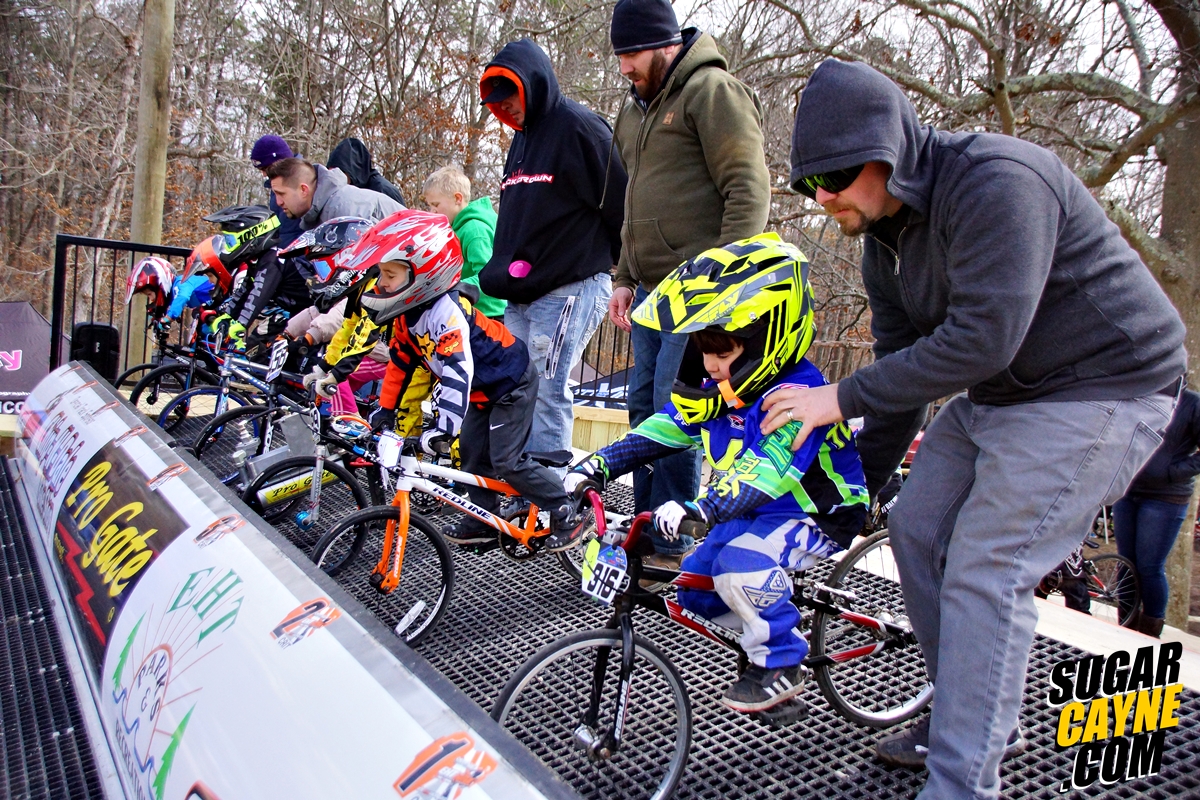 Action wise the race of the day was the pro am main, which I was a part of, yup the old dog was trying
to get some cash. It did not work out, but I got good view of Jake Pletcher just killing it, him and The
Hammer were doing battle, but the young gun took home the big loot. I swear if he raced full time, he
would be a top nag rider. His family is always there with him and he has good roots and a solid
foundation.

There is one thing I want to really talk about the amount of effort and work that went into putting this
race and the building of the new gate, along with the unpaid manhours of work. The staff of EHT
worked very hard spent their free time working on the track and planning this race so we could have
fun. Think about the next time you go to any race you attend and if you are free ask if you can help.
This sport was built on the backs of volunteers
Ok let's wrap this baby up!!!!!!!!! Thanks to all the Volunteers, A big Hell yeah (In my Stone-Cold
Steve Austin voice) to Crit plate for the awesome awards. Andy Currie for making sure everyone had
the parts they needed at reasonable prices!!!! And to all the riders and parents that came out in the
cold, spent time with their kids just so they could have some fun. I must thank my wife for once again
driving and sitting in the cold, she has been with me in what is now my 14 th season of BMX. And can't
forget Al Cayne. Next time you see him buy that man lunch from the snack bar. He does a lot for all of
us and asks for nothing in return. I figure feeding him is the least we can do. Until the next time peace
out and remember, support your local tracks, help when you can and stay positive!!!!!!!!!!!!

Healing vibes to Rick Decker who took a spill and is out of action for a minute.
Uncle AntDog
AntDog Racing Inc.