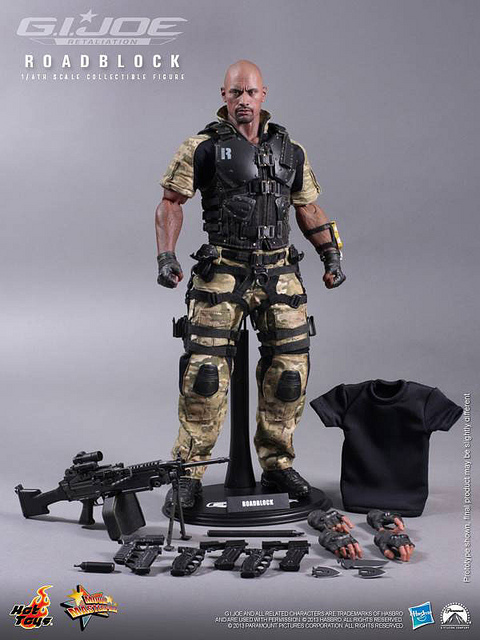 Yo the talented and creative team at Hot Toys keep pushing out some really dope toys and their latest figure of Dwayne "The Rock" Johnson as Roadblock from the movie G.I. Joe Retaliation is sick! The quality and attention to detail is bar none and the head sculpt looks just like The Rock…if he was about 10 years older and 15 pounds lighter lol… but there are a lot of cool accessories, this is definitely a dope piece to add to your collection. Yo Dwayne is having an awesome year with all these movies that he's in and now he's got his own toy even if it isn't spot on!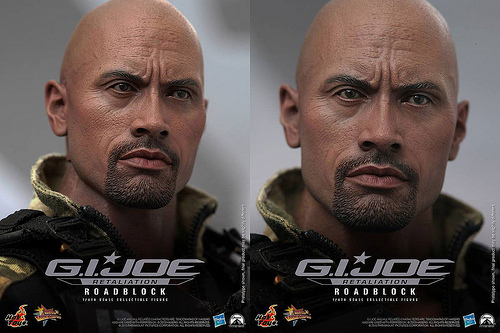 PRESS: 'In view of the popularity of the Snake Eyes and Storm Shadow collectible figure, Hot Toys is proud to present a new addition to our MMS series from the action packed G.I. Joe Retaliation – the 1/6th scale Roadblock Collectible Figure. Roadblock is a force to be reckoned with and the Cobra should think twice before taking on the great one.

Based on the iconic brand from Hasbro, the movie-accurate collectible is specially crafted based on the image of Dwayne Johnson as Roadblock in the movie, featuring a highly detailed head sculpt, finely tailored costume and weapons.' ~via Hot Toys.