Polygon Razor Elite BMX Racing Bike (@polygonbikes)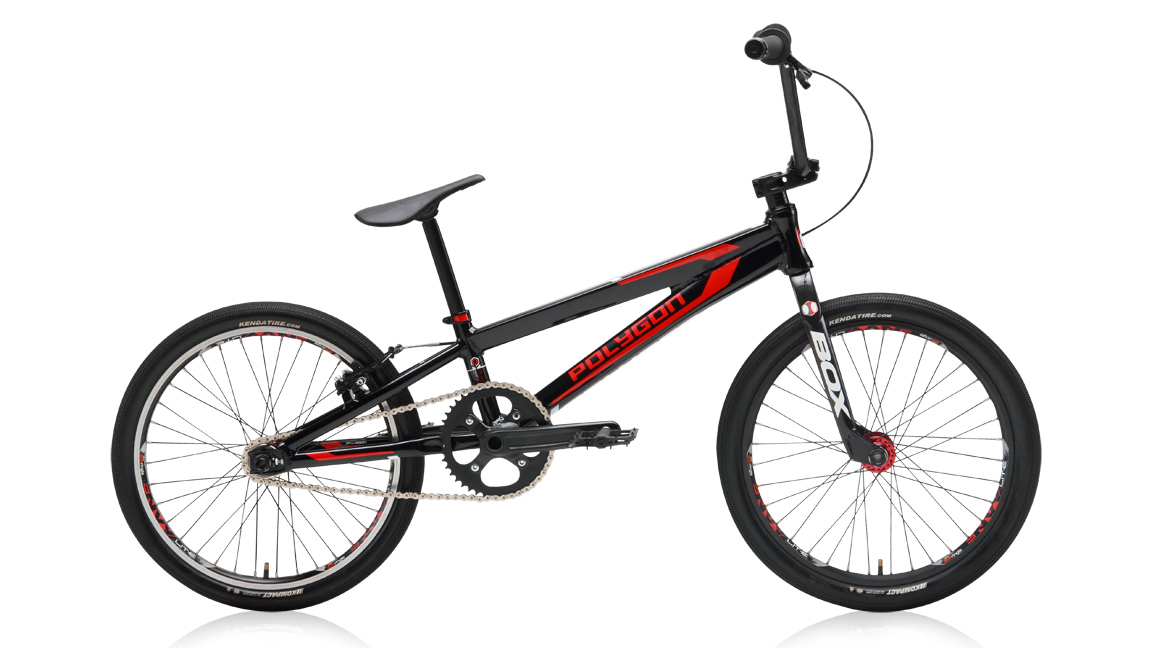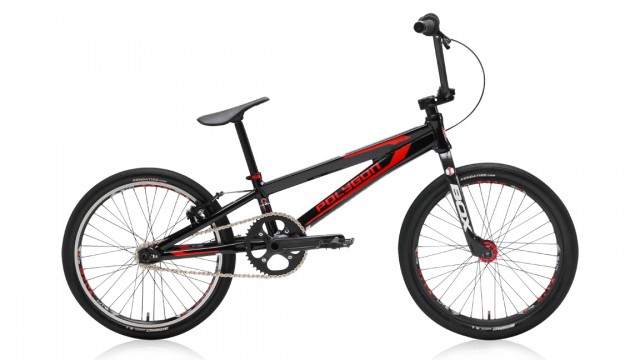 I came across this bike company called Polygon while searching the internet and saw this complete BMX racing bike they made called the Razor Elite. It's a really low profile frame design and it's built for speed. The bike comes with some pretty cool parts like the BOX Fork and hubs. The one thing that makes me give this bike side eye is it decals with are very similar to decals on the Rift frames.
Official description:
Furious acceleration, precise cornering and blazing speed are yours thanks to the Razor Elite's super light and responsive ALX BMX frame, BOX X Series fork and Sun Ringle Envy Lite alloy rims with BOX 20mm oversize axle front and rear hubs. Frame is compatible with 10mm or 20mm rear axles and is available in Pro or extended Pro XL frame sizes to fit larger racers.~Polygon
Polygon is a global company but well know in Asia.

Custom "Do The Right Thing" Big Ripper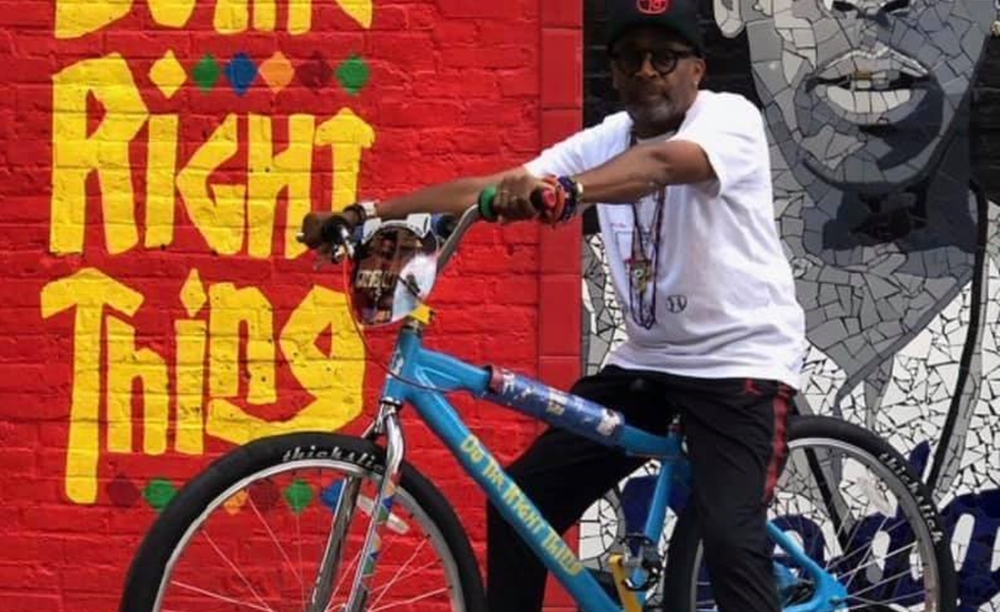 To celebrate the 30th anniversary of the classic movie "Do The Right Thing", Todd Lyons hooked up Spike Lee with a custom Big Ripper. It's a sky blue Big Ripper with a yellow "Do The Right Thing" decal on the downtube. There are also pads and a number plate that are customized with images from the movie. Todd posted a pic of the film's creator and director Spike Lee, sitting on the big BMX bike via social media a few hours ago and it already has the web buzzing. Will there be a limited run of this bike made available to the public? Stay tuned!
David Graf Designed 'Prophecy Scud Evo 3' IS SICK!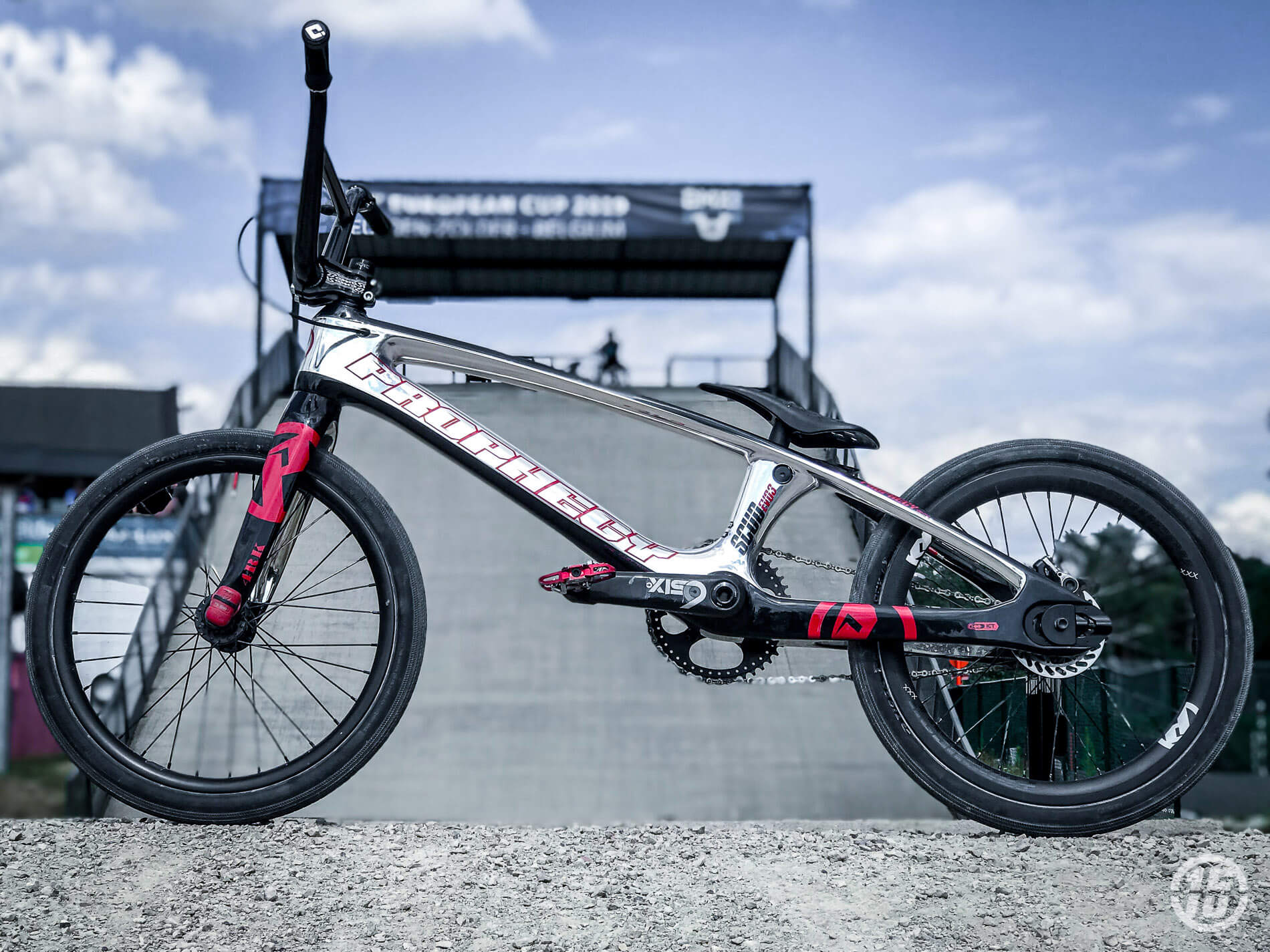 Swiss BMX Elite Pro, David Graf designed the new Prophecy Scud Evo 3 and it looks amazing! This bike is said to be the stiffest and fastest frame on the market! We'll soon see when the frame drops this October!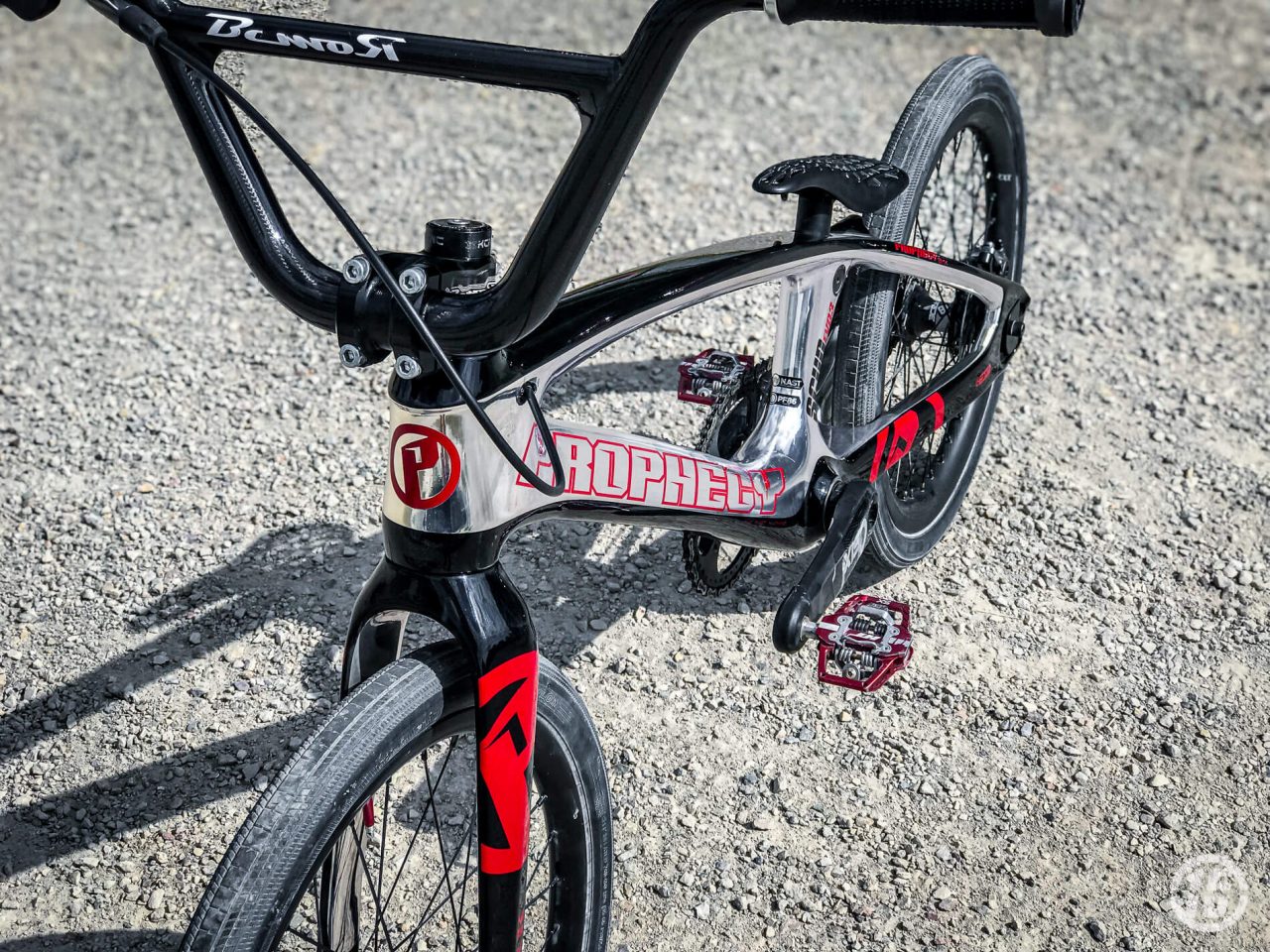 There's a great in depth article about Graf's Scud Evo 3 on 15.ie and you should really check it out but below are some highlights:
The bike will be available in two color options Chrome/black and Black/grey
100% new mold, inside. They use Expanded Polystyrene molding (EPS) and Polyurethane molding (PU). This system gives the internal surface of the frame a finish as smooth as the exterior
 XXXL has an 'extra low bottom bracket' when compared with the other sizes in the line-up but they are still low when compared to the Evo 2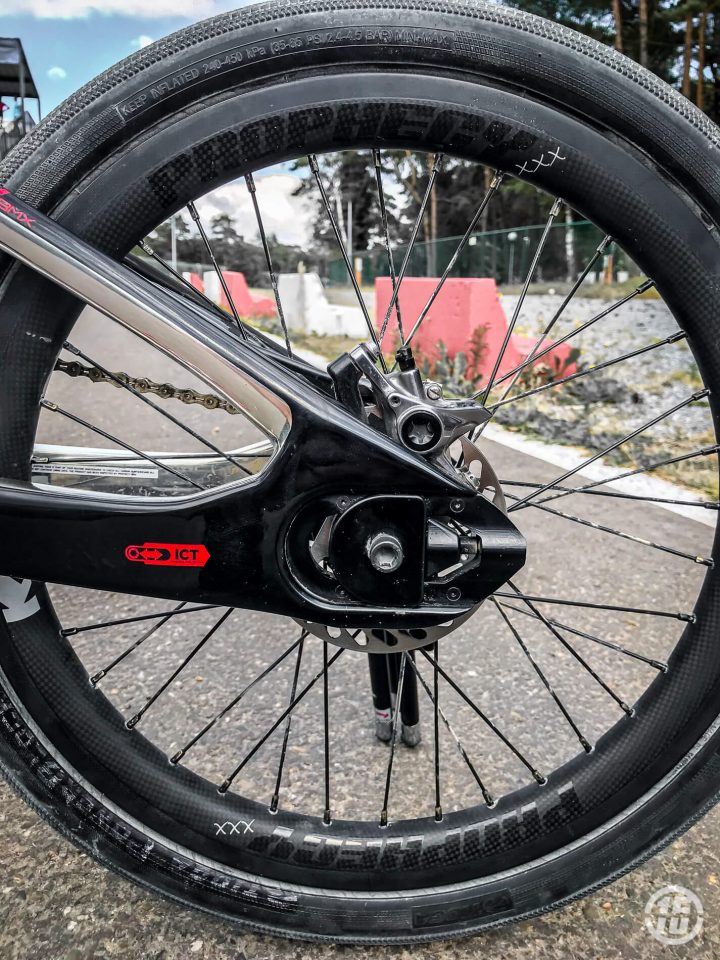 The frame is designed for the 1.6" Tioga rear tyre he prefers (although a 1.75" Maxxis will fit)
The back end is long too, 15.9 inches to the centre and 14.9 inches at its shortest
There are no V-Brake lugs anywhere, and internal cable routing all the way to the disc 
The 20mm axle (10mm with adapters) rear drop-outs will fit a standard 110mm hub
Top tube is 565mm (22.24")
Full build in the photos weighs 15.22lbs ..DAYUM!!
Sizes range from Expert XL up to Pro XXXL as well as a 24" version
Integrated Seat Clamp.
Integrated Chain Tensioner System
Seat Post diameter 27.2mm
Press Fit BB86 Bottom Bracket
1-1/8 to 1/5 Head Tube
Rear Axel 20mm (includes 10mm adaptors). 110mm OLD
Maximum Chainring size is 53T on ProXXXL to ProXL sizes. NICE!!
Integration of Rear Disc Caliper on the Frame using Direct Mount for 120mm rotor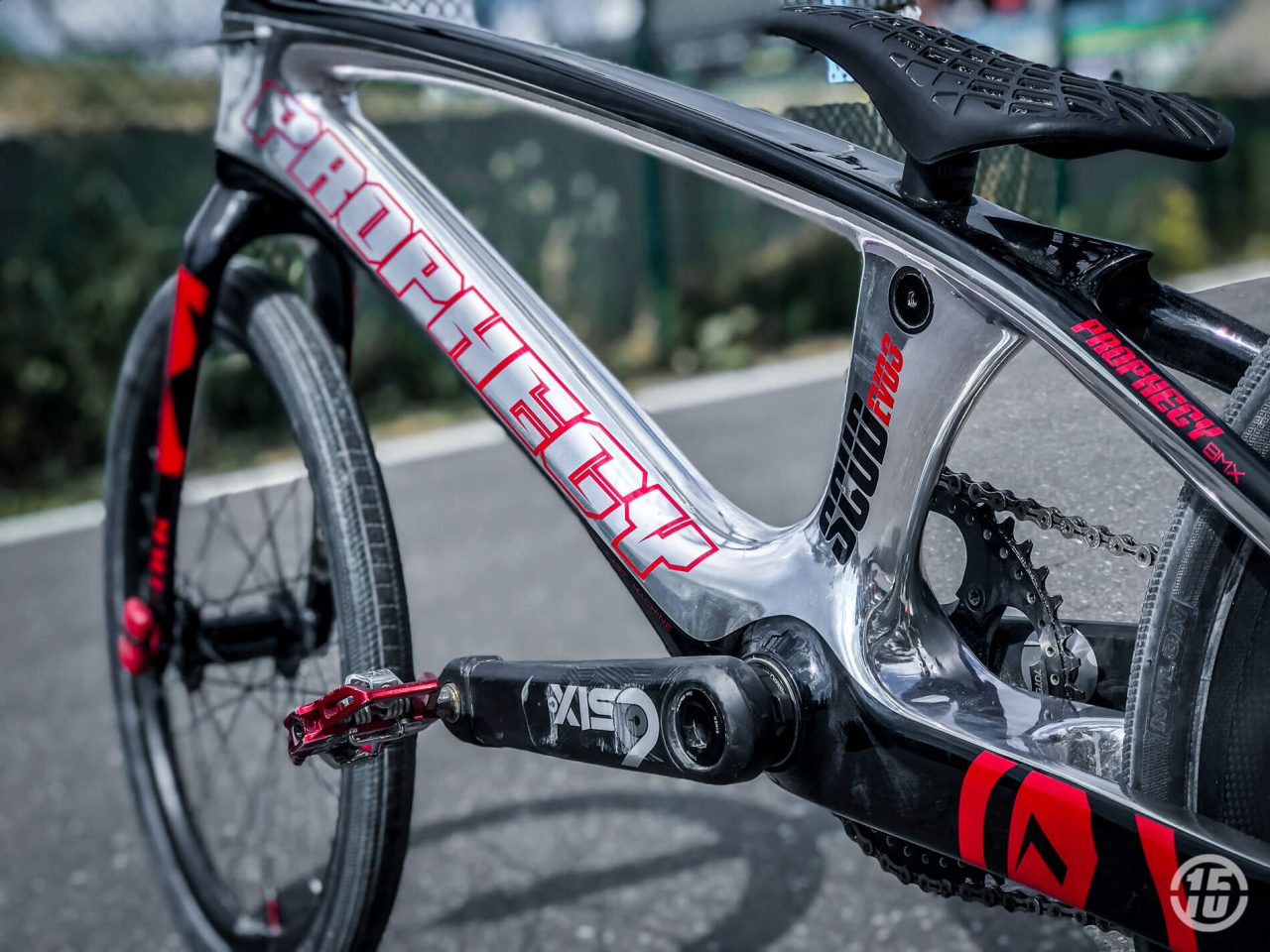 That's a lotta goodies for one bike!!
Be sure to follow David Graf on Instagram
Also follow Prophecy on Instagram
2020 GT Pro Performer Heritage 29 Inch Complete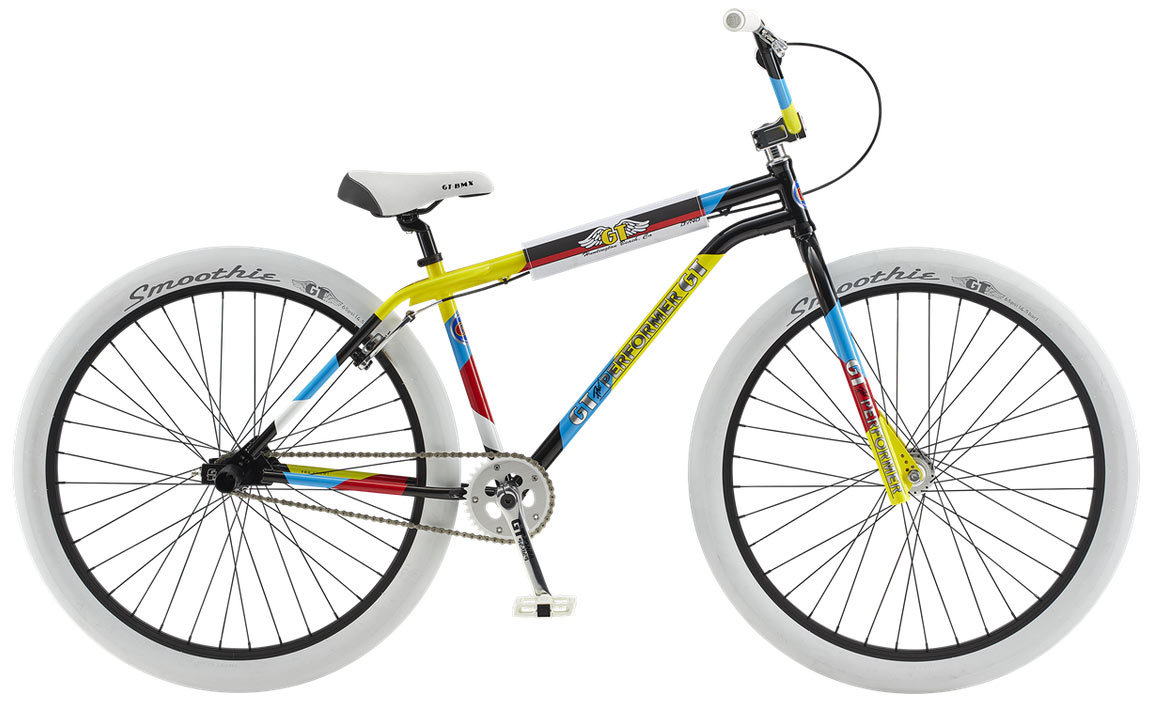 We're loving the colorway on the 2020 GT Pro performer Heritage. The frame fork and bars all match with a crazy combination of yellow, sky blue, red and black. The white GT Smoothie tires, white seat, grips and pedals compliment the wild colorway perfectly. This bike is meant to be flashy, stylish and for getting rad.
The GT Pro Performer has been dipped in all of these colors at some point during its early days in the 80's. We think GT did a great job with the final product.
Other cool features of the bike is the new, modernized Mallet Stem, rear axle pegs for the wheelie squad, the classic toptube/seatstay platform and signature downtube bend. GT even resurrected their Power Series Cranks. There's all kinds of old school and modern day BMX goodness on this bike.
Specs:
| | |
| --- | --- |
| FRAME | GT 86′ Pro Performer Design, 100% Cr-Mo, DT Gusset, MID BB, Inverted Seat Stay V-Brake, Integrated 1-1/8″ H/T w/ Removable Rotor Tabs, 2.5″ Tire Clearance |
| FORK | GT 86′ Pro Performer Design, 100% Cr-Mo 2pc. Steerer, 31.8 O.D. Blades, 3/8″ Axle Dropouts |
| CHAIN | KMC Z1 Wide |
| CRANK | GT Power Series Alloy 3pc., 175mm Arms, 22mm Square Cr-Mo Spindle, GT 5mm 36T 86′ Performer Design Alloy Chainwheel |
| BOTTOM BRACKET | MID Sealed Bearing |
| PEDALS | GT Low Profile FS Platform Design, PP Material, Boron Axle |
| COG SET | 16T |
| RIMS | Alloy Double Wall, 36h |
| TIRES | GT Smoothie 29 x 2.5″ |
| WHEELS SIZE | 29 |
| FRONT HUB | GT Superlace High, Alloy CNC Body, Sealed Bearings, 36h, 3/8″ x 17mm Female Bolt |
| SPOKES | Stainless Steel, 14g |
| BRAKES | PROMAX P-1 Aluminum V-Brake w/ Soft Compound Pad |
| BRAKE LEVERS | Alloy |
| HANDLEBAR | GT Pro Performer Cruise Control 2pc. 100% Cr-Mo, 7.875″H x 31.5″W, 5°Up, 9° Back |
| STEM | GT Mallet 100% CNC Front Load, 1-1/8″, 19mm Rise, 43mm |
| GRIPS | GT Super Soft Flanged 155mm Single Compound w/ GT removable plug |
| HEADSET | 1 1/8″ Integrated Design, 45X45 Degree Sealed Bearings |
| SADDLE | GT Cruise Control Railed |
| SEAT POST | Alloy Micro Adjust 25.4 x 300mm |
Find out more on GTBicycles.com