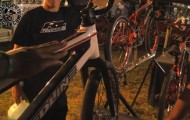 At this years NBL Grands I was excited to see the new Redline Project 79 up close..
I was fresh off reading a review of the Redline Project 79  in BMX Plus and all the riders gave it really good reviews. So I went to the Redline to check out the  bike and by the way Redine always has a nice setup for the factory team, Big up to them for that. When I got to the booth Big Jeff was doing a funny sales pitch for the Project 79 to some kids so I had to turn the camera on and catch it lol! Big Jeff was showing Jason Carnes how to sell the bike to consumers and I wanted him to demonstrate how it's done soI had Chris Gulich and Paul Schmac come over and listen to Big Jeff's pitch. After seeing his pitch, Big Jeff is officially the Don King of BMX lol!!
Find out more about the New Redline Project 79 at www.project79.redlinebicycles.com/p79/
See more BMX interview on our BMXHOOD Channel.