Before Spittin In Da Wip Alumni Senor Kaos came to NY and got in Da Wip we caught up with the homie at A3C in the Atlanta. By time we got to Kaos my voice was gone so I got my dude Napoleon Da Legend to do the interview. Also stay tuned to part two of my interview with Senor Kaos after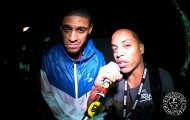 he Spit In Da Wip and I find out why they really call him the Most Interesting MC in the World.
Click Here to see more interviews from A3C.