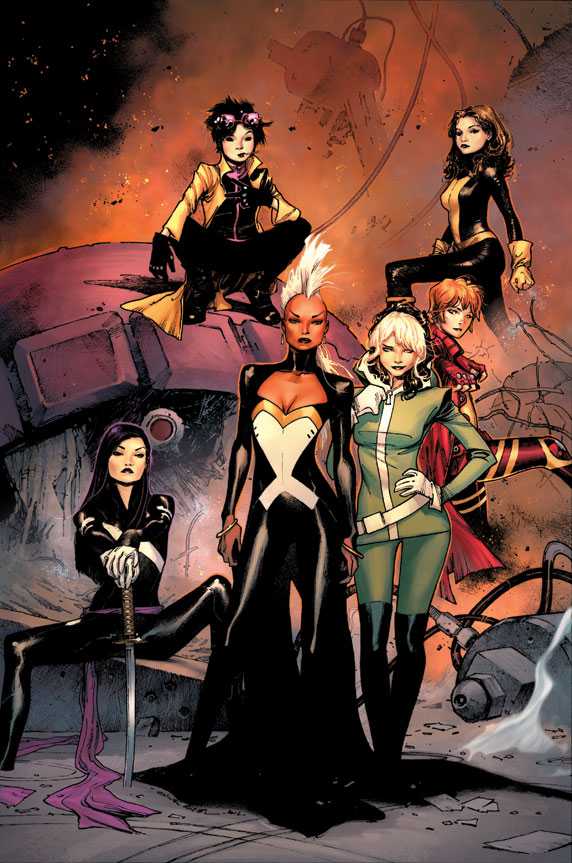 I just saw the news about a new all female X-Men comic book series coming out at the end of this month via GhettoManga.com's Face Book page and I had to spread the news! The concept of this is so dope and long awaited and it features two of my favorite X-Men Rogue and Storm! Not only will Storm be leading this all girl crew of mutant heroes, she's also rocking mean ass mowhawk! I love the way artist Olivier Coipel makes the comic look, the style is dope! Peep the press release below!
Storm, Rogue, Jubilee, Kitty Pryde, Rachel Grey & Psylocke redefine what it means to be a Child of the Atom in X-MEN #1, kicking off the all-new ongoing series by the blockbuster creative team of writerBrian Wood (Ultimate Comics X-Men) and artist Olivier Coipel (Avengers VS. X-Men)! An old enemy shows up at the X-Men's door, seeking asylum from an ancient evil come back to Earth. Meanwhile, Jubilee has come home, and she's brought with her an orphaned baby who might hold the key to the Earth's survival…or its destruction! With an imminent alien invasion and an eons-spanning war between brother and sister around the corner, Storm steps up and puts together a team to protect the child and stop a new threat that could destroy all life in the Marvel Universe!

This May, Wood and Coipel take X-Men in an all-new, all-different direction in X-MEN #1!
Check out some of the pages below.