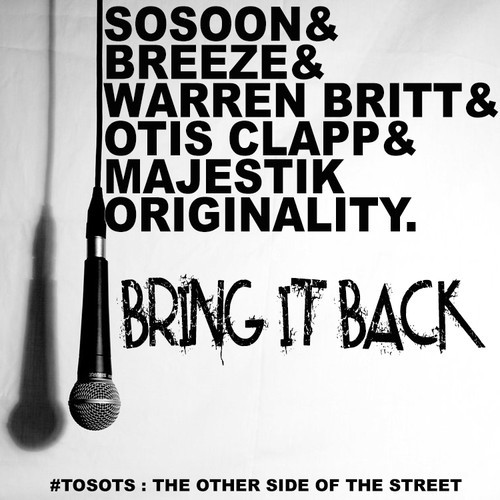 SoSoon, Warren Britt, Otis Clapp, Majestik Originality and Breeze got together to bring us a dope joint called "Bring It Back"! That dope beat was crafted by MillzMatic. Peep the official description of the "Bring It Back" below:
Bring It Back (Produced by MillzMatic) is a lyrical representation and call for MCs to bring that dopeness back to NYC. Also a sort of homage to the golden era without focusing on being stuck in a time warp. Bring It Back is an overall dope track that consist of a good mood mixed with dope rhymes. Staying true to lyrics and message. A little bravado blended with a concious awareness.

Bring It Back is from the upcoming album TOSOTS: The Other Side of The Street. A collaborative project from SoSoon & Majestik Originality. This release features Warren Britt & Otis Clapp. Both MCs know a thing or two about putting a collaborative album out, as they previously released music under the moniker "The UNDERDOGZ". On the hook is Breeze a singer that came about being on this single by SoSoon. Breeze definitely adds the element needed to give the vibe a much needed vocal ambiance.