One of the most exciting things that I discovered at Agenda NYC was the legendary urban apparel brand Cross Colours is back and better than ever!! What was even cooler than that was I got to meet the founder and owner Carl Jones! Carl is a pioneer of urban apparel AKA street wear and a legend in the HipHop community. After a long 20 year hiatus, it's awesome to see him doing it again. The new Cross Colours line will be coming out this spring, make sure you support!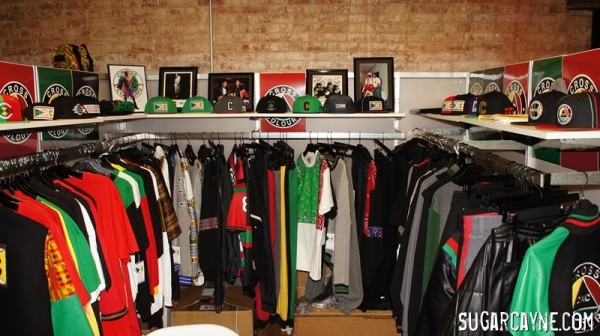 Cross Colours History:
FOUNDED BY CARL JONES IN 1989 IN SOUTH CENTRAL LOS ANGELES, CALIFORNIA, CROSS COLOURS IS THE FIRST CLOTHING BRAND CREATED FOR ALL AMERICAN WITH A STREET POINT OF VIEW. EMBRACED BY THE RISING HIP HOP MOVEMENT, THE BRAND'S PREMISE "CLOTHING WITHOUT PREJUDICE" AND ITS SLOGANS PROMOTING EDUCATION AND THE END OF GANG VIOLENCE MADE IT ICONIC AND FUELED ITS METEORIC RISE — UP TO $125 MILLION IN SALES THE FIRST THREE YEARS, WITH SUPPORT FROM TOP ARTISTS AND CELEBRITIES SUCH AS SNOOP DOGG, RUN DMC, DRE, TLC, WILL SMITH, MAGIC JOHNSON, SHAQUILLE O'NEAL, MC LYTE, KATHY IRELAND, JAMIE FOXX, MUHAMMAD ALI, PAULA ABDUL, MARY J. BLIGE, STEVIE WONDER, AND MANY MORE.
Find out more at CrossColoursLA.com