The Legendary Schwinn Lemon Peeler Is Back!! This was he ultimate bike for wheelies and skids back in the day. Check out the press release below for more details!
Madison, Wisc. – February 28, 2017 – Schwinn, a brand of Dorel Industries, Inc. (TSX: DII.B, DII.A), today released a limited production run of 500 Schwinn Lemon Peeler bicycles. The Lemon Peeler is part of the Sting-Ray family of bicycles, one of the most popular and beloved bike designs for generations of Schwinn riders. Available for the first time since 2008, Schwinn fans will be able to own a piece of the brand's history.
The first Sting-Ray bikes rose to popularity in the 1960s and quickly became synonymous with childhood. The Lemon Peeler was the bright yellow favorite among kids. "The Schwinn Lemon Peeler is one of the most recognized Schwinn bikes," said Milissa Rick, Senior Director of Marketing for Schwinn. "We are excited to make this bike available to those who always wanted to own a Schwinn Sting Ray. This is an opportunity for us to also share our story with a new audience."
The limited edition Lemon Peeler will feature a spring suspension fork, a Schwinn 16-inch front wheel and a 20-inch Sting-Ray Slik rear tire just like its original counterpart. Additionally, the bike is equipped with a striped banana seat, fenders and a coaster brake.
"The Lemon Peeler really harkens back to the classic Sting-Rays of the 1960s," said Josh Vick Director of Schwinn Product. "These bikes have so much history attached to them, and they are fun to ride. I have no doubt that they will go fast."
There was only 500 bikes made in this run and they all came with a numbered certificate. They were made available on Amazon last month and sold nearly 400 Lemon Peelers like hot cakes!! 100 more will be back in stock on April 24th at Amazon.com so you have about 2 months to save up $349.99 to get your hands on one. Stay tuned for more updates!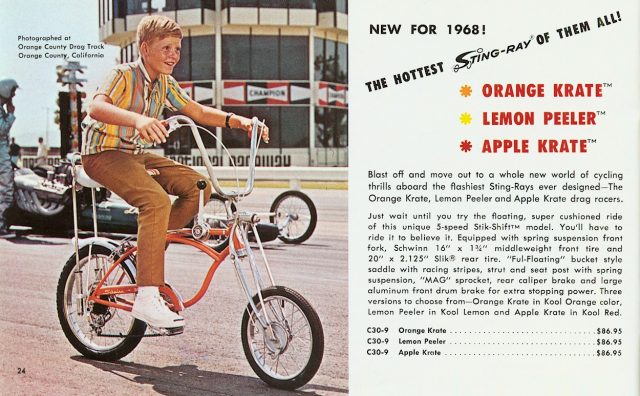 We can't wait to see people hitting the streets with these!!
Hopefully they come out with the classic Lemon Peeler Stik-Shift model along with the other classic colorways it in the near future. 🙂