Product description
This is the limited edition Sugar Cayne By Nature 26inch BMX frame! This frame celebrates the 30th anniversarry of the legendary HipHop group Naughty By Nature. It's a collaboration between Crazy Al Cayne and Vin Rock based off the Sugar Cayne 26in BMX Frame design.
The frame features a yellow colorway with custom black water transfer decals. Yellow and black represent the colors used on Naughty By Natures logo for their 1991 self titiled debut album. Titles from some of NBN's hit records like "Guard Your Grill.", "Feel me Flow", "Craziest" and "Dirt All By My Lonely" are featured on the frame. We chose those titles due to their relevancy to the BMX culture.
Crazy Al Cayne's motto of "Just Ride" is featured on the seat tube while the Sugar Cayne tag line of "BMX-HipHop-Life" is featured on the seat stay. All the frames have a special "SCBN" serial number which vary between both the Sugar Cayne By Nature and Illtown Sluggaz frames.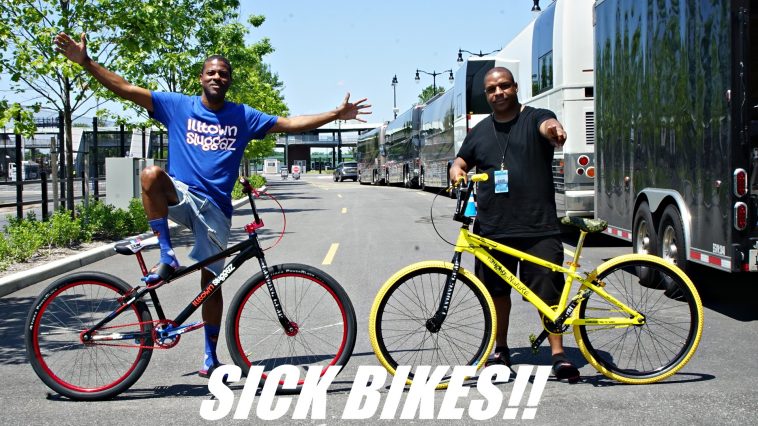 The Sugar Cayne By Nature frame design is the exact same frame design as the Sugar Cayne 26in frame. It has the same 6061 T-6 tubing that is used on the Sugar Cayne 20in Pro XXL frame. The downtube has the same bend as the 20in for a consistancy between frame sizes. The head tube is 1-1/8 (top and bottom), the bottom bracket is threaded (Euro) and the rear dropout is 14mm. We also taperd the seat tube where it meets the bottom bracket for added strength and less flex.
View this post on Instagram
Geometry on this frame is meant for all around riding. It's a racing frame at heart but it's also right at home at the trails, bike parks and the streets. It can also wheelie with the best of them. We chose 14mm dropout so the frame can be able fit both 14mm axles for better peg support or 10mm axles (with adaptors) to fit lighter racing hubs.
The 26in Sugar Cayne By Nature frame comes in 26in and 20in Expert sizes and are limited to 50 frames each.
SUGGESTED PARTS LIST:
Below is a suggested parts list to help you complete your Sugar Cayne By Nature Bike Build. This list includes some of the parts used on Kay Gee's personal bike. Parts curated by Crazy Al Cayne. The prices below may be different from their current price.
LIST #1: