Product description
This is the limited edition Illtown Sluggaz – Sugar Cayne 20inch BMX frame! This frame represents Vin Rock and Kay Gee's Illtown Sluggaz brand! It's a collaboration between Crazy Al Cayne and Vin Rock based off the Sugar Cayne 26in BMX Frame design.
All the frames have a special "SCBN" serial number which vary between both the Sugar Cayne By Nature and Illtown Sluggaz frames.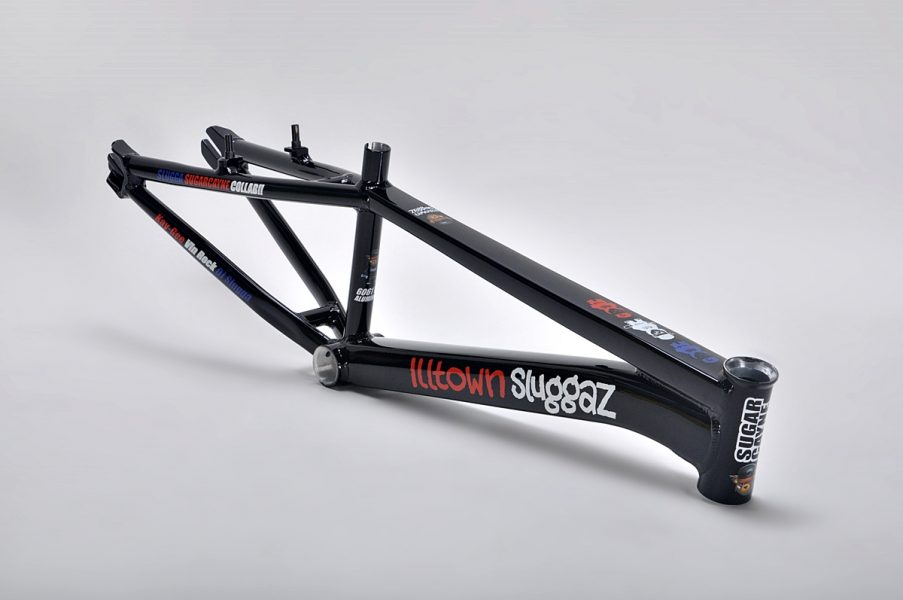 The Sugar Cayne Illtown Sluggaz 20 inch expert frame design features the same 6061 T-6 hydroform tubing that is used on the Sugar Cayne 20in Pro XXL frame. The downtube has the same bend as the PRO XXL for a consistency between frame sizes. We wanted to make this frame tougher than the average expert frame. Starting with a 1-1/8 (top and bottom) head tube as oppose to a 1inch head tube. The bottom bracket is threaded (Euro) and the rear dropout is cnc machined. To save weight we used the smaller 22.2 seat tube diameter. The seat tube is also tapered where it meets the bottom bracket for added strength and less flex. This frame fits 20inch or 1-3/8th wheel sizes. If you run 1-3/8th wheels you'll need v-brake extenders for most v-brake brands.
The 20in Sugar Cayne Illtown Sluggaz frame also comes in a 26in size and are limited to 50 frames each.
SUGGESTED PARTS LIST:
Below is a list of suggested part to complete the Sugar Cayne By Nature 20in Expert frame