BIKE OF THE DAY: 1984 Hutch Trick Star Chrome/Black/Gold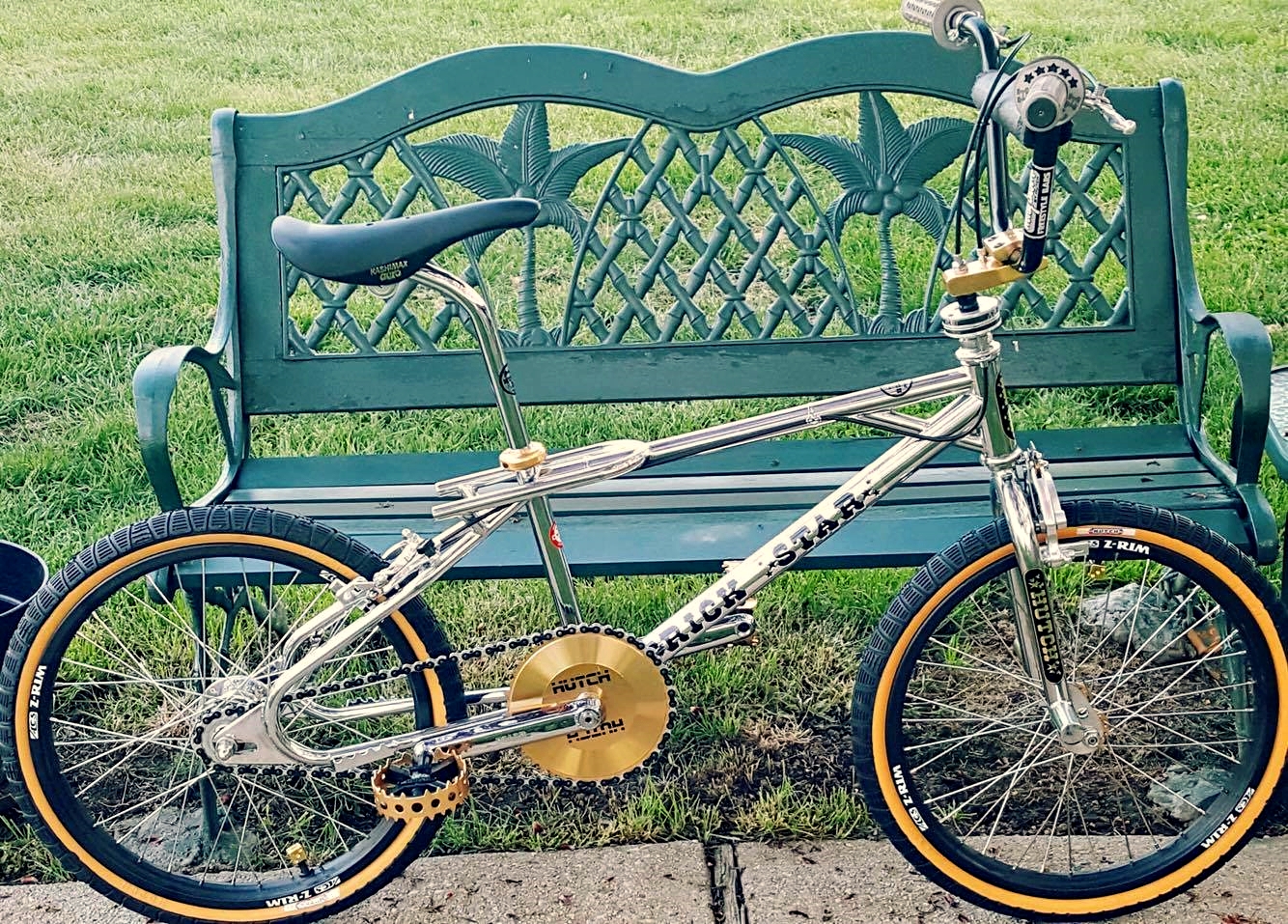 We got sent this mint 1984 Hutch Trick Star from Timmy Ci and so know we had to post this beauty up for Bike Of The Day!!
Make sure you rate this bike on our new ratings box below.
Also check out our new Top Rated Bikes Chart HERE
Parts List:
•84 American Hutch Trick Star frame
•Hutch forks modified to accept Hutch team issued front 990 (confirmed real by Woody himself)
•Hutch aerospeeds show mounted
•hutch sprocket
•Hutch pedals (still have hutch tape on them)
•Hutch post
•Hutch gold stem
•Hutch woody bars
•Hutch tires show mounted
•Hutch gold front hub
•ACS Zrims
•ACS MX locking (tech 4 style) levers
•ACS pro rotor
•SST coaster brake show mounted
•Kashimax Aero seat
•Dia Compe rear MX 1000 brake
•Hutch gold seat clamp
•A'me original unitron grips
[rwp-review id="0″]
BIKE OF THE DAY: Chase ACT 1.0 Carbon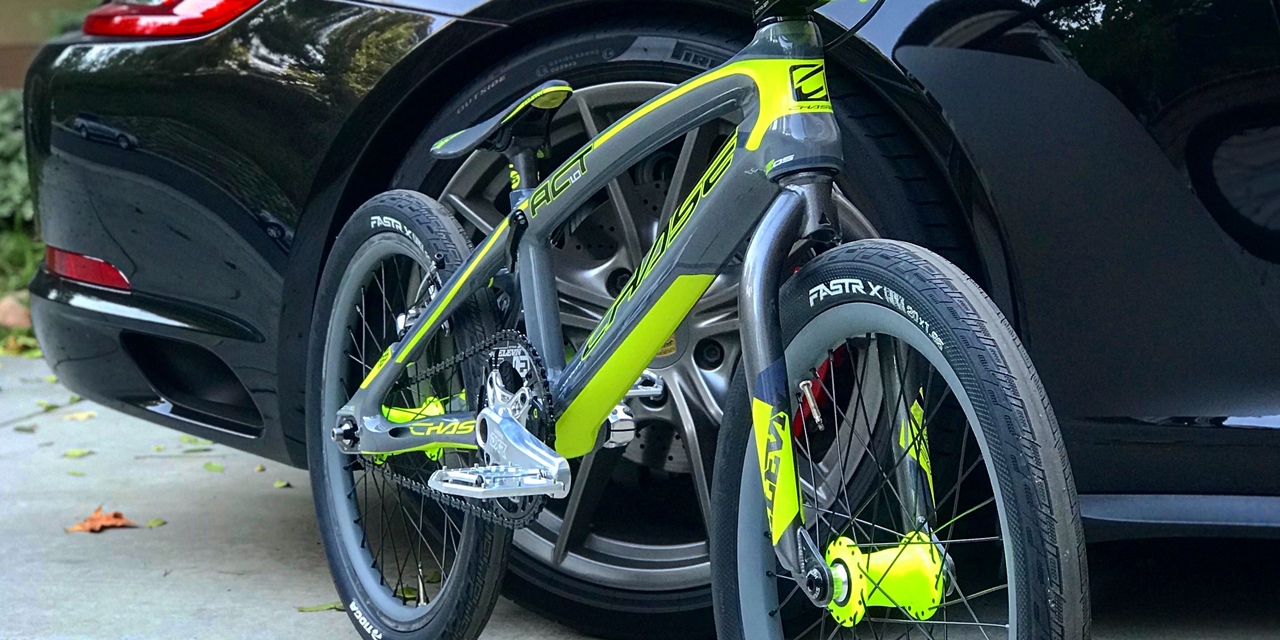 Today's bike of the day comes in from UCI Host, Commentator and BMX Racing Groups own Pete Dylewski who set up a sick Chase ACT 1.0 with all the bells and whistles for his personal ride!!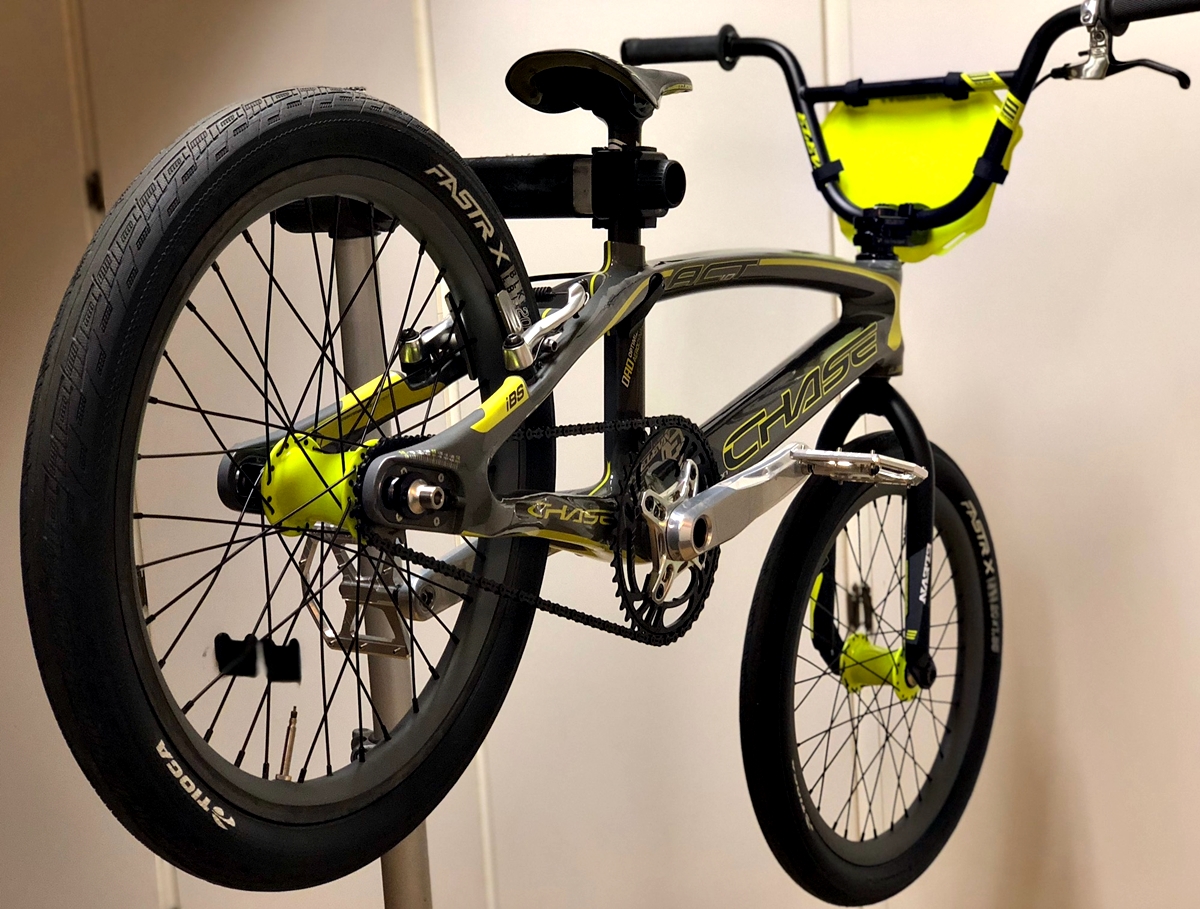 Peep the Stats:
FRAME: Chase ACT 1.0 Carbon – Gloss Grey / Flow Yellow
FORKS: Elevn 7.0 LT 20mm – Matte Black / Flow Team edition color
FRONT AXLE: Elevn 20mm
HANDLE BARS: Elevn SLT G2 Matter Black / Flow Yellow Team edition
SEAT POST: Elevn Aero – Alloy – Frame comes with 110mm Carbon Aero Post, but i wanted a longer one
SEAT: ELEVN PC Pivotal Seat – Black / Flow Yellow – Elevn Ti Pivotal Bolt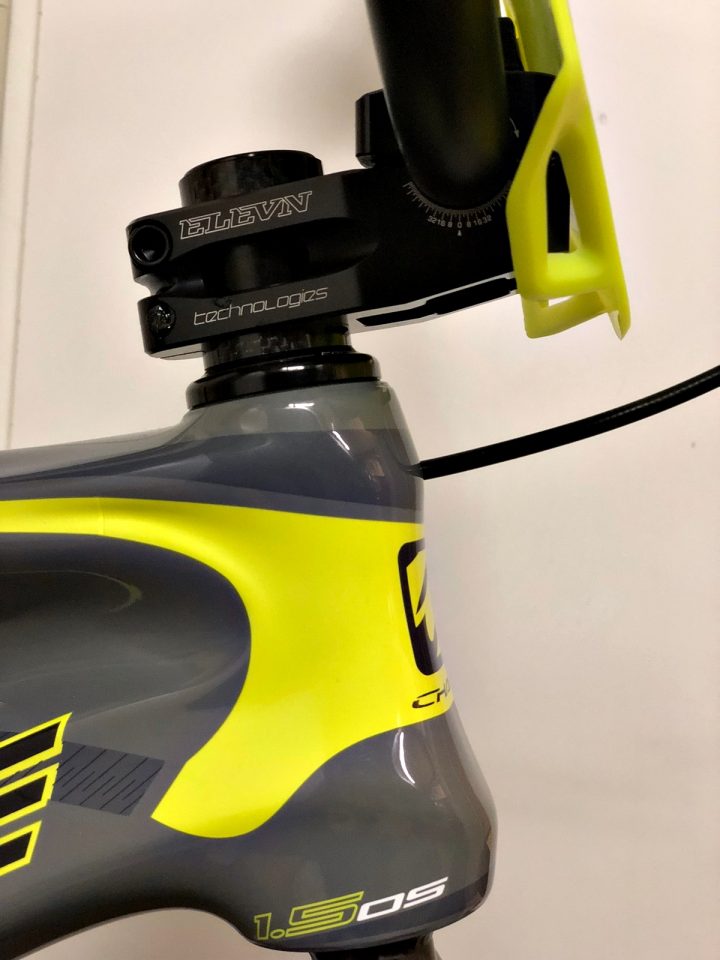 STEM: Elevn 50mm – Elevn Ti Bolts
SPACER: Insight Carbon Steer Tube Spacer 10mm
HEADSET: Elevn Intergraded Tapered Headset 1 1/8th – 1.5
GRIPS: ODI RUFFIAN Lock On with Custom Laser Etched Clamps – Chase – Elevn Ti Clamp Bolts
BRAKE LEVER: Shimano DXR Brake Lever with Elevn Ti Bolt and Elevn Ti Barrel Adjuster
RIMS: Elevn Prototype Carbon Rims
HUBS: Stealth Hubs – S3 20mm FRONT Hi Vis Yellow – 3/8 REAR with Ti Bolts and 16 tooth rear cog
SPOKES: Excess Ti Spokes
TIRES: Tioga Fastr BLK Label Tires 20 x 1.85 & 20 x 1.75
INNER TUBES: Excess Pro Lite Tubes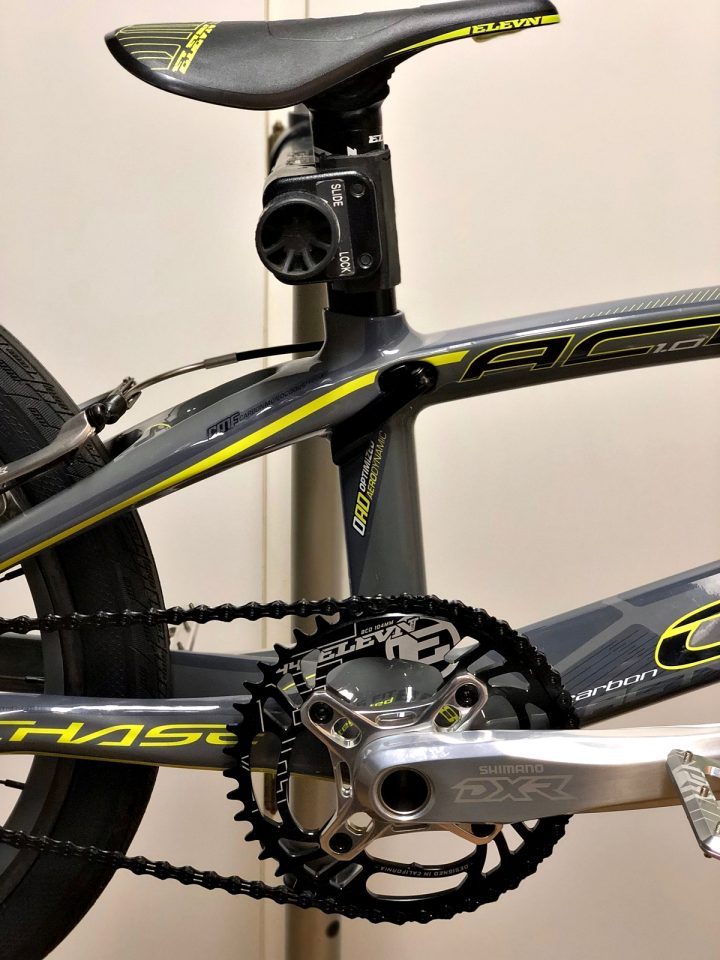 CRANKS: Shimano DXR Cranks 175 with Elevn Ti Bolts
CHAIN RING BOLTS: Elevn Ti
CHAIN RING: Elevn Flow 4 Bolt Chain Ring – 44tooth
BOTTOM BRACKET: Elevn BB-86 Press Fit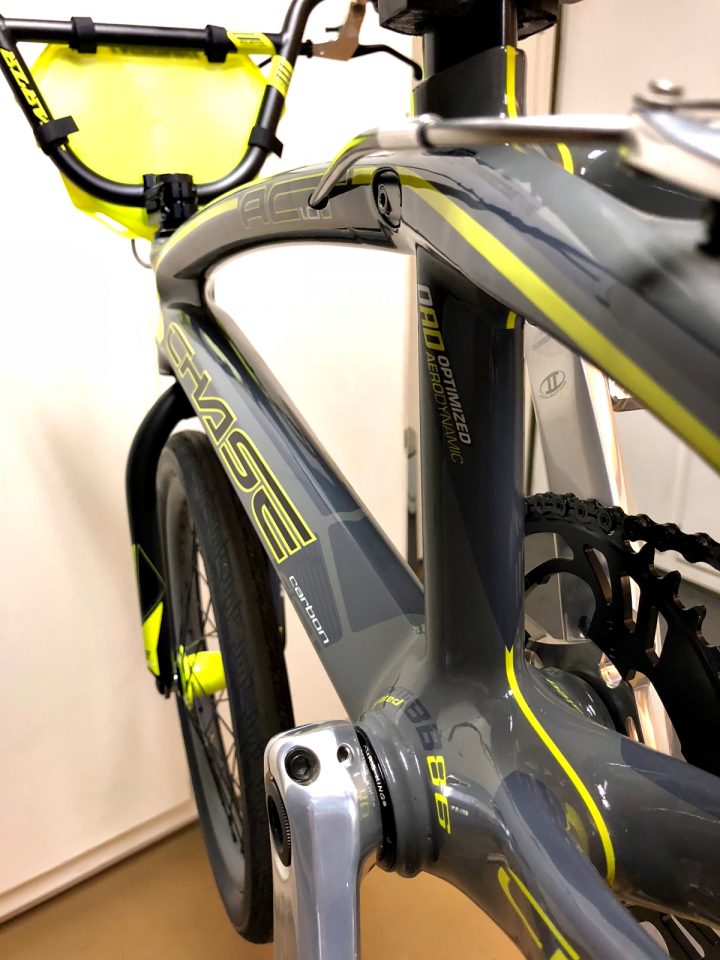 PEDALS: Elevn Prototype Flat Pedals
CHAIN: KMC K710-SL BLACK
REAR BRAKE: Shimano DXR Rear Brake and Cable – With Elevn Ti Pivot, Brake Pad, and Cable Anchor Bolts
NUMBER PLATE: Tangent Ventrill 3D with Tangent Custom Plate Insert
WEIGHT: just under 18 lbs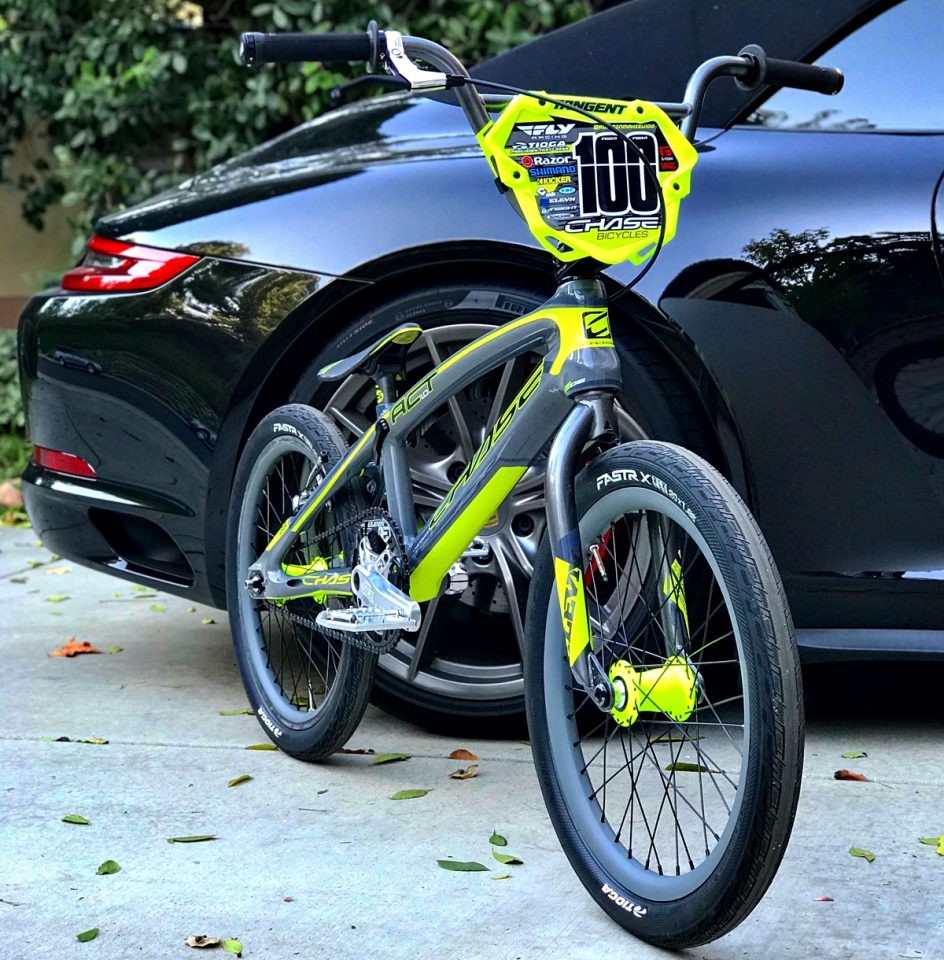 The Frame has a intergraded QR Seat Clamp, built in chain tensioners (2 options), a tapered head tube, press fit BB86, Intergraded Brake System, Internal brake cable routing, aero seat tube, and 10mm or 20mm rear dropout plates so you can use either size hub. The Prototype parts include the carbon rims and super thin Elevn flat pedals. ~Pete Dylewski
BIKE OF THE DAY: 2018 Truth Main Event Pro XXL, White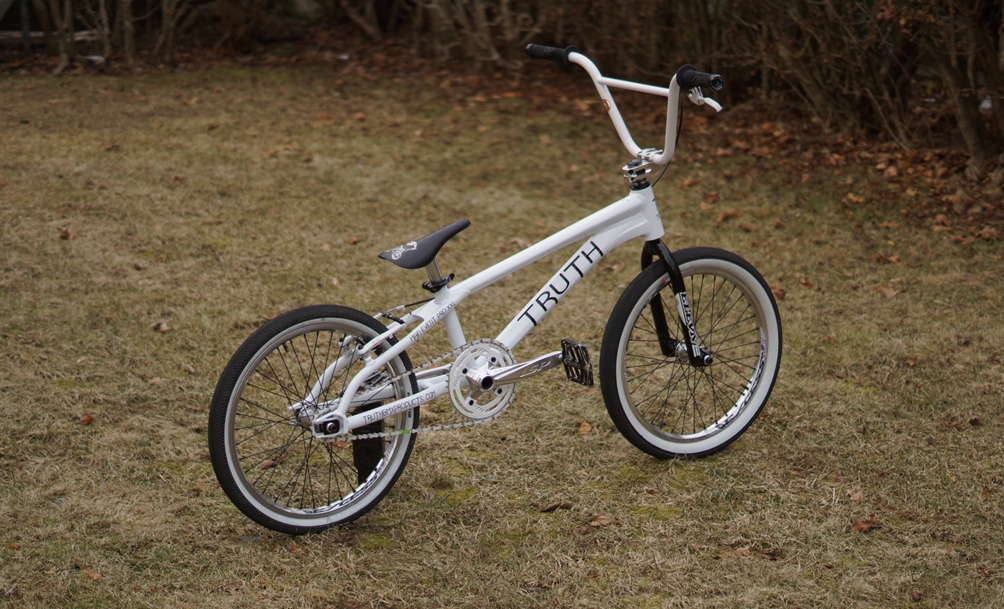 For today's Bike Of The Day I posted my 2018 Truth BMX "Main Event" Pro XXL!! I wanted to wait until I finished my video review for it but the weather is making the production of the video take longer than expected.
For this build I did a white/black/ polished colorway and it came out amazing looking. The frame's branding is all done in water transfer and it gives it such a great finish. The White wall Vee Speedsters really give the build that luxurious, exotic look. I can't wait till the weather gets better so I can hit the trails and tracks with it.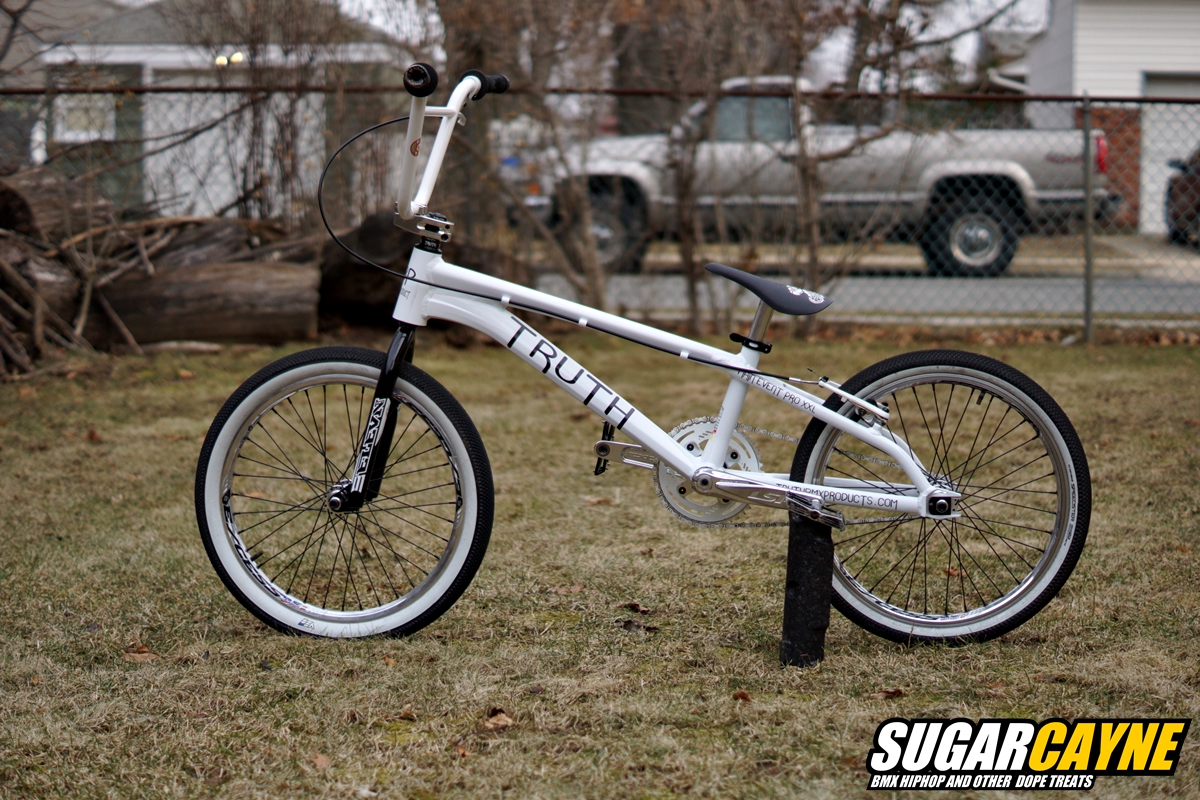 Parts List:
FRAME: 2018 Truth BMX Products "Main Event" Pro XXL
FORK: Elevn 8.0 Pro V2
WHEELS: Stock Excess 351 Cassette Wheelset
CRANKS: Execss LSP 2pc 180mm
STEM: Elevn 6061 CNC'd
PEDALS: Snafu Anorexic
SEAT/POST: Snafu Solo (With a DHDwear BMX Trooper sticker)
CHAIN RING: Elevn
CHAIN: KMC Z410 White
BOTTOM BRACKET: Truth BMX Products
HEADSET: Truth BMX Products
HEADSET SPACERS: Truth BMX Products
SEAT POST CLAMP: Truth BMX Products
TIRES: Vee Speedsters (White Wall)
HANDLEBARS: S&M Race XLT (9.25″ rise)
BAR ENDS: GT
BRAKES: SINZ PRO LINEAR BRAKE KIT
Check out the photo gallery below and stay tuned for my full review of the frame.
BIKE OF THE DAY: Daylight ARC c1-DV Pro 24, Storm Grey/Halo Green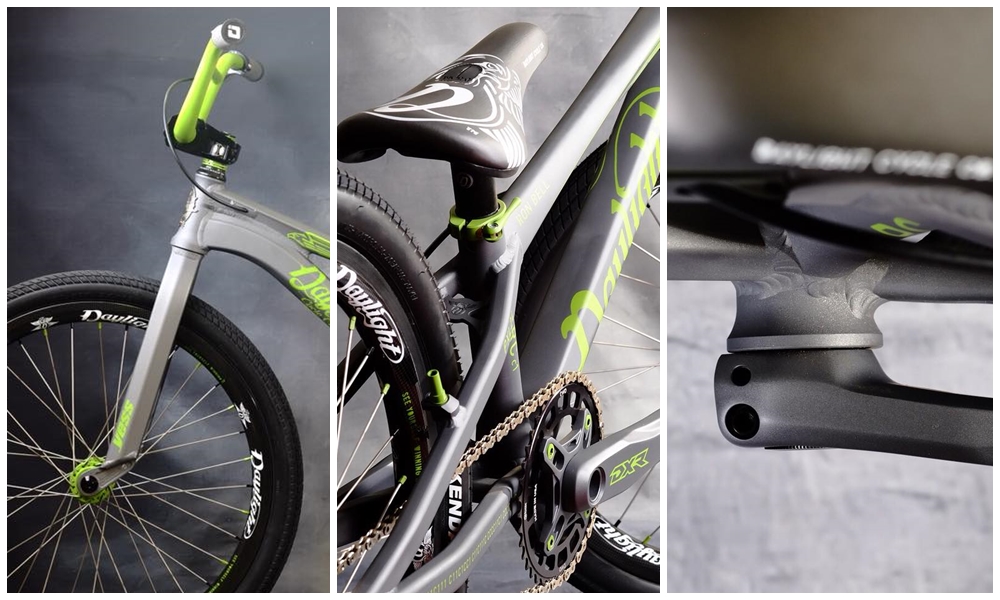 The Daylight Cycle crew have been releasing images of some of the hottest BMX Racing bike builds in the game. They been putting out so much hotness it's been hard to keep up! Their latest build so Hot we had to make it bike of the day! Feast your eye's on this beauty, it's a DAYLIGHT ARC c1–DV PRO 24 XL in a beautiful Storm Gray + Halo Green Ceramic Coated colorway. This bike is real show stopper but It's not just meant to be looked at, it was born to race! This is one of the first Daylight completes that feature their 20MM rear Axle System. This bike also feature the popular new Yess Reach Forks!


Check out the rest of the goodies on this build:
Frame: DAYLIGHT ARC c1–DV PRO 24 XL W/ DAYLIGHT 20MM REAR AXLE SYSTEM (Storm Gray + Halo Green Ceramic Coated)
Handlebars:Box One Cruiser Bar
Stem: Box Delta Stem Custom Ceramic Coated Halo Green
Headset: Daylight Carbon
Grips: ODI Elite Pro w/ Custom Ceramic Coated Halo Green Lock-Rings
Headset Spacers: Box Zero, Custom Ceramic Coated Halo Green
Forks:Yess Reach 1.5" Tapered 24" Aluminum Fork w/ 20mm Drop-Outs – Custom Ceramic Coated Storm Gray + Halo Green
Brakes: Shimano XTR M9000 Hydraulic Disc Brake Set, SRAM Centerline Two-Piece 140mm Rotor w/ Titanium Bolts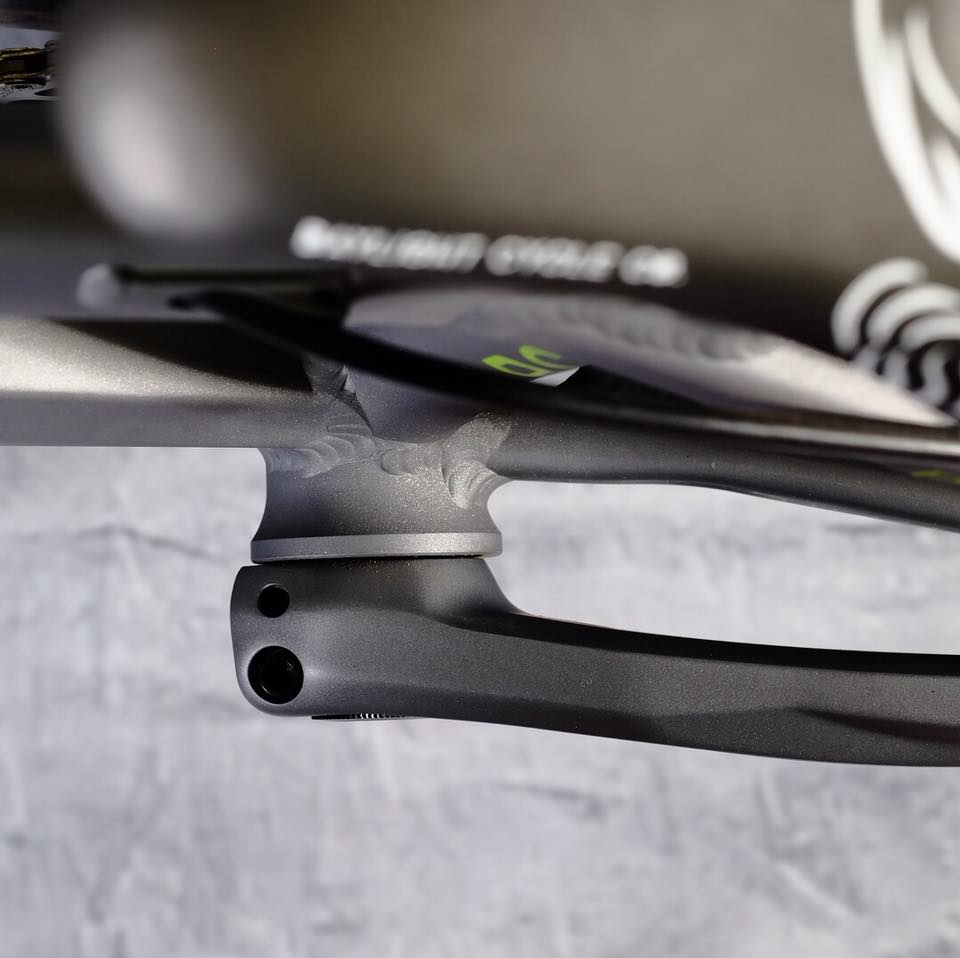 Cranks: Shimano DXR Crank Set – Custom Ceramic Coated Storm Gray + Halo Green
Bottom Bracket: Enduro ZERO Full Ceramic Bearings for Daylight Integrated Bottom Bracket Shell
Chainring: Box Two
Chainring Bolts: Box Spiral 7075 Alloy Custom Ceramic Coated Halo Green
Chain: KMX X1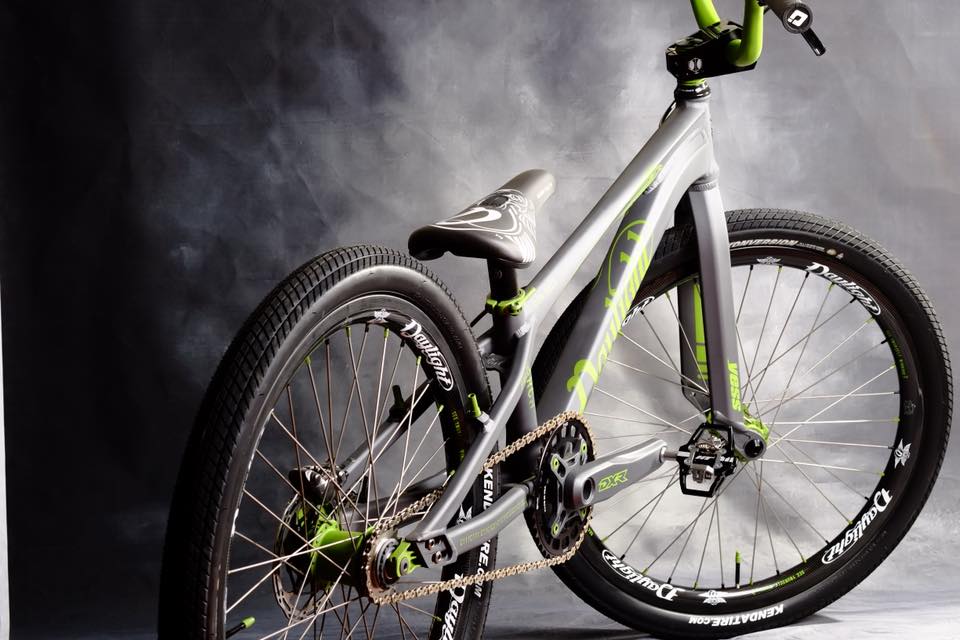 Cog: Onyx Stainless Steel
Rims: Daylight Edition EPiK Carbon Pro Carbon 24" w/ Custom Green Tagline Decals
Rear Hub: Onyx Ultra SS 20mm
Front Hub: Onyx w/ 20mm Thru Axle
Spokes: USA Titanium
Spoke Nipples: Black Alloy and Custom Ceramic Coated Halo Green Alloy Spoke Nipples
Rim tape: Velox Premium Cloth
Inner Tubes: 24 X 1.75/1.95 Presta Valve Tubes
Valve Cap: Box Alloy Presta Valve Caps, Custom Ceramic Coated Halo Green
Tires: Kenda Konversion Folding 24 X 1.85
Seat: Daylight Pro
Seat post: Daylight Pivotal Alloy
Seat Clamp: Daylight 7075 Machined Alloy QR Seat Clamp
Pedals: HT T1 Pedals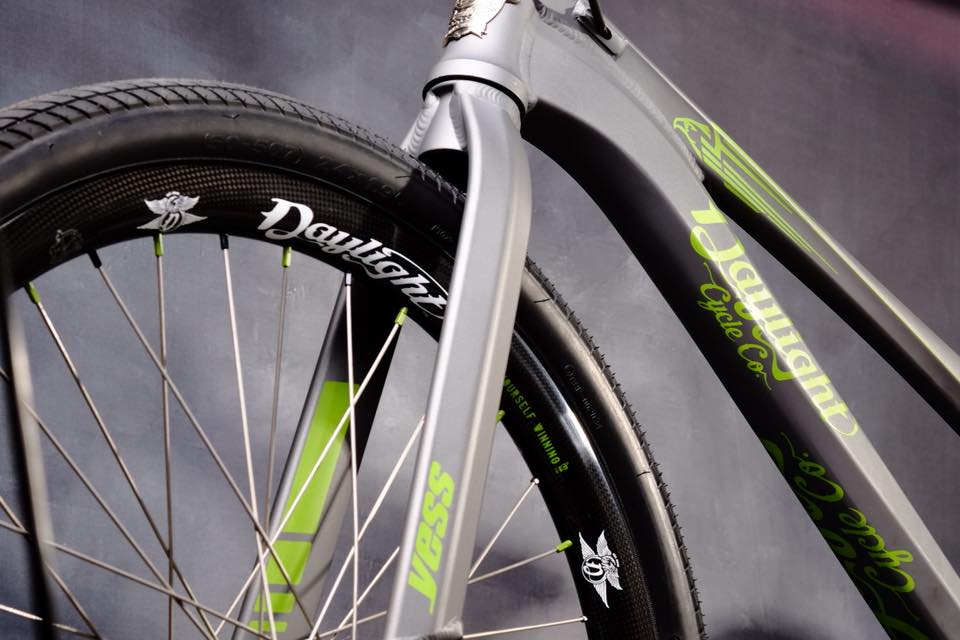 Man that's a lot to take in!! Lots of high end parts and ceramic customization went into this build and the results are amazing!
Find out more about the Daylight Pro Xl Cruiser on DaylightBmx.com