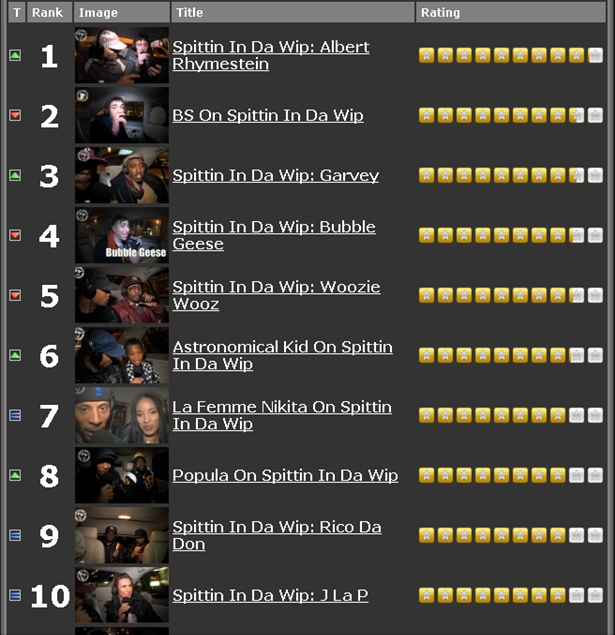 It's been a busy week on the charts but one thing hasn't changed, Albert Rhymestein is still the #1 All Time Spittin In Da Wip MC! BS jumped from 4th to #2 with Garvey holding down his #3 spot for another week. Jakie P from Bubble Geese dropped two spots to #4 and Woozie Wooze from Zhiggie moved up from sixth to #5!! Mr Spittin In Da Wip Astronomical Kid moved up from 8th to 6th this week and Lafemme Nikita held down her lucky #7 spot for another week! My dude Popula got bumped down from #5 last week to #8 and Rico Da Don and J La P held down their positions at #9 and #10 for another week. Notable mention is Nock who just entered the charts at #18, congrats man!
Keep the votes coming ya'll your vote does count, Check out all of the Spittin In Da Wip episode and rate them, you can see all the episodes at https://www.sugarcayne.com/sidw.
We are also doing a monthly Spittin In Da Wip Chart where we're looking for the Highest rated MC for the Month. MC's need at least 10 people to fill out their ratings box to appear on the chart, this chart resets itself every month so in order to appear on the charts you need to get at least 10 more people to fill out the ratings box. We'll have more info on that later but sofar this month Maddam Queen is #1 on the Monthy Charts!

Watch and Rate the latest episodes!
Mook(Murda Mook)
https://www.sugarcayne.com/2011/03/mook-on-spittin-in-da-wip/
BI Bang
https://www.sugarcayne.com/2011/03/bi-bang-on-spittin-in-da-wip/
Worldarama(Grind Hard TV)
https://www.sugarcayne.com/2011/03/worldarama-on-spittin-in-da-wip/
Maddam Queen
https://www.sugarcayne.com/2011/03/maddam-queen/
John O(Gecko Brothers)
https://www.sugarcayne.com/2011/02/john-o-spittin-in-da-wip/
{{ reviewsOverall }} / 10
Users
(0 rated)