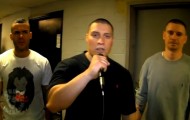 The whole crew from Creative Juices Music was backstage at BB Kings for the Reakwon Show and I got a dope drop from them. Plus Spittin In Da Wip Alumni CF(Constant Flow) does a dope freestyle. Now I usually save the Freestyles for Spittin In Da Wip but I let it slide at BB Kings, after CF spit it opened the Freestyle Pandora's Box lol..almost everybody that did a drop for me that night did a freestyle lol.
Follow Creative Juices Music: http://twitter.com/#!/CJMHipHop
Follow I Am Many: http://twitter.com/#!/therealiammany
Follow UG from Cella Dwellas: http://twitter.com/#!/therealug
CLICK HERE to see Constant Flow(CF) on Spittin In Da Wip!