I was recently sent this video via email and I'm really wack at checking my email because I get sooooo much junk…but I do make an exception whenever I get an email from Vimeo. I was pleasantly surprised when I clicked on the link and hit the play button, I though this kat Omar LyeFook was gonna start spittin bars but he came out singing very soulfully on this track called "The Man". It's really hard to find that soulful, HipHop, boom bap,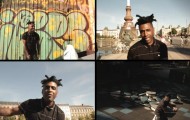 R&B(Ya'll might know it as Neo Soul) nowadays so it refreshing to hear this Omar tune. In the description of the video on Vimeo it says "All the vocals were sung live as we filmed – later I added the instrumental for the track" That's pretty dope! The video was Directed, shot & edited by Kristian Mathiassen.
I'm gonna be keeping my eyes and ears open for tunes like this and will posting them on the site, people need to know about this 4sho!