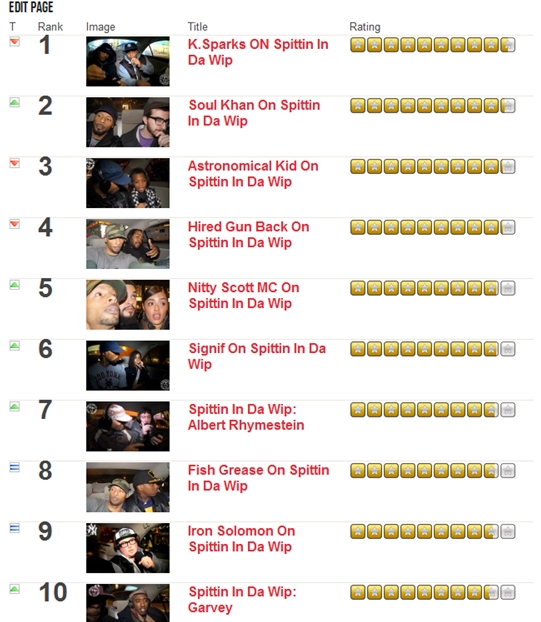 Wassup ya'll, time for another weekly Top 10 @SpittinInDaWip MC's Billboard Chart update!!
Queens MC K.Sparks(@ksparkstv) is #1 again after losing his spot briefly from Soul Khan! Soul Khan's episode just got posted this week and it had the web buzzing, people from all over came in and rated his episode but K.Sparks edged him out as more fans and visitors came through to support and let their voice be heard. Coming in at #3 is the Astronomical Kid who just recently signed with Jay-Z after holding it down on the X-Factor..congrats my dude!! This episode with Astro was filmed over a year ago and was #1 at the beginning of the year and shot back up to the top spot after he appeared on X-Factor. Last weeks #3 MC, Hired Gun got bumped down one spot and he sitting at #4. The domino effect was in full effect as last weeks #4 MC, Nitty Scott MC moved down to #5. Same thing for last weeks #6 and #7 MC's, Signif is now sitting at #6 and Albert Rhymestein is at #7 and the dominoes kept falling as last weeks #7-10 all fell one spot Fish Grease is at #8, #9 Iron Solomon #10, Garvey. Last weeks #10 MC, Murda Mook is now out the top 10 and landed in the #11 spot!. We also had another new entry to the list this week, King Ra entered at #34.
You can check out the rest of the top 50 Spittin In Da Wip MC HERE
Thats it for now, Have a great Holiday!!