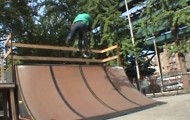 Yo this video by Minority Bikes is off the chain and it features some of today's best NYC riders. I've ridden with most of the riders featured in this video before and it's great to see how far they've progressed..Salute!! "Meow If You Want" is the second edition to the Minority video library filled with the year's best and latest innovative riding from the whole MBC team. Filmed entirely in New York City starring Minority pro riders in order of appearance:
Pablo Nunez, Oba Stanely, Emmanuel Torres, Drew the Plumber, Daniel Dejesus, Alberto Ramos, Carlos Perez and Black Rob Deveaux
Friends section includes Eddie Navarro, Frankie Navarro, Casio Velez, Hayston Sheppard, Luis Garcia, Jesus Mangones, Luis Orth, Garret Hoogerhyde, Albert Hunt, Ernesto Torres, Nelson Lugo and Larry Bendez.