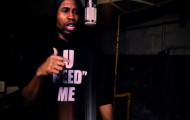 #SpittinInDaWip alumni Sha Stimuli(@ShaStimuli) Went in hard on this joint called "The Calling". In conjunction with "The Calling" release The Beatz & Lyrics Show presents this track, produced by Focus and recorded at the A3C Festival. This is the second release from the The Beatz & Lyrics radio show's 3rd annual A3C mixtape recorded on-site at the festival in a mobile studio. Sha murdered this beat 4sho!!! We need to get him back on Spittin In Da Wip this 2012, it's been a few years since his last appearance, stay tuned for that!
Below is a description of the A3C Mixtape:
This year's installment–executive produced by the Dynamite Bros.–features some of the best collabs in the series! Once again new talent teams up with veterans and the Atlanta hip hop community merges with artists from all over the country. The lineup features J-Live, Reks, Termanology, Boog Brown, Laws, Donnie Goines, 4ize & Senor Kaos as Ultra Beast, Stanza, Illastrate, Clan Destined, Nefarious!, D. Julien, D.R.U.G.S. and many more.