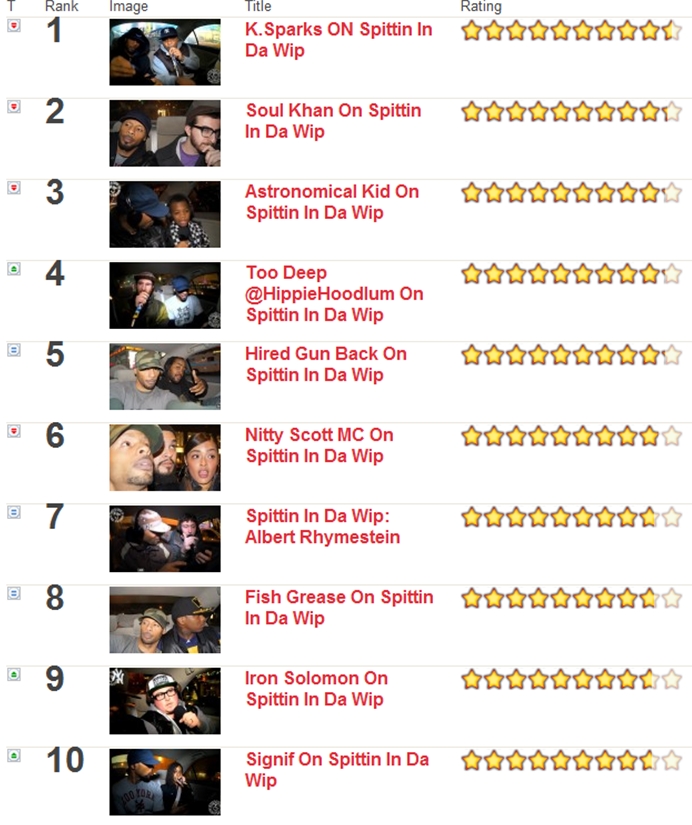 Wassup ya'll, the new Top 10 @SpittinInDaWip MC's update is here and this is the first one of the new year! For 2012 we changed a rule, mc's artist now have to get at least 30 visitor to rate their episode in order to be eligible to be on the list. So we created an all new top 50 list which includes any MC that's had 30+ votes from previous years and we will not be using the old chart anymore but you can still see it Here.
Now let's get into this list. Coming in at #1 again is Queens emcee K.Sparks who earlier this week got bumped by Too Deep. Too Deep got his 30 votes quick and enter the charts at #1 this week but wound up landing in the #4th spot as of this posting. Coming in at #2 is Soul Khan and #3 is Astronomical Kid, they have a lock on the top of the charts right now!  everybody else got bumped down one spot; #5 Hired Gun, #6 Nitty Scott MC,  #7 Albert Rhymestein, #8 Fish Grease, #9Iron Solomon, #10 Signif and last weeks #10 emcee Garvey got bumped to #11.
That's it for now, keep those votes coming!!