Strong Islands own Roc Marciano goes in on this track with visuals by Dallas Penn. With all the gun violence going on in America and all the media attention given to gun control laws and things of that nature it'll be interesting to see what folks have to say about this video especially when that kid is using that assault rifle. It's funny how the media always shows you images of children in the middle east with assault rifles and claiming them to be terrorist or in the "Hood" and call them gang bangers….when all you have to do is look on Youtube and you you'll find all kinds of videos of kids using guns right here in America. In any case this is one of the realest NY street joints I've heard in a long time, real NY gutter ish right here. "Tek 2 A Mac" is off Roc Marciano's new album "Reloaded"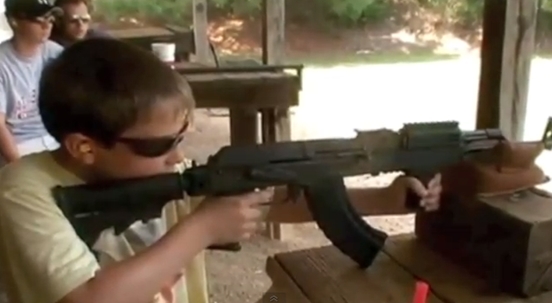 I just peeped a good video by the Young Turks about this Gun Range For Kids In Texas.

Here's another one with a kid shooting a silencer. Now when I was a kid my dad taught me how to use a bee bee gun, I never got to use the real stuff though. Back then it wasn't even an issue using guns though… so many things have changed since that time.