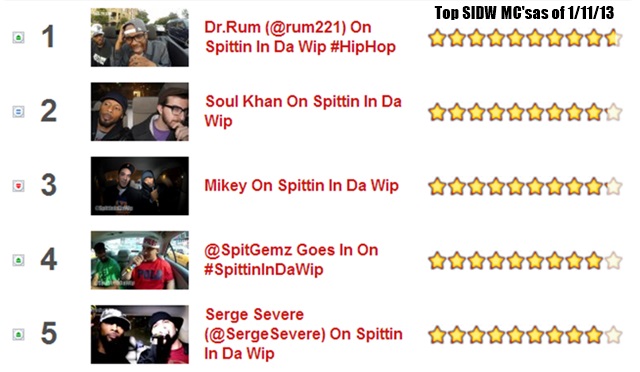 With the first full week of the new year now complete, now is the best time to get the weekly Spittin In Da Wip Chart reviews back in effect! So far this year I posted two new episodes that were actually recorded last year at the A3C festival in Atlanta. One of them (Dr.Rum) shot to the top of the Spittin In Da Wip charts within a few days and continue at the top all week, here's the rundown. At #1 All The Way from The Netherlands is Dr. Rum who's high energy, multiple styles and big following helped him dominate the charts this week. Next up is a oldie but good from 2011, Brown Bag Allstar member Soul Khan comes in at #2 and he's been in the top 10 since we posted his episode. Coming in at #3 is 2012's most voted and most weeks at the top of the charts in 2012, Long Islands own Mikey! Next at #4 is Spit Gemz who is 2012's emcee of the year for his super solid performance, lyrical ability and multiple weeks at #1 and rounding out the top 5 is Portland Oregon emcee Serge Severe who also had a solid performance and endless bars.
It's up to the viewers to participate and rate each episode, that's the only way these emcees can climb the charts, 30 unique vote makes them eligible to appear on the charts so get ya vote on! See the full Spittin In Da Wip Charts HERE
We have new NYC dates available if you would like to be on the show, CLICK HERE to find out more info!