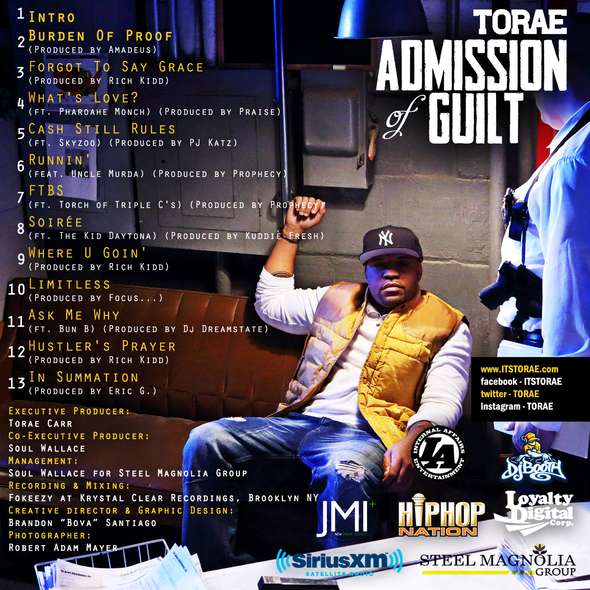 #SpittinInDaWip alumni Torae dropped a really banging mixtape called "Admission Of Guilt"! It's a free download that's really worth buying if it was for sale, I like it 4sho, the only tracks I'm not feeling is  6 & 11. To all my peeps that like to listen to the Non "N-Bomb" HipHop I post on here be warned there's a bunch of N-Bombs throughout the mixtape, hopefully I can get a clean version of this project to post. Peep the description of the mixtape via
DJbooth.net:

Veteran emcee Torae has released his highly-anticipated new mixtape, Admission Of Guilt, for free digital download via his imprint Internal Affairs Entertainment, in conjunction with Steel Magnolia Group and DJBooth.net.
The 13-track project, which takes listeners on a ride of highs and lows while navigating through the scrutiny that Torae faces as a result of his public perception as a "backpack rapper," includes reader-approved lead single "What's Love." Joining the Brooklyn native on his audible confirmation of blame are Bun B, Pharoahe Monch, Skyzoo, The Kid Daytona, Torch and Uncle Murda, while production muscle is provided by Eric G., Focus…, Kuddie Fresh, PJ Katz, Rich Kidd and more.