"Never Be" by MCWhiteOwl is my latest directed/edited video and I really like the way it came out. What I really wanted to do in this video was capture the energy of the song and MC WhiteOwl while also keeping it gritty. It was a dope collaborative effort and a fun video shoot 4sho! Not only do I like what I did with this video I really like the song, the producers Termanology and Artisan crafted a really dope boom bap beat that fit MC WhiteOwl's energy and flow perfectly. WhiteOwl's delivery, metaphors and punchlines were really dope too..This is the type of HipHop I rock to all day! Peep the official description below:
"Never Be" is a Raw, Boom Bap, lyric driven song. It was produced by TermanologyST and Artisan.
Recorded, mixed and mastered by my partner in 1 State Hip-Hop, Bruno Beatz.
Video Produced, edited and Directed by Crazy Al Cayne.
It is the 12th and last song from the album " Higher Intelligence, " by MCWhiteOwl and Bruno Beatz, as 1 State Hip-Hop.
The concept of the song is that there could " Never Be " another me.
I first heard the beat at Statik Selektah's lab. TermanologyST put it on and gave me headphones. The minute I heard it I needed to rhyme to it. It is a crazy beat.
I love it.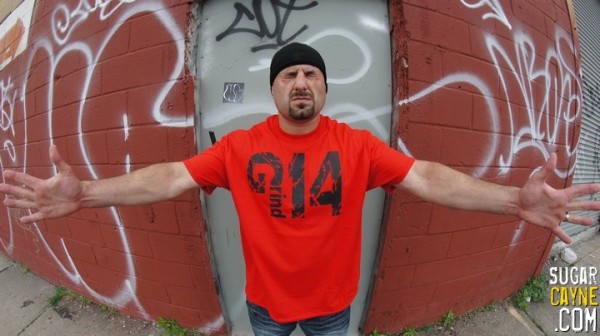 Peep how MC WhiteOWl breacks down HipHop:
Hip-Hop =
Higher Intelligence Platform-
Higher One's Perspective
Stay tuned for more Crazy Al Cayne directed MC WhiteOwl videos coming soon also if you'd like to get your videos shot by Crazy Al Cayne and featured on SugarCayne.com holla at us at info@sugarcayne.com
Unlock the dirty version of "Never Be" below:
[sociallocker][/sociallocker]
[nggallery id=231]
Lyrics-
Smoke while I drive,
I'm a real Rolling Stone,
Spit rhymes that's hard to swallow,
Like dog shit on a bone,
Need a phone, get a job,
First day at the firm,
I'm in the closet with a forty,
And a blunt doing the worm,
Fuck your chain, fuck your whip,
I need a bank with a billion,
This is some soap Opera shit,
These dudes is All My Children,
Actors playing Rappers,
In rented cars,
Straight T-Mobile,
I mean No Bars,
I'm from the Tri-State,
I'm trying to state these facts,
These rappers are actors,
That don't know how to rap,
Trying to Yap about the trap,
Fake ass Thugs,
You lost your Mind,
Who told you to lie,
And say you sold drugs?,
Mean Mugs, I'll slap the skin off your cheek,
Don't even speak you freak geek,
You to weak to compete,
I go green on em,
old School, Hulk, Hogan,
And I ain't talking Wrestling,
I'm talking about Joe Rogan,
Straight DMT, put that in your pipe,
And light,
What type of Writer don't write?
The Biting Type,

Chorus:
What type of Writer don't write?
The Mother Fucking Biting type!
What type of Rapper don't write?
The mother Fucking biting type,
What type of Writer don't write?
The Mother Fuckin Biting type!
What type of dude steals somebody's name?
The biting type.

Second verse –

I attack the beat with Barbaric's
Scar your Boro like Chuck,
Like a Virgin plane Pilot,
I ain't given a flying fuck,
When stuck I be worst,
At Worst I be Best,
I spit Retire Fire,
Cave the cavity In your chest,
At rest, y'all still don't want no piece of the action,
Cause I leave your head spinning like tires with no traction,
Your faction claim they hard?
They Downy Soft Pillows,
I bust them On the Mic,
Leave them weeping like willows,
Smoke billows,
As y'all Borrow, copy, Mooch,
If there's beef between us
You be Arnold I'm the Gooch,
As I steady puff the hooch,
Hit it then pass,
I won't call your fucking name,
You ain't even In my class,
Don't you dare compare your minor flare,
With the glare we creating,
Or you get cooked like turkey bacon,
You faking, I'm holding weight and,
NEVER Procrastinating,
Skatin on a frozen pond, word bond,
No hesitation,
Pro creation,
A pro creating major multiplication,
Advanced mutation, as I enter to the station,
All the bullshit we facing, getting dealt like poker,
Your man was doing well until we threw him in a choker,
I'm a smoker, you getting burnt like trees,
My style is odd like Chinese food with cheese, I'm done