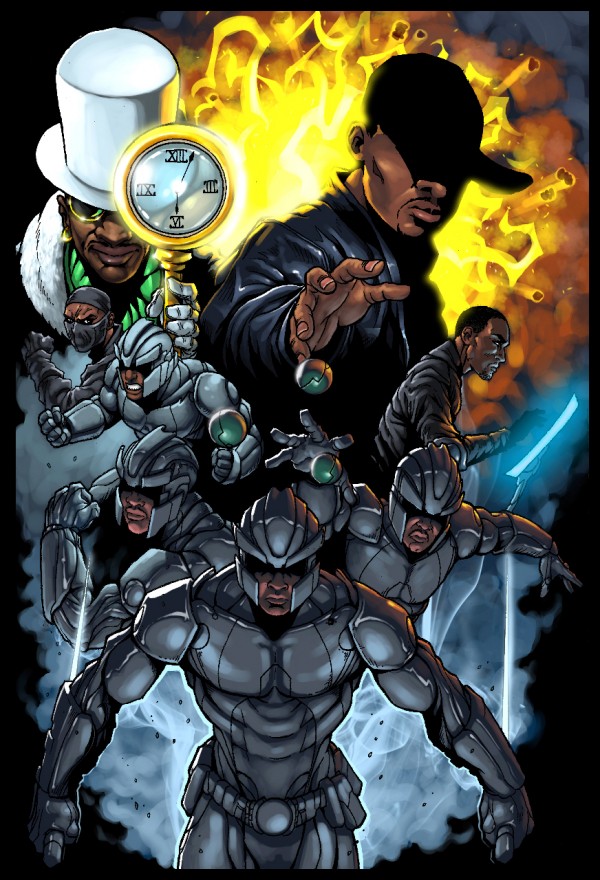 Graphic Illustrator and Founder/CEO of AHR Visions Abdul H. Rashid created a dope HipHop Comic Book called the Public Enemy Comic Project. The comic is based on the Iconic, legendary HipHop group Public Enemy! Peep the offcial press release below!
PRESS RELEASE – NEW PUBLIC ENEMY COMIC PROJECT
Few entertainment entities have cross-market appeal. And very few have as much capacity for such an effort as the group in question. Over 25 years in the music industry, with millions of fans all over the world and 2013 Rock and Roll Hall of Fame inductees. Individually, each member easily holds his own…TOGETHER, they have become LEGEND!
PUBLIC ENEMY is one of the most recognized Hip Hop groups in music history! With the groups mixture of personalities and dynamics that comprises its unique and historic brand of classic appeal for decades…there are none like them!
Now, the world will have a rear opportunity to witness how these classic figures…CHUCK D, FLAVOR FLAV, PROFESSOR GRIFF, JAMES BOMB, POP DISEL, BRO. MIKE and DJ LORD…got together and form a PUBLIC ENEMY that is all too different than anything you have know.
Starting this winter, PE COMICS, in collaboration and creative development with AHR VISIONS, LLC, will begin an original re-imaging of the origins of PUBLIC ENEMY, from story development by PUBLIC ENEMY members PROFESSOR GRIFF, JAMES BOMB and SHAWN CARTER, in a new on-going comic series…PUBLIC ENEMY: BLACK OPS. In an alternate reality where the characters you have grown to know are both familiar and brand-new, we will witness how a young computer hacker stumbles into an underworld of espionage, paramilitary confrontation and a centuries cabal intent on global manipulation. Teaming with a splintered paramilitary unit and a social infiltrator, this forced union will either be a new beginning or end for this wayward heroes.
PE: BLACK OPS will have something for the established PUBLIC ENEMY fan and for those looking to become fans!!!
How dope is that, I can't wait to check this one out!!!