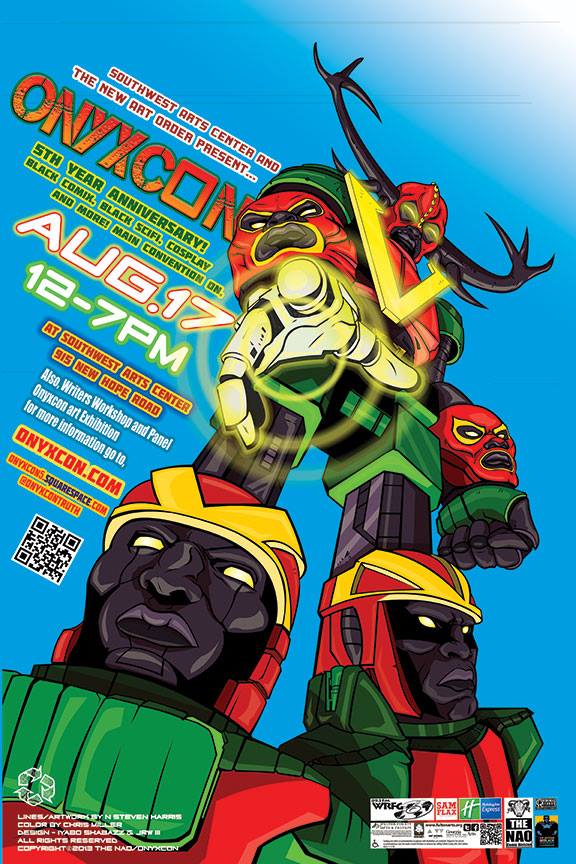 I'm really feeling the latest promotional illustration for this year ONYX CON. The image is called "The Atlantic Rim" and it looks like a reworked version of the classic Voltron character as if it came straight out of Africa! Of course the name of the illustration is also a flip of the robots of the popular Pacific Rim movie. The Graphic Designed was created by Iyabo Shabazz and co designed JRW III. The incredible N Steven Harris drew this amazing illustration and rightfully so since he's been working on the Voltron series this year. Chris Miller did his thing with the colors. This is a great piece and a great Comic Book Convention. I'm trying to be there Stay tuned!
Below is the description of this illustration via Facebook!
THE ATLANTIC RIM …IS PROTECTED BY THE RED, THE BLACK, AND THE GREEN, WITH THE GOLDEN KEY(s)! WE FORM LIKE ARM, LEG A LEG A ARM, AND I'LL FORM THE HEAD! YAMZ ALWAYS/ RA BRIGHT DAYS/ATLANTA BI-WAYS, ALL LEAD TO OUR TIME(s) AT NEW HOPE/ ROAD TO REDEMPTION/ NO EXEMPTION/ YOU KNOW WHAT TIME IS IT/BRING IT HOME TO ONYXCON! – cause, WEeee READY! ARE YOU!