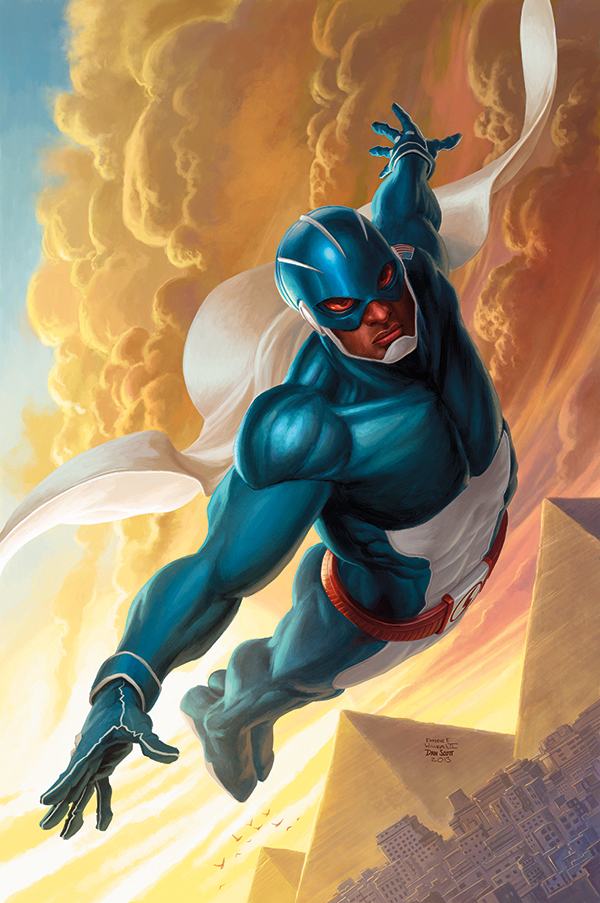 Dark Horse Comics is going to be releasing a new 4 part issue mini series called "Skyman"! The series is written by Joshua Hale Fialkov and illustrated by Manuel Garcia and Javier Bergantiño Menor, a.k.a. Bit. According to ComicsAlliance.com Skyman's first appearance will be in Captain Midnight #4 on October 30, with Skyman #1 — featuring regular and variant covers by Freddie Williams II and Dan Scott — arriving in stores January 15, pretty cool! I'm really digging the illustration of Skyman above, I'm curious to see what the finished issue will look like!
Below is the description of Skyman, spotted on ComicsAlliance.com
Spinning out of the pages of Captain Midnight – the recently revitalized franchise that began as a 1940′s radio serial — Skyman focuses on the titular character, after an embarrassing defeat at the hands of Captain Midnight, accidentally killing an innocent man while intoxicated. This leads to the Skyman Program needing a new face for their initiative, which they find in US Air Force Captain Eric Reid, a wounded and frustrated veteran seeking a new lease on life.