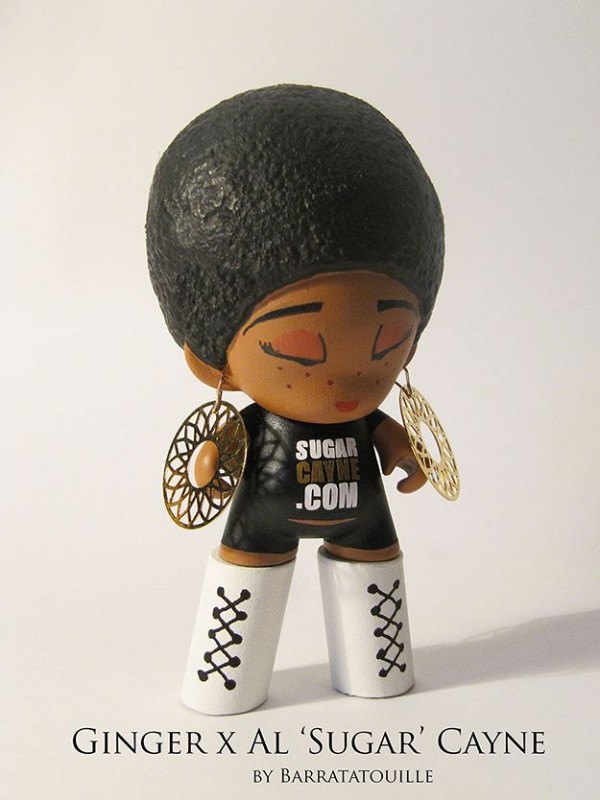 Super talented French, designer toy maker Philippe Barra AKA Barratatouille sent me this awesome SugarCayne.com themed Ginger toy collaboration and I was blown away!!  The "Ginger" micro munny toy one of my favorite customs of 2013 and now we have a Sugar Cayne  Ginger!!! This is actually Barratatouille first custom of 2014 and 2nd official "Ginger" custom ever!! I can't even explain how exciting and humbling this is to be thought of for a custom, designer toy collabo and to actually see the finished product!!
Barratatouille's Ginger character came from his love of African American women of the 70's. He loved black women's beauty, elegance and fashion sense and he's also a big fan of blues music, disco music etc. The Ginger charater encompasses all these elements along with a little Frenchy flavor!
In our Ginger collaboration Barratatouille used the colorway of SugarCayne.com on the t-shirt she's wearing. Ginger is also sporting some fly new earrings, large boots, tee shirt with a tight-fitting shorts with a little part of her belly showing. I love the way it came out!!
Will we be making Ginger available in a limited run?? Stay tuned!