I'm loving this 80's BMX re-pop movement going on lately! The latest vintage re-pop release is the new 24″ Haro freestyler MAG edition and it looks sweet! It's literally a 24″ version of the classic Haro Freestyler and it comes with 24″ Skyway 7 spoke Mags!! Now some die hard vinage BMXers will complain that this bike is not a flatland bike and blah blah blah but the truth of the matter is, they're a bunch of flatland riders taking their skills to 24″ bikes not to mention in Cntral America I've seen videos of guys doing some sick flatland on 24-26″ "Walmart" bikes!! Anyways I can't wait to see one of these beauties in person 4sho!!
Skyway says "We are proud to have partnered with HARO for their new upcoming FREESTYLER MASTER 24″ cruiser, with TUFF WHEELS! This sucka has special blue anodized alloy flanges on the wheels! Sweet, huh! Coming this summer!"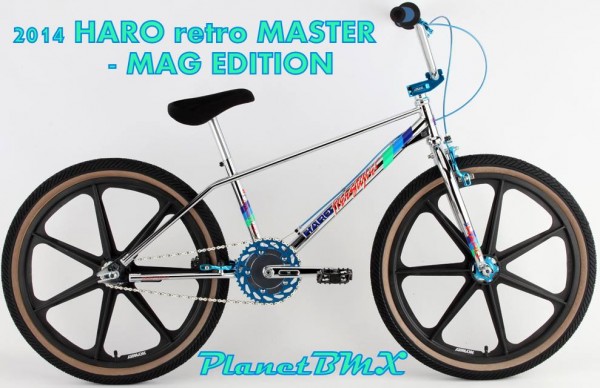 Peep the stats:
FRAME: Full 4130 cr-mo Haro Master 1984 Tribute
FORK: Full 4130 cr-mo Haro Master 1984 Tribute 1-1/8″ threadless steer tube
GRIPS: ODI Mushroom II
BARS: 4130 Haro Freestyler
STEM: Haro Lineage CNC Top Load
CRANKS: 4130 cr-mo 3-piece 175mm Haro Lineage with 48-spline spindle w/ Mid BB
GEARING: 44/16 with threaded freewheel
TIRES: Kenda Kranium 24″ x 2.1″
WHEELS: 24″ Skyway Tuff Wheels with CNC sealed bearing alloy flange
SEAT: Lineage pivotal seat
SEAT POST: Alloy pivotal 300mm
PEDALS: Alloy 9/16″ platform

FRAME SPECS:
Headtube Angle 73°
Seattube Angle 70°
Toptube Length 21.65″
Chainstay Length 16.45″
BB Height 12.4″
Standover 25″
There's also a 26″ version of this awesome bike that's gonna be available too!