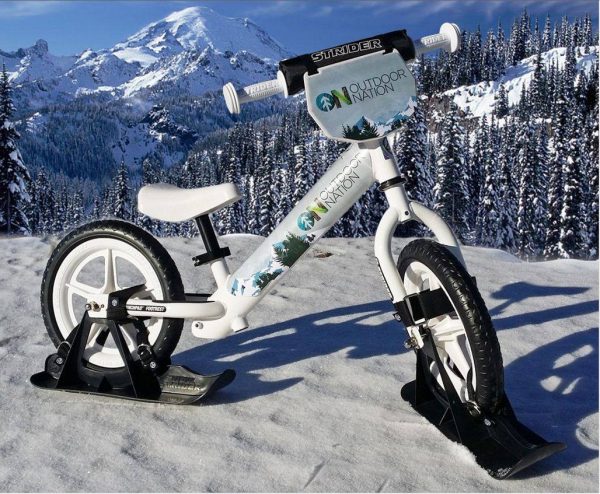 I know I'm crazy late on this but that custom Strider Bikes Outdoor Nation bike looks so dope!! And since we been covered in snow again in NYC I thought it would be fitting to show a really cool sledding alternative to tradition sledding! This bike was actually one of only 3 made for an Outdoor Nation fundraiser. Outdoor Nation is a company that's doing great things to get the youth connected to the outdoors. Below is a description on what Outdoor Nation is all about:
Outdoor Nation Mission
To empower the millennial generation — artists, athletes, advocates and ambassadors — to champion the outdoors and build a strong Outdoor Nation.
Company Overview
A growing community of outdoor activists — artists, athletes, advocates and ambassadors — who join together to champion the outdoors. This millennial-led movement will reclaim, redefine and rediscover the outdoors – building an Outdoor Nation for future generations.

Outdoor Nation will:
• Mobilize a movement by empowering young people across the country to champion the outdoors and outdoor issues
• Influence federal, state and local outdoor policies and programs
• Provide advice and a youthful perspective to outdoor companies and organizations
• Create a community that shares outdoor passions and organizes outdoor outings
• Host events that bring the Outdoor Nation together – providing networking and training opportunities

Supported by a coalition of more than 200 organizations – including The Outdoor Foundation, The North Face, REI Foundation, National Park Service and the Recreational Boating and Fishing Foundation — Outsiders will be empowered with the tools, training and social support to spur a cultural revolution.
Pretty cool right? Find out more about Outdoor Nation HERE