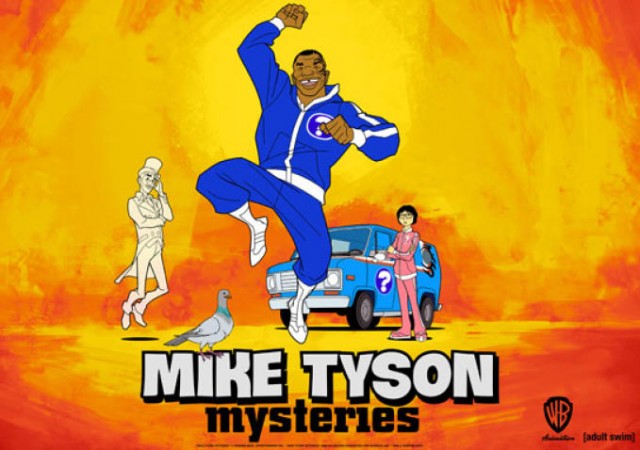 Iron Mike Tyson now has his own animated series thanks to the crazy folks at Adult Swim! The Mike Tyson Mysteries parodies the Scooby Doo Mystery and of course Mike Tyson for funny new, 80's style Hanna Barbara-ish, action/mystery style cartoon. The best part is Mike is actually voicing his character, That's wassup! It looks like it might be funny.
About Mike Tyson Mysteries:
In Mike Tyson Mysteries, a new half-hour animated adult comedy series, Mike is taking the fight from the boxing ring to the streets … by solving mysteries! Aided by the Mike Tyson Mystery Team – the Ghost of the Marquess of Queensbury, Mike's adopted Korean daughter, and a pigeon who was once a man – Mike will answer any plea sent to him. If you have a problem that needs solving, Iron Mike is in your corner. The series incorporates live-action appearances featuring Mighty Mike himself, and the gloves come off as the former heavyweight champ and his team gear up for weekly adventures as they put unsolved mysteries down for the count. The series stars Mike Tyson, Norm Macdonald (Saturday Night Live), Rachel Ramras (MAD), and Jim Rash (The Way Way Back, Community). Mike Tyson Mysteries is produced by Warner Bros. Animation.