I caught up with the Equilibrium Radio Crew when I was at WHCR and did an interview with them for SugarCayne. The crew talked about what the show is all about and their support for real HipHop, independent artist and good music. They also touch on the show long history in the New York City HipHop scene. You know I had to ask them who their favorite artist are…that's always a tough one LOL!! Also make sure you check out the end of the video where I have them do my video "Look Away" lol!!
You can catch their show every Monday from 9-12 on WHCR 90.3 in NYC.

About Equilibrium Radio:
As the rap music industry becomes more corporate driven, there continues to be a need for outlets that provide independent, upcoming and underground artists with an opportunity to be heard. Equilibrium Radio is one of the few places today where artists are given that opportunity. Originally called "Hardcore Righteousness" and established by Lamel Watson and Kwame Vear, it was the first Hip Hop program to be broadcast on Harlem NY's own WHCR-90.3FM and has always been regarded as a staple of the college / independent Hip Hop radio community. In the summer of 2004 "Hardcore Righteousness" changed its name to Equilibrium Radio to represent the sense of balance it provides to the airwaves. It continues to be a place where local and national artists can come together with true lovers of Hip Hop culture and good music to speak out on topics and issues that affect the community. Equilibrium Radio plays music to educate, uplift, inspire and rejuvenate your musical spirit. Its about carrying on the belief that music can help make a positive change.
Hosted by Kwame Vear, Priest Forever, Miss Nee-Nee, Crys Breezy & D-Nasty with DJ Blast on the mix!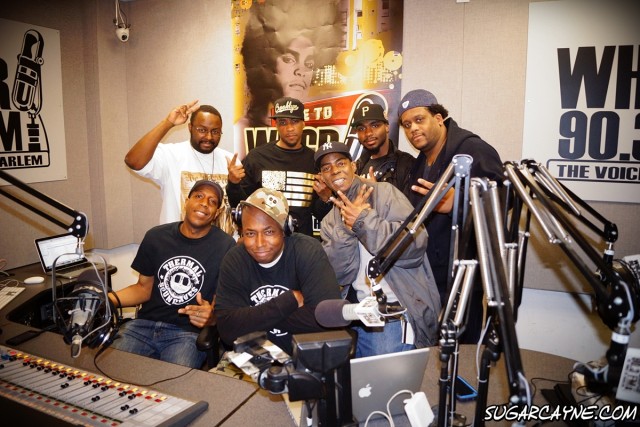 The Equlibrium Radio crew with the Radio Boys(Thermal Soundwaves) and HipHop Legend Masta Ace.