We got send photos of this amazing custom painted DK Pro XXL BMX Racing bike from L Chapo Chaplin out of Australia and we had to post this as the Bike Of The Day! The art is inspired by Heath Ledger's portrayal of The Joker from the Batman "The Dark Knight" movie. Trent Powell of Rocket Custom Designs did an amazing job on this frame. It's 100% HAND PAINTED!! Basically L Chapo gave Trent his theme idea of having Heath Ledger as the joker on the head tube flicking cards all over Gotham City and that was all Trent needed to make a masterpiece.
There is so much to look at on this bike it's impossible to take it all in with pictures or just one look in the flesh. it's a real master piece. I just kept coming up with ideas and Trent just kept saying yeah we can do that and he did it.
~L Capo Chaplin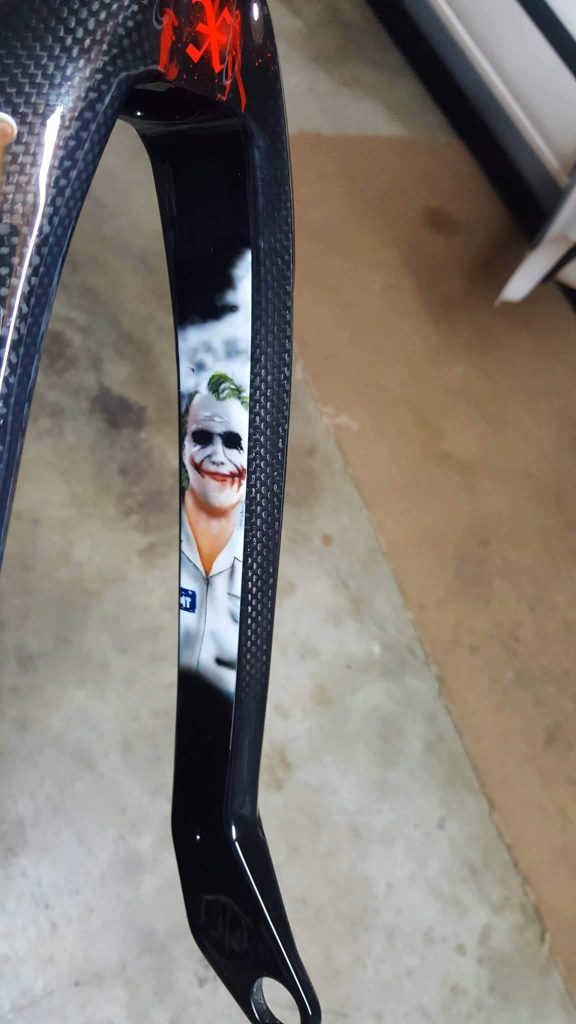 Not only was the frame custom painted, the Box forks were also done up to fit the Joker theme. There's so much more we can say about this amazing bike but we'll let the photos in the gallery below do all the talking for us.
All we have to say is Trent Powell is a master at hand painting BMX frames and we look forward to seeing what he comes up with next!
Parts list :
-Frame: DK Professional xxl
-Forks: BOX
-Front Hub: BOX 20mm
-Rear Hub: DK 20mm (BOX Buzz Driver)
-Seat: BOX
-Seat Clamp: BOX
-Rims: Envy
-Handlebars: DK pro
-Stem: DK Pro
-Brakes: Promax
-Cranks: Bombshell
-Bottom Bracket: Bombshell
-Grips: DK lock
-Tires: Maxxis
No review box found! Insert a valid box ID.