Two of my favorite BMXers, Tommy Zula and Payton "P-Nut" Ridenour just became the first riders to win the Red Bull UCI Pump Track World Championship! I'm so happy for these two, they are some of the best well rounded BMX cyclist in the game not to mention two of the coolest.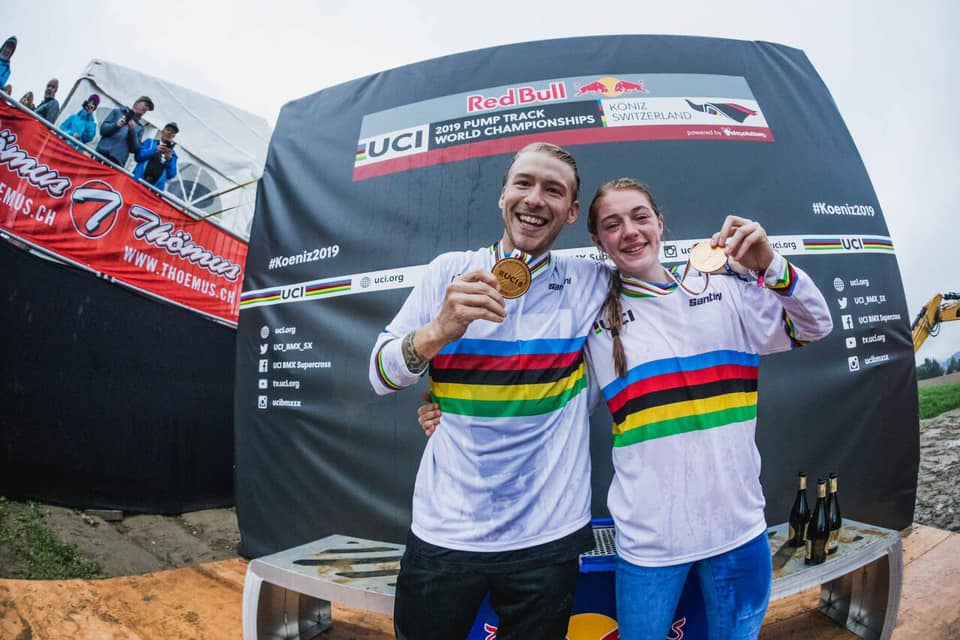 What Is The Red Bull UCI Pump Track Worlds?
So your probably wondering what the Red Bull UCI Pump Track World Championship is. Well it's the next phase in the evolution of the Pump Track World Championship that Velosolutions started with Red Bull. Back In 2018, Red Bull and Velosolutions embarked on a new adventure by launching the Red Bull Pump Track World Championship. The competition is a head to head, elimination style event held on Velosolution pump tracks around the globe. What makes this event so unique is it was the first time a competition like this was held on 100% asphalt pump tracks. The other big, unique attraction was the fact that anyone can sign up and compete on whatever bike they wanted. It's not an invitational, it's not a MTB only event, the event is open to everyone. They are literally looking for the worlds best pump track competitors.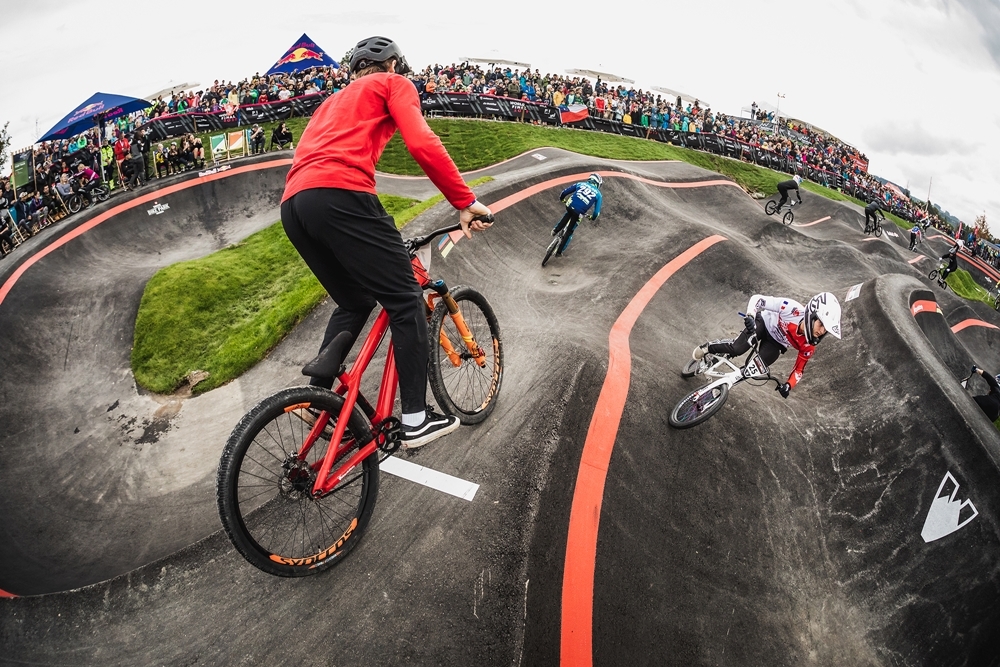 With the huge success of the 2018 series, Velosolutions and Red Bull continued with the 2019 series. 27 Velosolution tracks from around the globe were selected for the qualifying rounds with the world finals held in Switzerland. Everyone in the BMX and MTB communties were excited about the chance at winning pump track worlds. Then just last month the announcement was made that the iconic rainbow stripes jersey will be competed for at the pump track Worlds Final at the Swiss Bike Park in Köniz-Oberried. That's right, Pump Track racing is now included as a discipline by the Union Cycliste Internationale (UCI).
What Does The UCI Partnership Mean?
What this means is the series will now be bolstered by the international federation that is dedicated to promoting cycling in all its forms, from its very roots. However, it will remain as accessible as it was from the start: a sporting journey that sees Olympic BMX racers, MTB UCI World Champions, and local cycling heroes compete on an even playing field, where amateurs compete against pros and everyone has a shot at the gold. In fact, it's more accessible than ever before as the series will expand to even more countries and tracks.
It also means, the pump track worlds will now fall under the mountain bike discipline, one of UCI's eight affiliated disciplines (road, track, mountain bike, BMX Racing, BMX Freestyle, trials, cyclo-cross and indoor). I think it really should fall under the BMX discipline because pumptracks are based off a BMX track's rhythm section and berms. Also some BMX tracks have had paved turns since the 80's……but I digress 🙂
UCI President David Lappartient said: "The creation of a Red Bull UCI Pump Track World Championships is a recognition of the specialty at the highest level and a demonstration of our sport's dynamism. With the know-how of Red Bull and Velosolutions we aim to meet the expectations of a public that enjoys a show and to make our sport even more popular with the younger generation."
Also beyond the Red Bull Pump Track World Series. David has added pump tracks in general as a UCI specialties regulations in 2019.
"Cycling is an extremely vibrant sport that is continually reinventing itself. The UCI is intent on promoting all its variations, because, as the well-known phrase has it "nothing a cyclist does is foreign to us". It is in this spirit that I have sought to bring the following specialties into the fold. "
Pump track: a close relative of BMX Racing, this speciality takes place on a track featuring rollers and banked turns, not unlike a small BMX track. These features enable riders to gain momentum without pedalling. Often set up alongside BMX Racing tracks, pump tracks are more accessible, particularly for younger riders. The UCI has embraced pump track as a way of encouraging people to take it up, part of its plans to develop off-road disciplines. The UCI World Cycling Centre (WCC) incidentally has such a track." ~David Lappartient
#PumpForPeace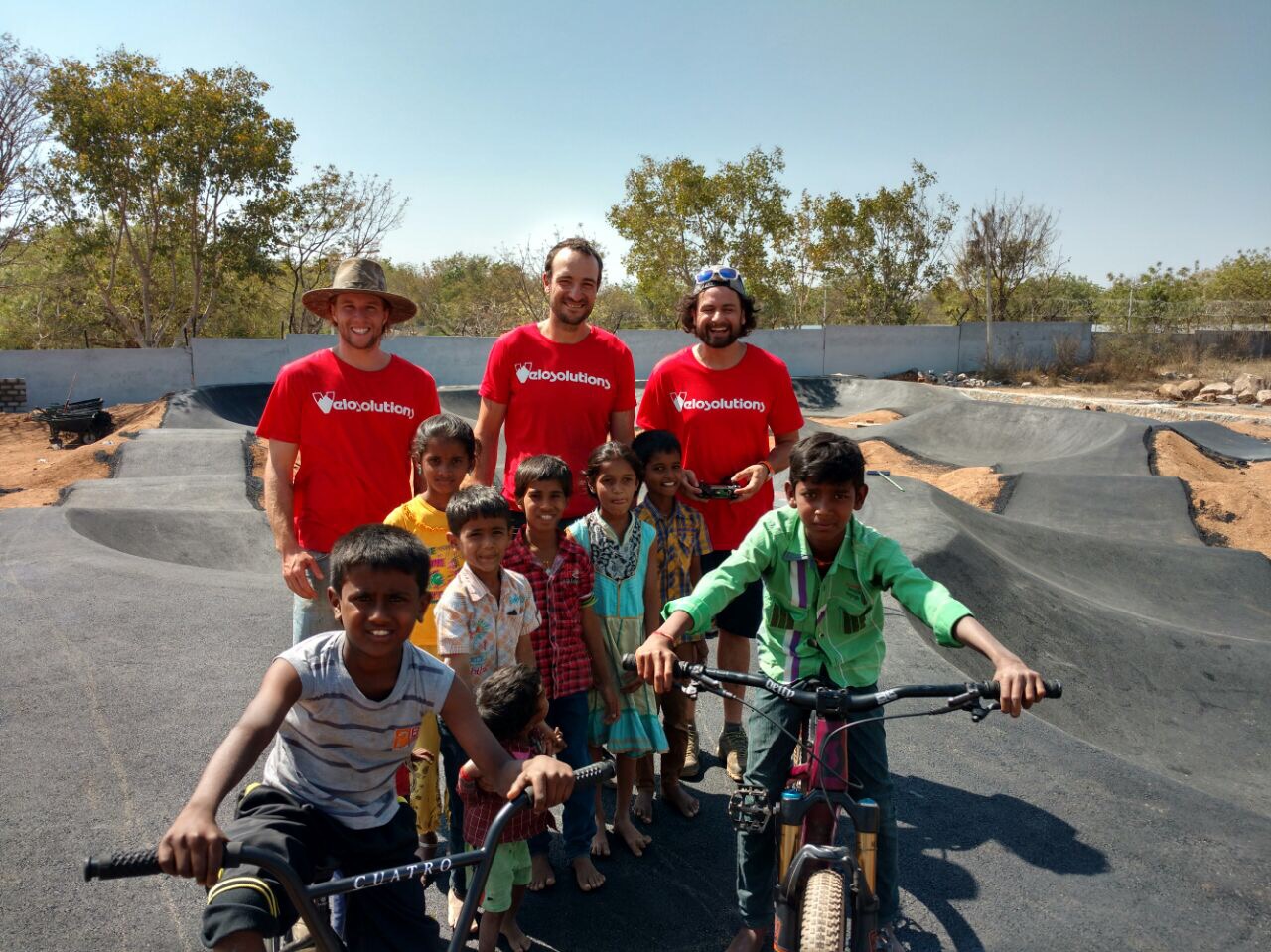 The Red Bull UCI Pump Track World Championships will be a catalyst for change in years to come as it works towards promoting sport in developing countries in association with #pumpforpeace, an initiative by Velosolutions that unites the cycling world on a mission to develop talent across the globe. It holds the vision of building a healthier, more tolerant and peaceful world by giving underprivileged communities access to pump tracks, cycling and action sports. We love this aspect of the pump track movement and it can be seen in videos like the ones below.
I absolutely love the movement that Velosolutions has created with their pump tracks, the Pump For Peace initiative and their partnership with UCI and Red Bull. The future is looking really bright for paved pumptracks!
To find out more about Velosolutions and how you can get a track built in your neighborhood visit Velosolutions.com