If your a little skeptical about BMX racing because you have no insurance? Well USA BMX partnered with Spot Insurance and is now offering coverage for event injuries. This is in addition to the coverage USA Members already have through the sanction.
Pres Release:
USA BMX & BMX Canada have officially launched their partnership with Spot, a first-of-its-kind injury insurance company. Available now, Spot offers USA BMX and BMX Canada members additional accident coverage through two unique packages that both provide up to $20,000 toward your medical bills every time you are injured with a $0 deductible!

Sound too good to be true? It's not. It's Spot. While all our members will still be covered under our current secondary insurance policy, you'll now have two options for additional insurance coverage through our partnership with Spot.
1. Single Event Coverage at 2020 National Events ($15 per three-day event).
2. A Monthly Subscription that Covers You at all USA BMX/BMX Canada Sanctioned Events & Activities ($8 per month)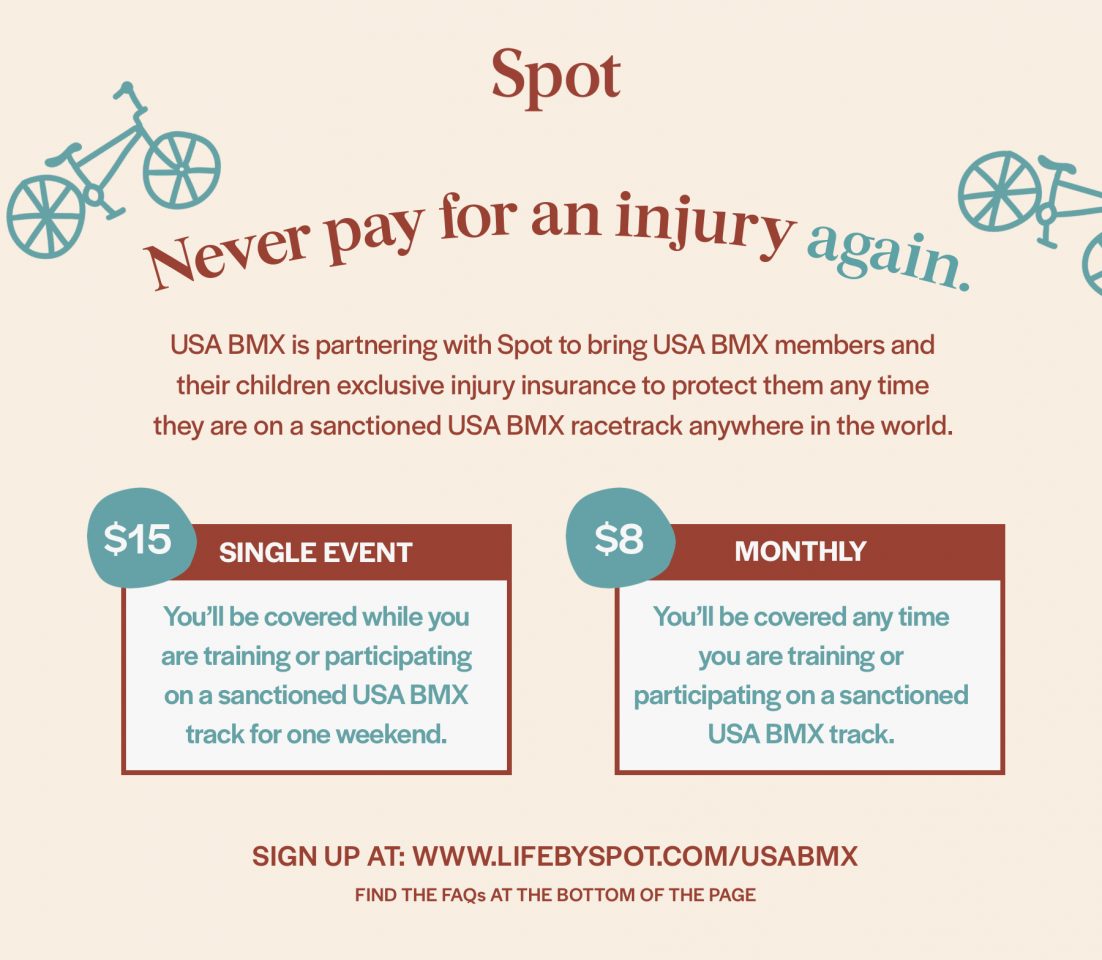 Rob Gardenhire, Chief Marketing Officer with USA BMX/BMX Canada notes, "We're excited to offer our membership access to Spot's customized, flexible, and affordable accident insurance! For just $8 per month ($96 per year) our members can be covered at every sanctioned event (practices, clinics and races) should an accident occur." Gardenhire adds, "Working with the Spot leadership team, we've already awarded the 2019 Top 10 men and women's elite riders with 24/7 Spot coverage."
For those members competing in national series events, Spot offers a weekend's worth of event coverage for just $15 per event at all USA BMX/BMX Canada nationals on the 2020 schedule. Purchase your event specific coverage HERE today!
Matt Randall, Co-Founder + CEO of Spot adds, "We're excited to announce our partnership with USA BMX and to allow members to live bigger and bolder while they are competing this year. We hope having Spot encourages members to push their limits and know that no matter what, Spot has their backs at the end of the day."
About Spot: Spot is the exclusive insurance partner of USA BMX and BMX Canada. For $15 for a single event or $8 a month for subscription coverage, Spot provides members up to $20,000 toward their total medical bill costs every time they are injured on a sanctioned USA/CANADA BMX racetrack (whether training, recreational riding, or racing). Spot was founded on the belief that breaking a bone shouldn't break the bank and is proud to cover all USA BMX and BMX CANADA members with this first-of-its-kind injury insurance. Spot has no deductible or any co-pays and covers injuries big and small, from stitches to broken bones and beyond.
THIS IS AWESOME!!!