Today's bike of the day is a super clean Chase Act 1.0 Pro XL ridden by my friend Todd Kay! This bike looks awesome and it features some great parts! It's definitely a show stopper.
Todd was one of the first friends I made in BMX back in the day. We use to race at Newbridge Road BMX in Long Island and have been friends ever since. Nowadays Todd is still racing and he's even a track operator! Check out Todd's BMX race weapon of choice below!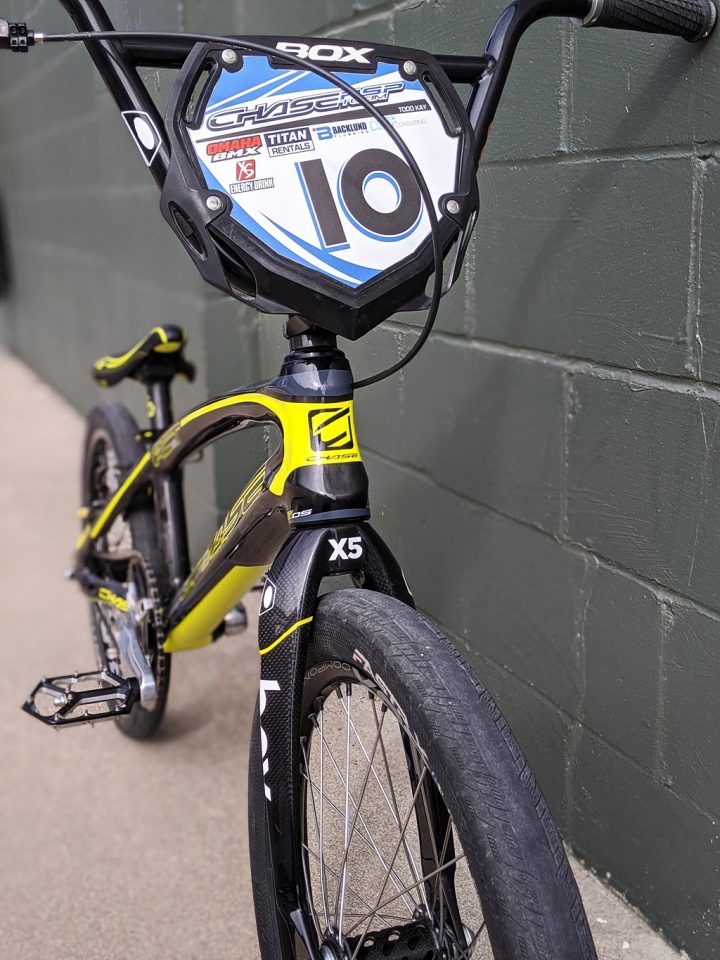 About:
"Thanks so much for considering my bikes for your Bike of the Day!!! So what I look for in components is good, solid quality in construction and ESPECIALLY performance. I'm not looking for the lightest parts, I'm looking for the best performance that I can get. Looks is always a plus but I'm all about the performance first. The parts that I've chosen happen to look totally awesome too.
Since I race both class and cruiser as much as I can, even at locals, I make sure to get matching parts so both bikes feel just about exactly the same jumping from one to the other." ~Todd Kay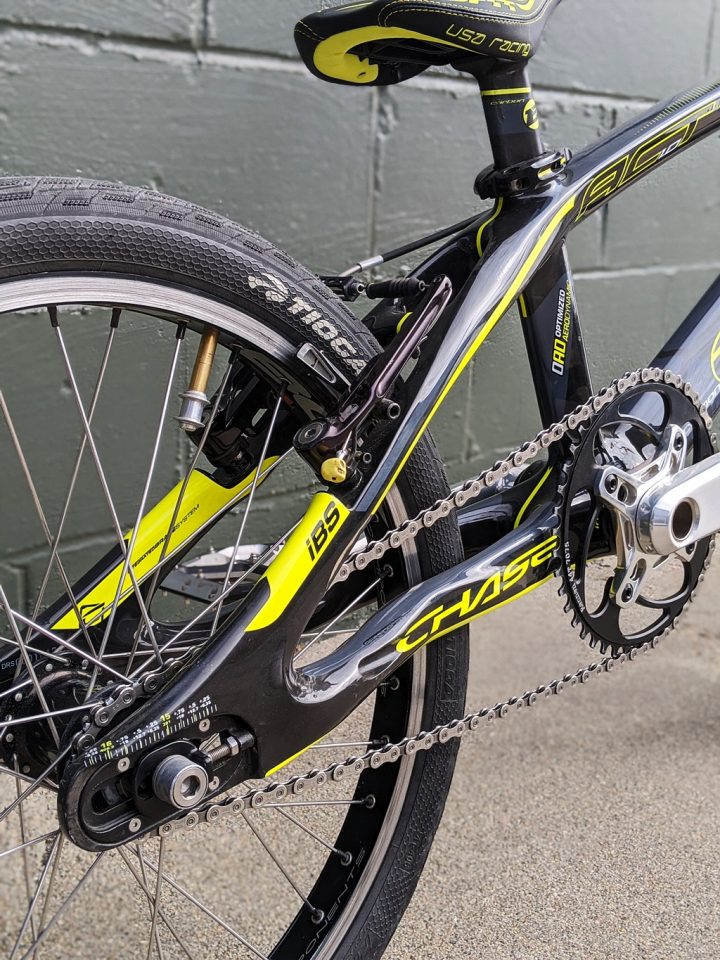 Parts List: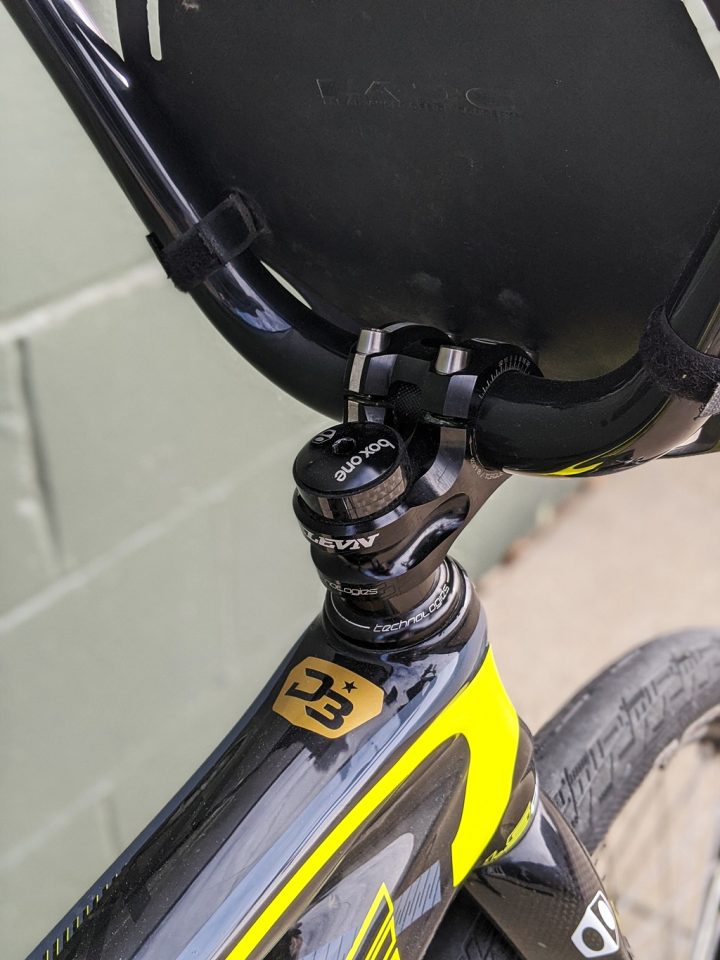 Box handlebars with 8.5" rise, 12 degree backsweep and 7 degree upsweep ("I prefer a flatter bend")
Troy Lee ODI lock-on grips (I'm always trying new grips when current ones wear out)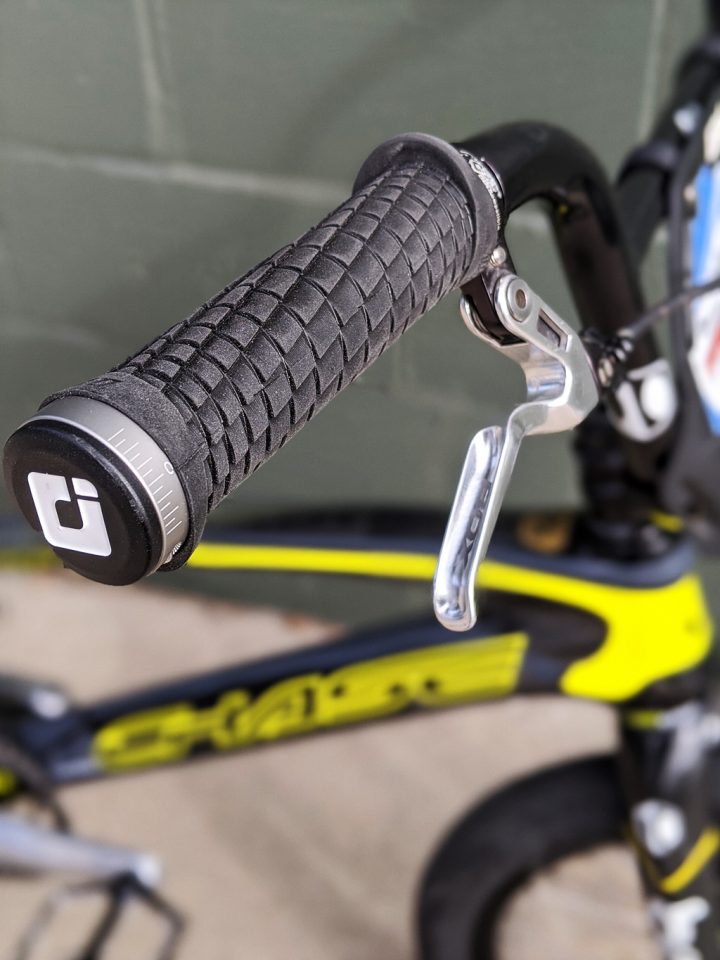 Elevn carbon seat post
Elevn seat clamp
Elevn saddle
Elevn tapered headset
Elevn BB86 press fit bottom bracket
Box Genius brake lever
Box Pro V-brakes and pads
Shimano DXR cranks 175mm
Rennen 44 tooth front chain ring ("I've had this one 4 years and has very little wear")
Rennen 16 tooth rear cog (same with this, almost no wear)
Spank Oozy pedals – "I don't clip in because I had a clubbed left foot when I was born. This caused me to have almost no calf muscle. The very small muscle that's there is pretty useless. I did try clipping in for a year but my left leg would get fatigued so quickly because it focused too much on that left calf area. It hurt me at a lot of races but at least I tried it. A good shoe and spikey pedal always works great!!!" ~Todd Kay
Onyx hubs: 20mm thru axle on the front with my name etched, Pro 10mm bolt-on for the rear with Omaha BMX custom etched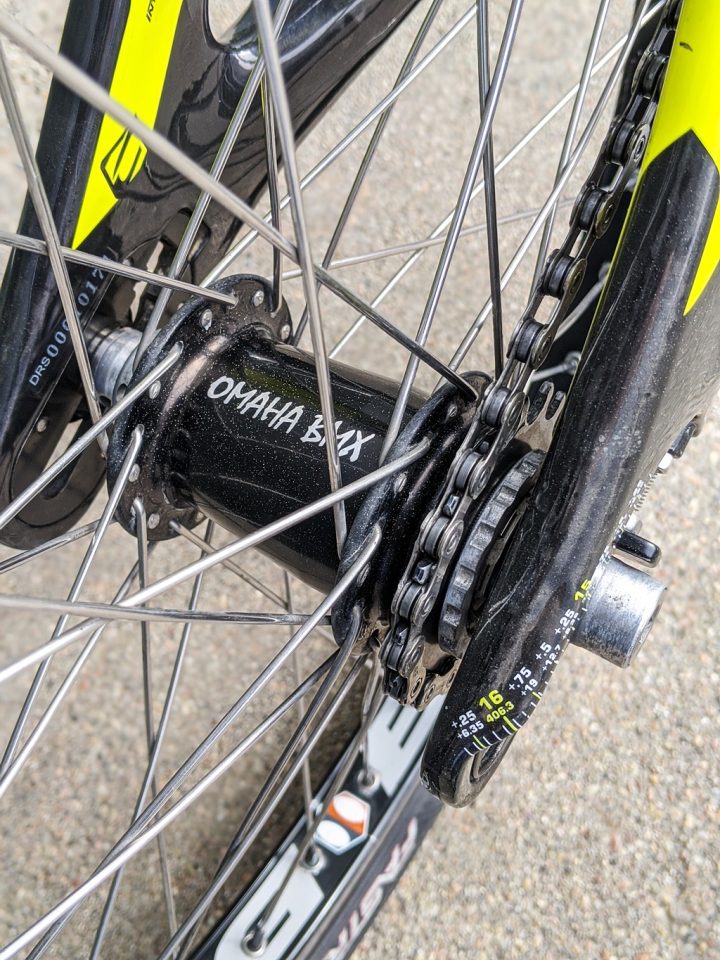 Box hoops and DT Swiss spokes for the front and rear – "I built the wheels for both bikes myself"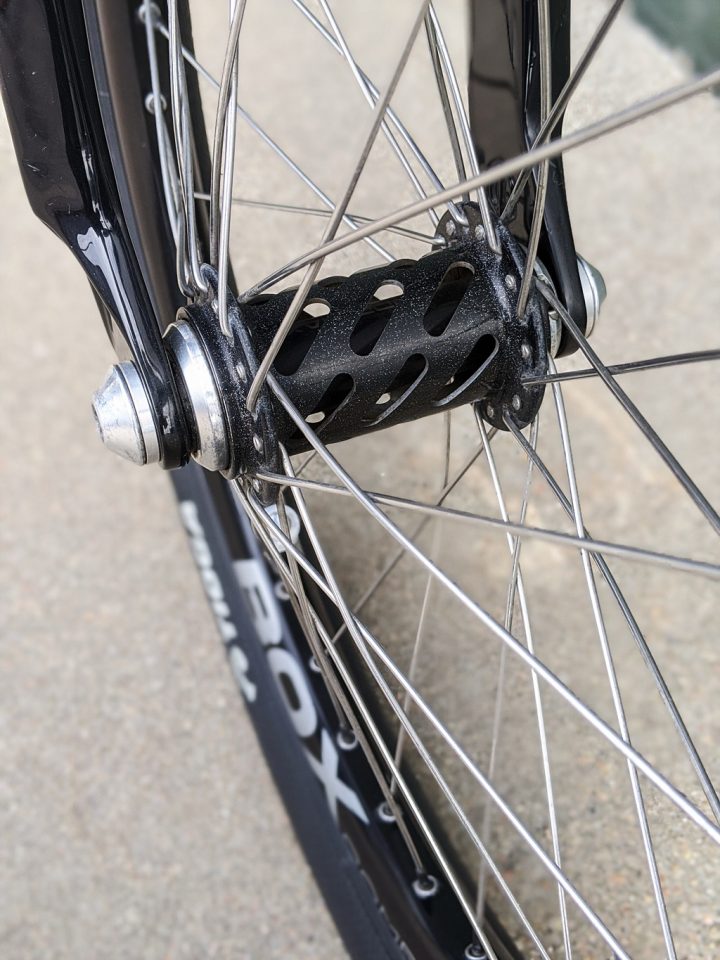 Tioga Fastr tires 20×1.85 front and 20×1.6 rear
Tubolite tubes – "These are half the weight of a standard rubber tube which creates less rotational weight. I'm experimenting with these to see how they feel."
My Cruiser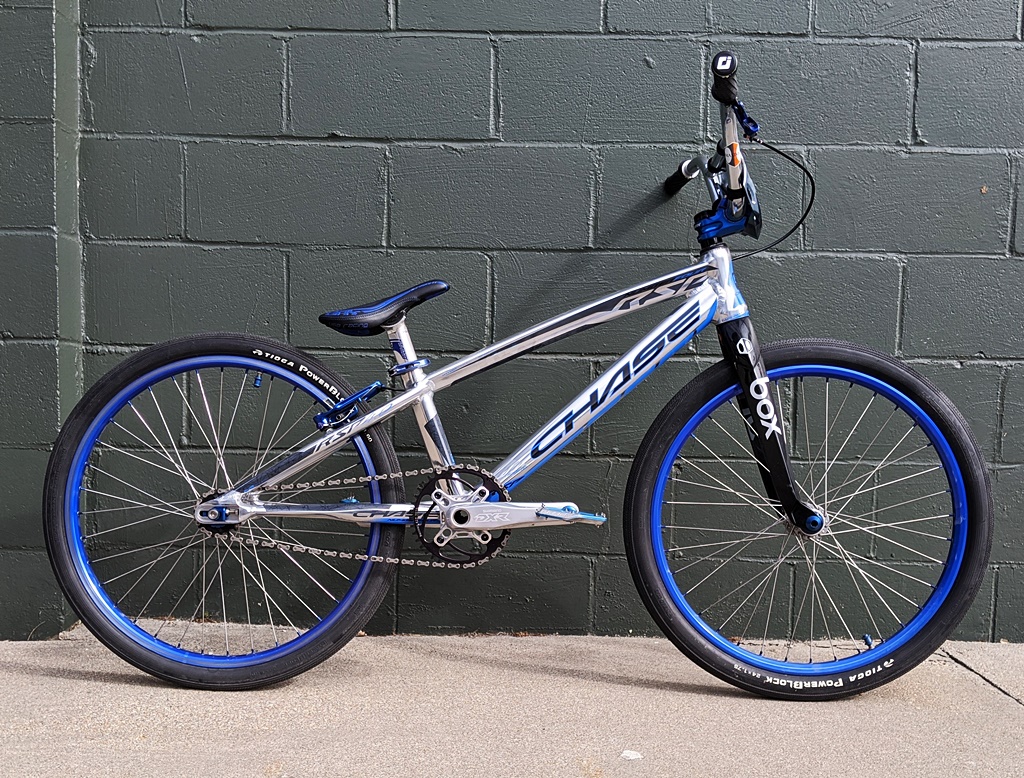 Almost all components are exactly the same but here are the differences:
Chase RSP 4.0 Aluminum Pro Cruiser
Box handlebars with 5.5" rise, same backsweep and upsweep
Rennen 41 tooth front chain ring
Rennen 18 tooth rear cog
Sun Envy hoops – these were the stock hoops when I first got a Chase Element cruiser about 5 years ago
The rear Onyx hub has a custom etching of a New York license plate with NY 2 NE
Tioga Powerblock Tires 24×1.75 front and 24×1.6 rear
Omaha BMX:
"This will be my 7th season as track operator of Omaha BMX in Omaha, Nebraska. And this will be my second season under the Rider Support Program from Chase Bicycles. Under the program I was able to build a local team of about 10 riders. My wife, Gail, also races and is on the team. The whole team goes to all of our state championship series races and finals. And most of our riders will do the Gold Cup series, some nationals and the Grand Nationals!"
About Todd Kay
-Name: Todd Kay
-Age: 49
-Class: 46-50 Expert and Cruiser
-Home track: Omaha BMX
-Team: Omaha Chase RSP Team
-Sponsor: Chase Bicycles. I was one of six people nationwide chosen for their Rider Support Program which started last year supporting local riders at the grassroots level of BMX racing. My local team has 10 riders of all ages and skill levels. And, I'm so proud to say that my wife, Gail is on the team too because she's been racing for about 6 years now.
-Track Operator? Yes. This is my 7th season as the track operator here in Omaha, Nebraska and I absolutely love it. I'm also the certified coach for our track since we run BMX Racing League right after schools end here in May. I absolutely love coaching too. One of my biggest goals while coaching is to show new riders how much fun this is. Yes, it can be competitive. But, the bottom line is that we're all out here riding bikes and having fun.
-Years in the sport: I started racing in 1984 at Newbridge BMX in Bellmore, NY where I first met you and your cousin. After Newbridge closed, I spent a lot of years racing at Shoreham BMX. I got to know a lot of awesome riders and guys during my years there. Shoreham was definitely the place to be in the 90's. I think I'm best known for my Chevy van.
Todd is doing great things at Omaha BMX. Hopefully I can get a chance to check out the scene out there.
Follow Omaha BMX on their official Instagram Page
SUBMIT YOUR BIKE!!
If you would like to get your bike featured as Bike Of The Day,
1. COMMENT ON AT LEAST TWO ARTICLES ON SUGARCAYNE.COM
2. Send us some high quality photos (full and close up), a Full Parts List with a description about the inspiration for the build. You can also send sponsor shoutouts and any other details about your bike and involvement in the sport
3. Email the photos, parts list, description and links to your website comments directly to sugarcaynecom@gmail.com. If we like your submission, we'll feature it. Any custom built BMX bike of any size and type are eligible. IF YOU DO NOT COMMENT ON ANY ARTICLES ON THIS SITE, YOUR SUBMISSION WILL NOT BE VALID.