"Triple Dead", Hand-Painted Custom Jaws Figure by Quiccs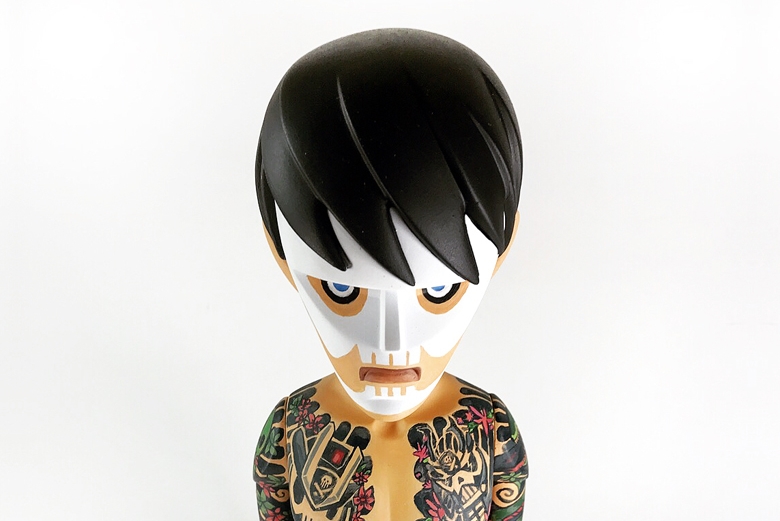 We're loving this figure by Quiccs called "Triple Dead"! It's a custom rendition of the 13-inch tall "Jaws" and Noop figures from Coarse. The "Triple Dead" features hints of Quiccs's favorite brand Adidas, with the triple stripes on the fin of the shark. Of course you know all of Quiccs's figures rock Adidas kicks so you know "Triple Dead" is rocking a fresh pair of white joints. The figure also features a full-body tattoo that incorporates Quiccs's "TEQ63" figure throughout it. It also features scary blue eyes, white skeletal face pain, stylish red belt and black shorts.
Unfortunately this was a special one off for a commissioned job so it won't be available to the masses. But you can holla at Quiccs for a custom of your own.
Spotted on SpankyStokes.com
Benson Wong x Steppyplus – Stepo The Explorer – Figure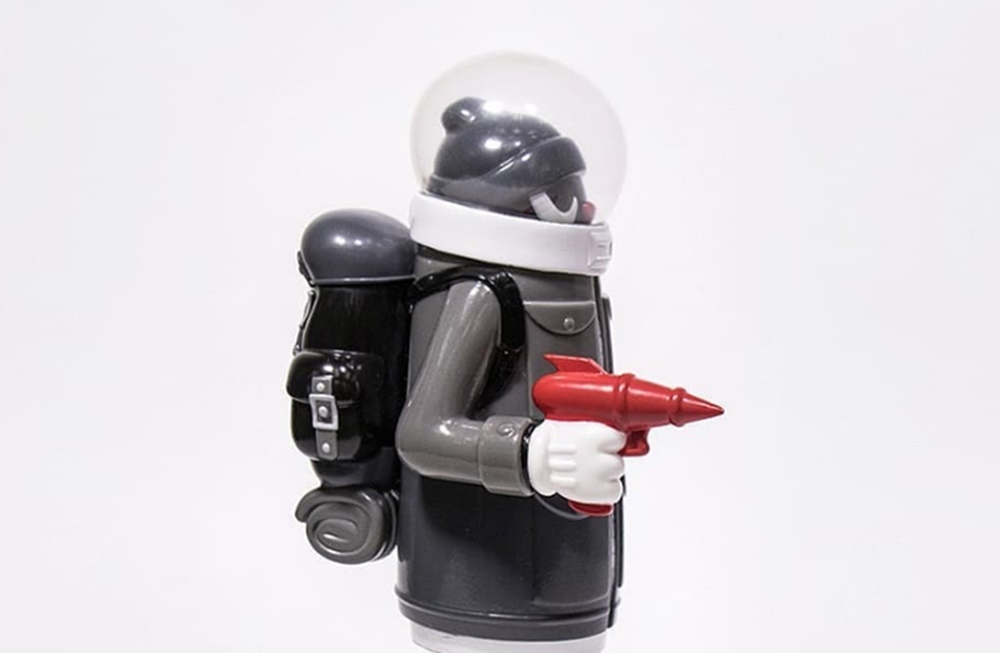 Hong Kong based designer Benson Wong linked up with space-age bag maker Steppyplus to create the Stepo The Explorer vinyl toy figures. The urban style inspiration of the figure is what caught our eye on this figure so we had to share it with ya'll!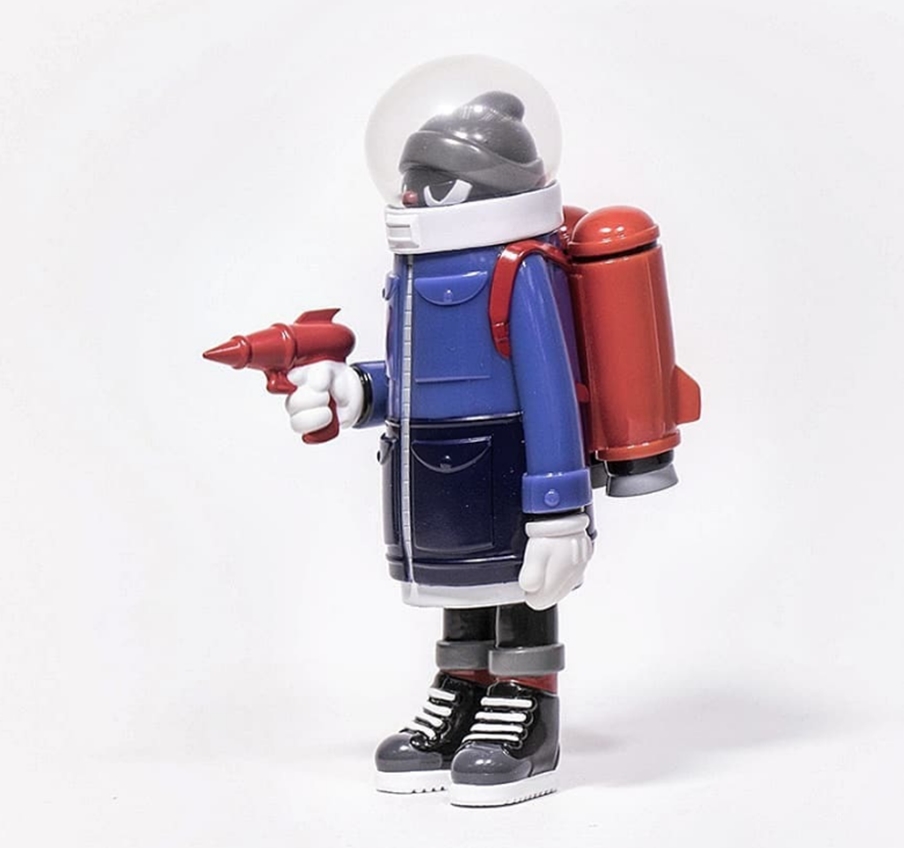 The figure comes in two editions, "Backpack" and "Rocketpack". The both editions stand at 7 inches tall, they are hand painted and they come packaged with a header card & Polybag. The figures also feature a vintage astronaut helmet and ray gun, just in-case things get hectic on their outdoor space exploration. 😉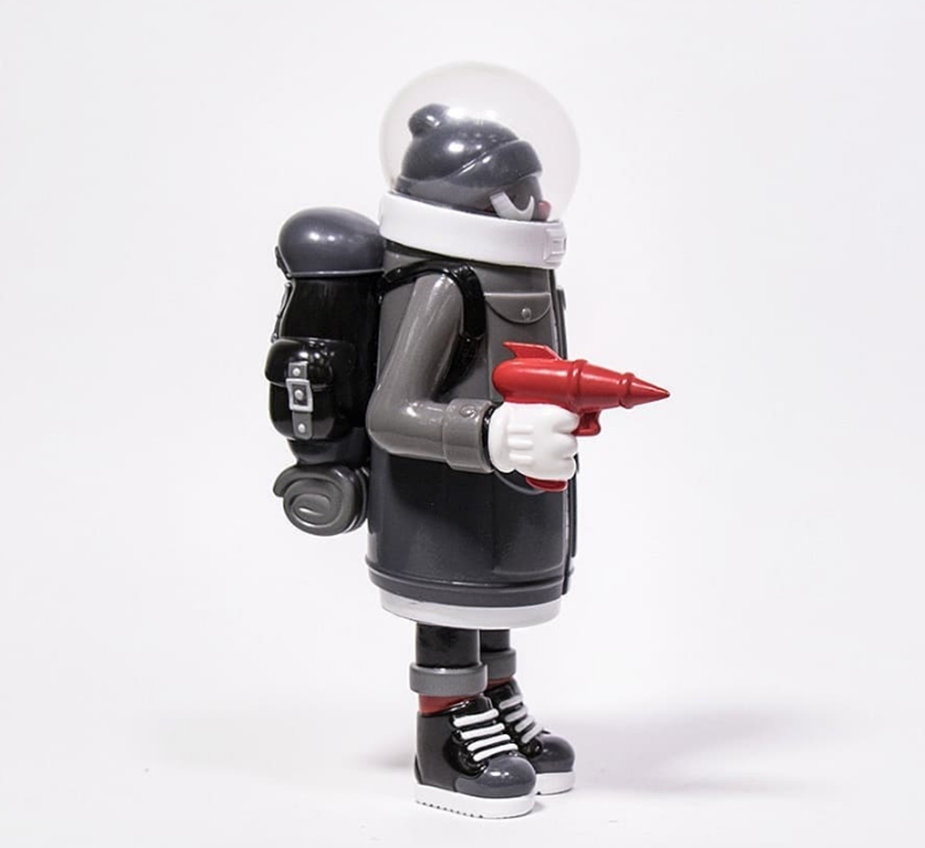 About Stepo The Explorer:
Steppo is an anonymous outdoor space explorer that represents the adventurous spirit of his creator Steppyplus.
Steppyplus is a subdivision of Steppy, one of the leading urban lifestyle channels in China & known for it's keen focus on design and the manufacturing of innovative lifestyle products.
Kool Keith x Concrete Jungle – BLUE FLOWERS – Resin Figure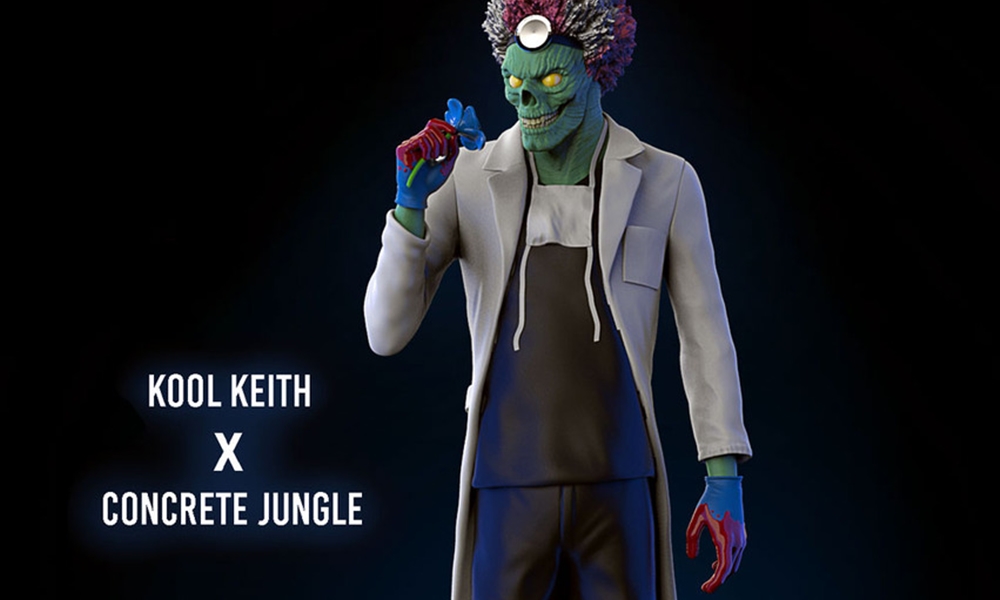 Legendary emcee and member of the Ultramagnetic Mc's, Kool Keith has his own figure coming out via Concrete Jungle called "Blue Flowers". The resin collaborative piece is inspired by Kool Keith's space traveling alter ego Dr. Octagon.
About Dr Octagon:
"Dr. Octagonecologyst was the debut solo studio album by Kool Keith, who released the album under the alias Dr. Octagon. A shorter version of the album, titled Dr. Octagon, was released on May 7, 1996, on Bulk Recordings in the United States and Mo' Wax in the United Kingdom. The full album appeared under the title Dr. Octagonecologyst on DreamWorks Records in 1997. The set was produced by Dan "The Automator" Nakamura and featured the work of turntablist DJ Qbert. KutMasta Kurt provided additional production work. The artwork for Dr. Octagonecologyst was drawn by Brian "Pushead" Schroeder."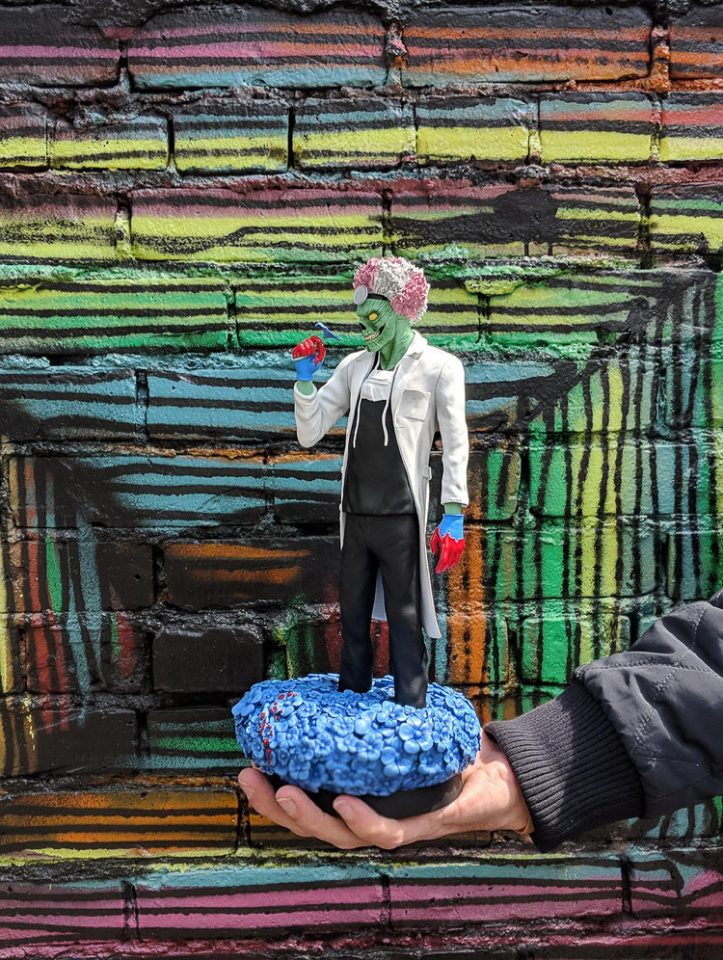 Dr. Octagonecologyst introduces the character of Dr. Octagon, a homicidal, extraterrestrial, time-traveling gynecologist and surgeon. The album's distinctive sound crosses genres such as psychedelic music, trip hop, old school hip hop, horrorcore, and electronic music. Thornton's lyrics are often abstract, absurd, and avant-garde, using surrealism, non-sequiturs, hallucinatory psychedelia, and horror and science-fiction imagery, as well as sexual humor, absurdist/surrealistic humor, and juvenile humor. The unique sound and lyrics of Dr. Octagonecologyst helped revitalize alternative and underground hip hop, gaining more attention than any contemporary independent hip hop album "in quite a while". ~Wiki
The figure stands at 13 inches tall, each one will be signed and numbered but it will only be limited to 100 pieces. You can pre-order "Blue Flowers" now on ConcreteJungleStudio.com.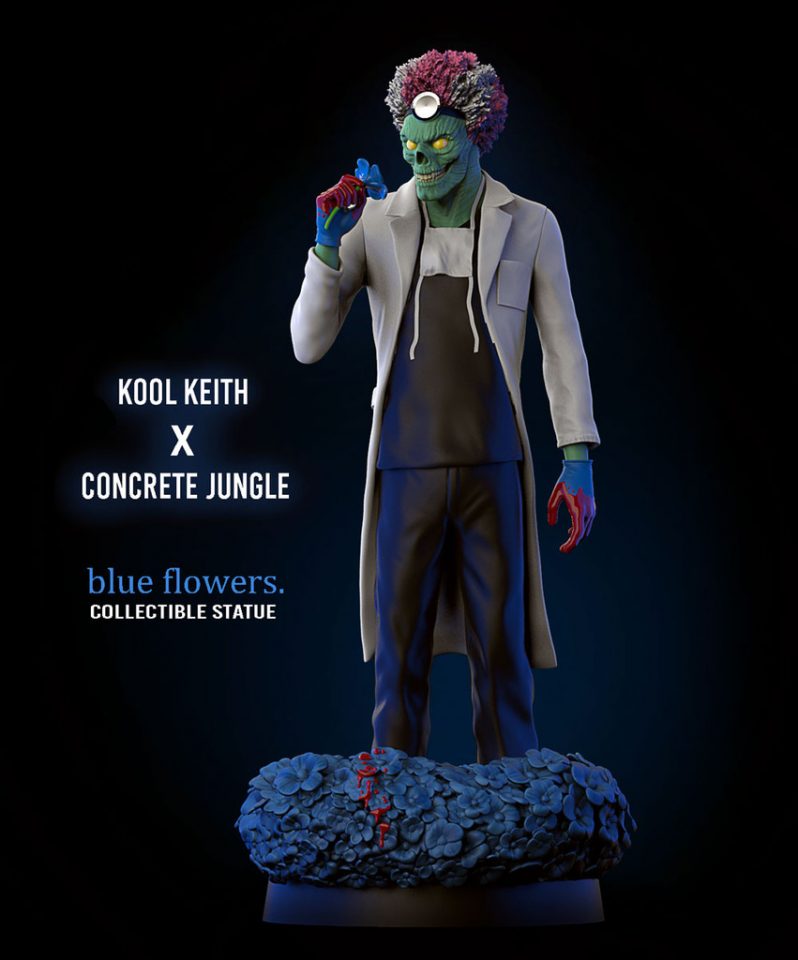 Photo Gallery From ToyConNJ 2018 (300+Photos)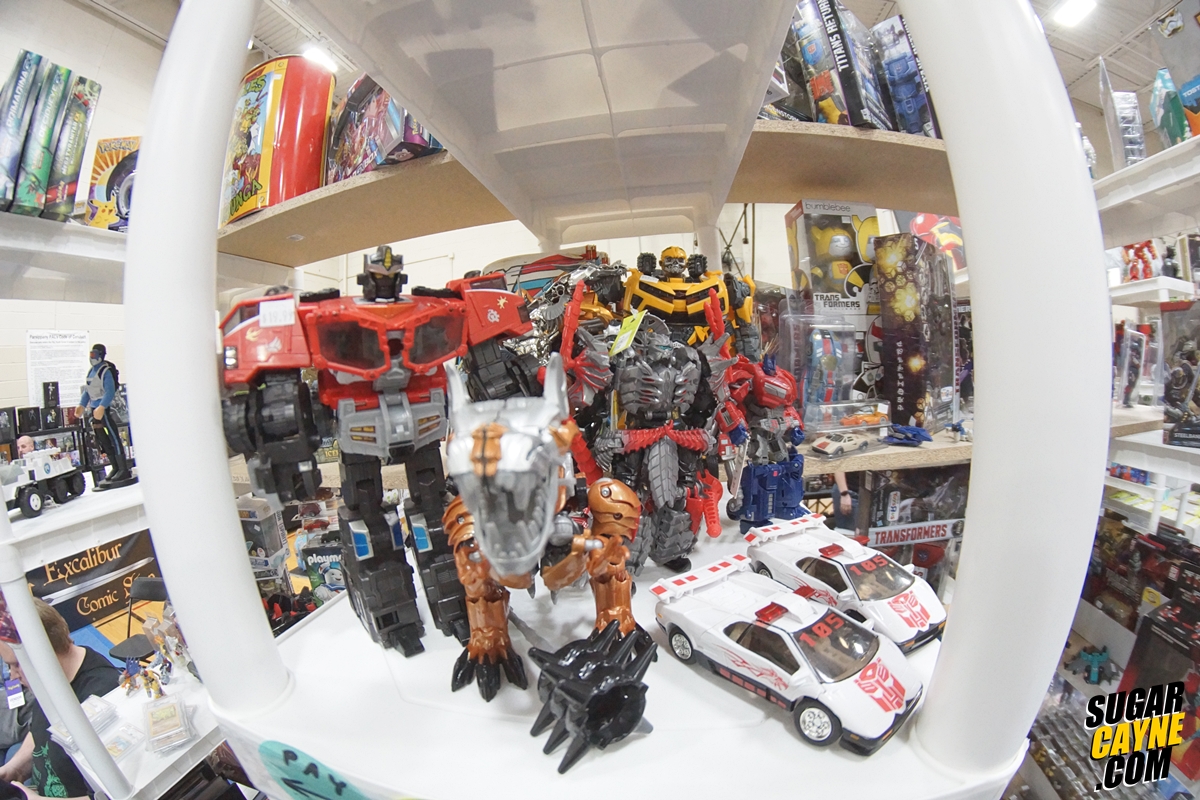 We had a great time at ToyConNJ this year! There were a ton of new and vintage toys to see. Tons of Pops by Funk and classic G.I. Joe toys for days! There were also vintage and new video games and board games, there were even a few comic book vendors at the event, it was awesome. One of my favorite sections was the play area where they had two 4 lane slot car setups, an R/C car setup, vintage arcade game and virtual reality games that you could all play for free! It was a great time and I can't wait to go again next year!
For more info about ToyConNJ CLICK HERE