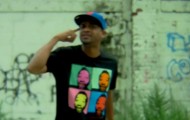 Long Island MC LEEK is featured on this installment of Crazy Al Cayne TV's Ruff Kut Videoz. This video is the first of the "Ruff Kut Videoz Beat Tape Legacy" series.
Since Leek ripped the mic to shreds on his episode of "Spittin In Da WIp" Crazy Al called him up to be a part of th legacy.
The Beat was produced by Crazy Al Cayne back in 1995 and it was not altered in any way, it only was remixed for audio quality.
The "Beat Tape Legacy" series was created by Crazy Al Cayne as an effort to bring his long history of beat making to the world. Crazy Al Cayne AKA "Sugar Cayne" has been making beats since the late 80's and he has them all sitting on disk in his studio just waiting to be heard. And with the resurgence of 80's and 90's era style beats and music today Crazy Al thought it was time to show the world what he's been sitting on all these years. So Al is pulling up all his "Authentic" 90's beats from back in the day and paring them with some of todays hottest Known and unknown MC's. He will be making videos for each new song too!
Check out Leek's episode of Spittin In Da WIp: https://www.sugarcayne.com/2010/05/leek-on…
Video Directed and Edited by: Crazy Al Cayne