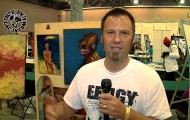 Dave from Effigy talks about his BMX Roots
After my interview with Dave from Effigy I asked him if he would ever consider doing his artwork on BMX bikes then he told me that he use to ride BMX back in the day! You know I had to put the camera back on and have him tell us about his BMX Roots, Check out the clip!
To find out more about Effigy visit www.effigyskateboards.com
Check out more interview with illustrators like Dave from Effigy at our ANIGAMICOM channel!