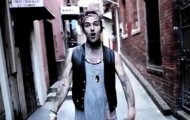 Dope track by Yelawolf
Now I haven't been checking for Yelawolf like everyone else has, I was like "What's all the hype about?", then he signed with Shady, that's wassup but it didn't move me to check for him though. The little bit of songs that I heard him on didn't impress me at all, it just seemed like he had a crazy "Hype" Machine behind him. Then I saw "No Hands" the other day and was like "Ok this joint is hot" and had to post it lol. I really like this beat, it's crazy hard and I always liked horn sounds on HipHop beats, I like the way they were used in this song. Yelawolf had a nice flow and delivery on this joint too. So with that said I'm gonna do a little more research on Yelawolf and see what all the Hype is about.
Leave a comment and let me know what you think of this video and Yelawolf.
Follow Yelawolf on Twitter @Yelawolf
To see more HipHop videos visit CAC-TV.COM