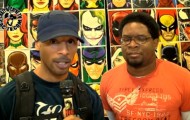 I ran into Terry Huddleston At the 2011 Philly Comic Con
I first met Terry at the NYC comic con last year in artist alley and got to check all his dope artwork. I got an update on what Terry Huddleston had popping since then, check out the clip!
To see more interviews at comic cons a with illustrators like Terry Huddleston visit our ANIGAMICOM Channel.