Spittin In Da Wip Alumni Hasan Salaam just dropped some new visuals for "Musical Chairs" of his "Music Is My Weapon" album directed by Raj Flow and featuring Baron from Red Clay. Hasan is doing some amazing things with his music right now peep the description of his this video from his Youtube Channel:
The concept behind Hasan Salaam's EP "Music Is My Weapon" is the belief that music can be used as a powerful tool in the pursuit of freedom, justice, and equality. With the release of the project, Hasan is aiming to prove that music can change people's lives, literally. All profits from the sale of the EP will be used to fund a school, clean water well, and medical clinic in Guinea-Bissau, West Africa. In November 2010, Hasan became the first U.S hip hop artist to ever perform in Bissau. On the same trip he worked with the young artists, taught creative writing to the youth, and headlined a concert to promote freedom of speech. The "Music Is My Weapon" project is the next step, in an effort to provide change to a country that remains one of the poorest and least politically stable in the world.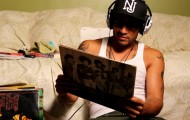 That's wassup, Big shout out to Hasan Salaam for making a difference!
Also big up to the two feature artist in the video, Spittin In Da Wip Alumni Kalil Kash and singer Shay The  Jewnius…And that beat is really dope too!