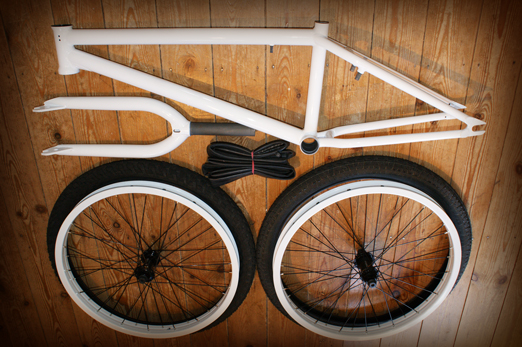 There are so many option in BMX when it comes to choosing which size bike you want. They got 20″ frames with 21-22 inch top tubes and for the racers that got some bikes with super long rear ends on them. We'll Faction BMX took it a step further with their 22″ Amero frame….that's right it bigger than a 20″ but smaller than a 24″ Cruiser. Speaking of that what should that style bike be called? It's not really a Cruiser since it's smaller than a 24″…I dunno..anyways I digress lol. The bike looks dope and from the video below it looks like it rides dope too. I wonder if they'll start making 22″ racing bikes..If I remember the BMX racing rules the "22 inch bikes would race Cruiser class I believe.

Peep the Stats via factionbikeco.com:
The Amero comes as a 22″-wheel, tyre & frame package; 100% Sanko cromo double-butted 5lb frame and heat-treated fork, a 22″ wheel-set with 6160 alloy, double-wall 36-spoke rims, sealed bearing front hub and cassette with 3pcs axles.
Frame
Heat-treated HT, BB and dropouts. Tapered rear tubes, double butted tubing, 14mm axle slot, integrated seat-clamp, removable brake hardware, externally machined BB, holes for g-ro and chain adjuster tabs. Geom TBA.

Fork
100% heat-treated Sanko cromo, triple-butted tapered legs and 1 pc steerer tube, alloy top-cap with cable-hole, dual facet slash-cut ends with 5mm machined dropouts, 10mm (3/8ths) axle slot.