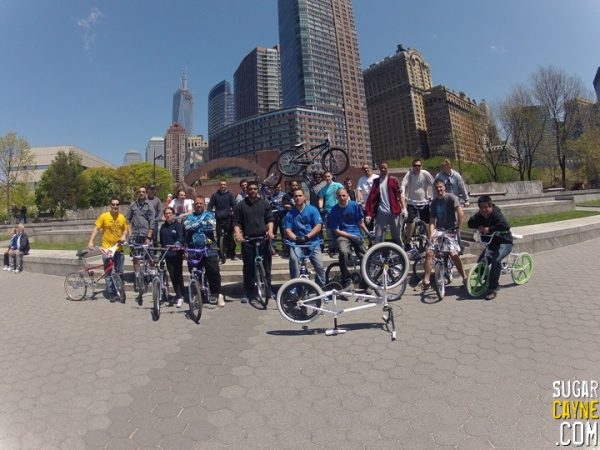 I went on the BMXMuseum.com Old School Bike ride in NYC today and had a great time with a great group of people. You couldn't ask for a better day for a ride like this, the weather was amazing! For this ride I tried something different and used my GoPro to take pictures and film, I don't have the monitor on the back so I was kinda winging it with the shots lol. The pictures actually came out pretty good even though I forgot to set the camera to the highest resolution. I wish I took more pictures but this was Ride/Film day for me, I wanted to have some fun riding too.
We started our trip from the Jacob Javits Center and rode down the westside bike path and stopped by the concrete park at Chelsea Pier. No bikes were allowed in there but it was cool to check it out. Then we continued down to battery park and rode the boardwalk which was a lotta fun. When we got to the bottom we took a bunch of pictures and chilled for a little while. Then we headed to the South Street bike path and stopped by the concrete skatepark under the Manhattan Bridge, bike are allowed but the design is more skater/scooter friendly, it was a cool stop though. After that we headed to Bike Expo NYC but decided not to go in because there was a real long line for the valet Bike parking and we wanted to keep moving plus this year there wasn't a BMX Demo. We continued down the bike path on the east side next to the FDR Drive and headed up to Houston Street, This was my first time riding that part of the bike path and it was really nice with new, smooth pavement. After that we cut down Houston Street, I tried jumping up a curb at high speed and wound up taping my back tire on the curb and took a nice spill lol, my wrist is killing me right now. As we rode down 1st street one of the rider caught a flat so we made a pit stop, I took a few pics and video there. After that  we continued down west 3rd street till we got to 6th ave then wound up at Washington Square Park and then went to Union Square where unfortunately we lost two riders. We looked all around Union Square for them but with no luck. Nobody had a way to contact them so we had to make the tough decision and continue with the ride. There definitely needed to be system setup in case we lost a rider, lesson learned 4sho! After that we went down 17th street and wound up back on 6th ave and headed to Midtwon. We rode past Herald Square (34th street) and then up to Times Square which is always fun! After that we rode down 42nd street then took 8th ave up to Columbus Circle/Central Park. One of the riders decided to jump his bike into the fountain at Columbus Circle, I had to get that on film so I had him do it again, he got soaked lol! Then we went in the park and rode to the Great Fountain which wound up being our last stop. It was a cool chill spot and best of all they were giving out free bottles of water from an earlier event, we couldn't plan it any better!!!! 🙂 From there we continued to head west till we got to the bike path in Riverside park where we spit ways and headed home. I have a bunch of video footage to edit from the ride that I'll be posting later this week(Hopefully) so stay tuned for that.
Like I said before, it was a great day, riding with some great people and I saw some really dope vintage and new bikes, I'm definitely looking forward to going on another ride 4sho!  Below is the photo gallery from today just click on one of the social icons to unlock the pics!
[sociallocker][nggallery id=216][/sociallocker]