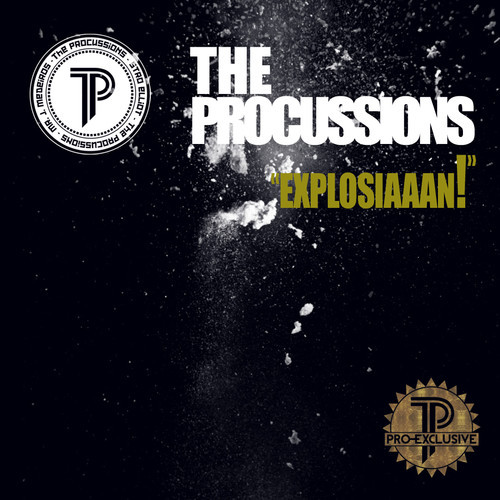 I always get amped when The Procussions drop a new single, they always bring heat to the game and their latest "Explosiaaan" is another addition to their catalog of HipHop dopeness! Below is the official description of "Explosiaaan" and their commissioned song concept which is a really dope idea:
Commissioned by The Procussions as a free gift to our fans in conjunction with our "On A Mountain Video Contest".

Written by: Mr. J. Medeiros, Stro Elliot
Produced by: Stro Elliot
Executive Producer: The Procussions
Artwork by: Clémence Martz

Normally, aside from our "On A Mountain Video Contest":

The "Pro-Exclusive" is an on-going series of commissioned pieces of musical art.

For 1k dollars The Procussions will produce, write, record, and distribute a custom song for you, your friend, family, organization, company, etc. The Procussions will also provide custom artwork by our in-house designer, Luke Atencio.

The subject and content is yours to decide, think of the possibilities!

ALL SONGS ARE FREE TO THE PUBLIC (unless you decide to keep it secret) and you will receive Executive Producer credit.

HOW TO GET A CUSTOM SONG:
FIRST- BEFORE PAYMENT- write us an email at pro@theprocussions.com expressing your desire for our work, please include any ideas and questions you may have. We will contact you to discuss music, lyrics, artwork, and payment.

This is a true collaboration, a unique piece of art from us to you, and a new step in the world of creating music! Let's work!