I saw this amazing looking fixed gear road bike called The Federleicht. It had an awesome paint job and I wanted to share it. As I did a little research on the bike I discovered some amazing things about the build, one of the most interesting things was the illustration on the bike was hand drawn. There's even a video about the build process and all the people who made the final product possible. Below is the official description of the build:
Ucon and 8bar are two Berlin based brands who teamed up for this bike collaboration. They worked on this project together for the last year to make something special happen.

'Stefan' the founder of 8bar is a true bicycle enthusiast and is also competing in races for over 15 years now. Together with a collective of cycle-crazy friends, he brought his vision to life to establish a bicycle company. 8bar is never pre-made or identical, each bike is a unique, co-created between 8bar and it's owner-to-be. 8bar captures the progressive, fun and easy-going spirit of Berlin and its collaborative energy.
Ucon established their opening collection in the early summer of 2001. Founders Jochen and Martin came with a vision to develop a lifestyle brand anchored by creativity, quality tailoring, innovative appliqués and ethical production. With a passion for the work of talented artists and the design community surrounding them, Jochen and Martin embraced collaborations to build a creative environment for the brand.
Like you will see in this clip right here Ucon and 8bar also involved two more creative heads from Berlin. One of them is 'Toons', a Berlin famous painting artists and a true fan of the whole bike culture since he was a small boy. He handpainted the frame and brought their vision of the "feathering-design" into real life. Then there is the product-designer and illustrator 'Stulle' from Matzmate who did an amazing job customizing the bike saddle, foot straps and handlebar.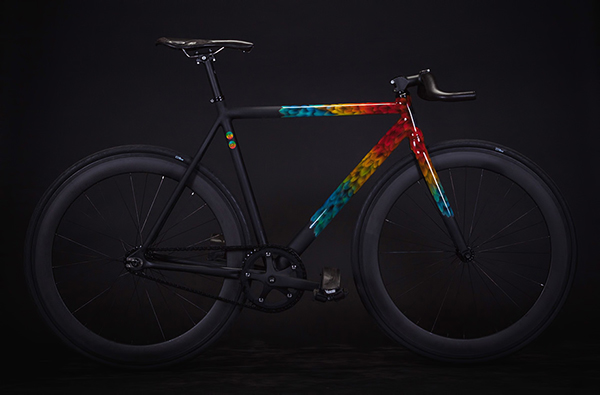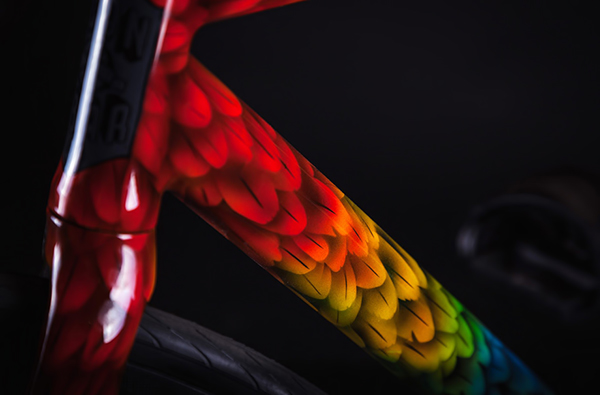 I love it when art and cycling come together! See more pictures from the amazing build on PedalConsumption.com